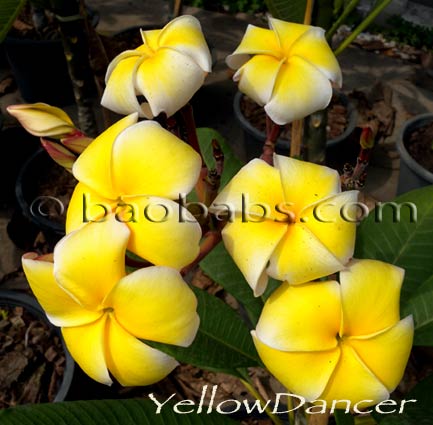 Plumeria rubra GRACE
Jacks Compact Yellow , Gold Bouquet, Jack's Dwarf Yellow, Leung Compact, Yellow Jack , Jack's Compact Yellow, Lueng Compact, New Jack Yellow, Super Gold[X]
РАСТЕНИЕ (черенок с корнями) 20-25cm : 29.9 €


Unique and original shape of the petals, recurved and similar to a pentagone. A nice yellow color turning to gold toward the center.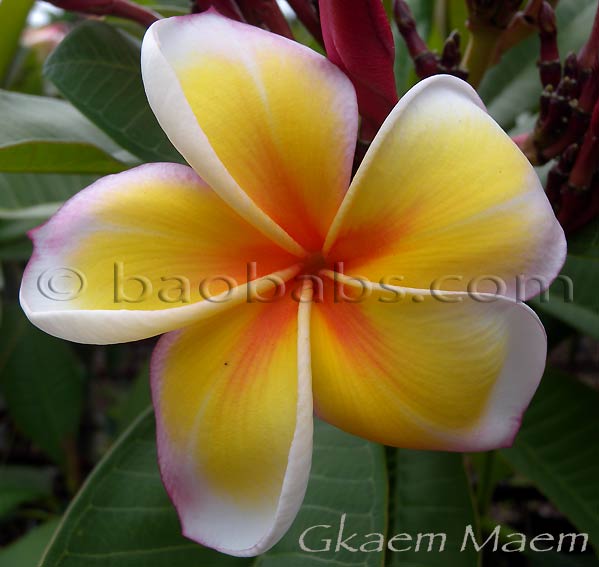 Plumeria rubra GKAEM MAEM
Gkaem Maem, Gammam[X]
СЕМЕНА (3) : 3.9 €

ЧЕРЕНОК 20-25cm : 15.6 €


2.5? to 3.0? (6.0 ? 7.50 cm) salmon, cream and yellow.

Plumeria rubra DAENG TABTIM
Mung Korn Yuk[X]
СЕМЕНА (3) : 3.9 €

ЧЕРЕНОК 20-25cm : 19.5 €

РАСТЕНИЕ (черенок с корнями) 20-25cm : 29.9 €


5.0 to 6.0 cm purple and yellow flowers with red veining spreading from center. Petals heavily overlapping, almost circular, purple to maroon, increasingly along margin, turning to yellow towards base. Fragrance: intense, sweet. Leaves: medium green, elliptical with pointed tip

Plumeria rubra DAENG HOM
Dang Som[X]
СЕМЕНА (3) : 3.9 €

ЧЕРЕНОК 20-25cm : 14.3 €

РАСТЕНИЕ (черенок с корнями) 20-25cm : 19.5 €


Purple-red star-shaped flowers of 2.5" ( 6.0 cm ) diameter with golden-orange center Petals: slightly overlapping, obovate with pointed tip, medium texture. Fragrance: sweet floral, medium intense. Leaves: new leaves shiny, medium to dark green, elliptical with pointed tip. Note : nice fragrant red with smaller flowers.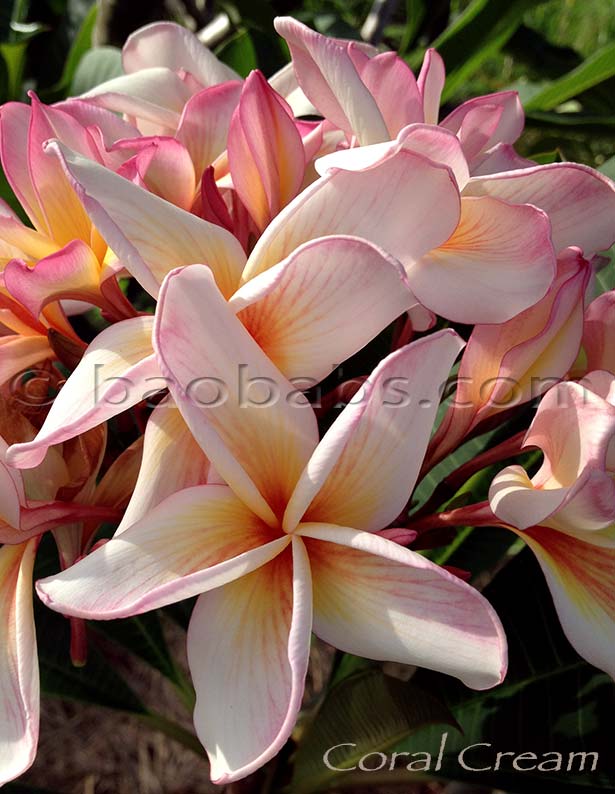 Plumeria rubra CORAL CREAM
Coral Creme, Chompoo Chao Phraya, Chompoo Japlepaya[ ]
ЧЕРЕНОК 20-25cm : 14.3 €

РАСТЕНИЕ (черенок с корнями) 20-30cm : 26 €


Pink flower-buds open to pink, white and yellow flowers with orange-red eye. Petals overlapping, twisted, light pink with more intense pink along rim, display conspicuous red veining. Elegantly shaped flowers that produce large trusses.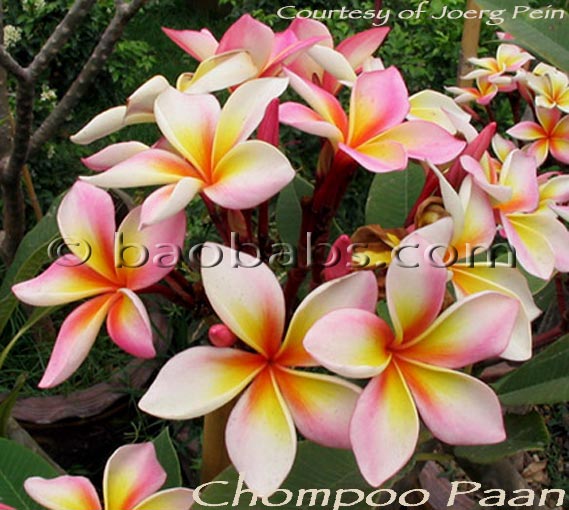 Plumeria rubra CHOMPOO PAAN
Chompoo Paan, Thai Peacock[X]
СЕМЕНА (3) : 3.9 €

РАСТЕНИЕ (черенок с корнями) 25-30cm : 26 €


Beautiful pink, yellow and white flowers with small golden reddish eye of 3" to 3.5". Petals: separated, pointed and slightly twisted. Fragrance: sweet, medium Leaves: medium green, elliptical with pointed tip. Nice rainbow Plumeria


Plumeria rubra CALCUTTA STAR
Kalakaua Star, Kalakua Star, 4424[X]
РАСТЕНИЕ (черенок с корнями) 25-30cm : 39 €


Considered to be one of the most fragrant of all plumeria. Very strong spicy floral scent. Bright pink star 3?" with a red orange center that forms a beautiful star. Slow grower and heavy bloomer from India. Reacts very strongly to heat. It can be very pale in the early season. When it first blooms, very pretty, but it seems to fade really quickly. Medium tree.

Plumeria rubra CERISE
Abbey, Banyo Cerise, Firedancer, Hot Magenta, Hot Pink, La Vendinima Cerise, Mikael [X]
РАСТЕНИЕ (черенок с корнями) 20-25cm : 29.9 €


Cerise flower with a yellow eye, fruity scent, medium grower.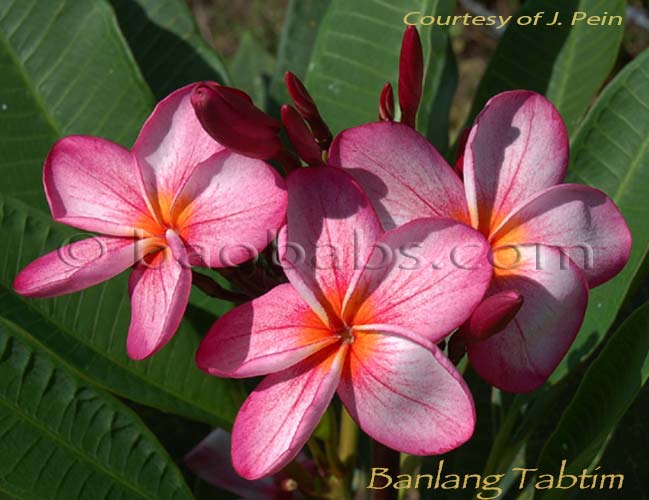 Plumeria rubra BANLANG TABTIM
4646, Banglang Tuntim, Banlang Tabtim[X]
СЕМЕНА (3) : 3.9 €

РАСТЕНИЕ (черенок с корнями) 25-30cm : 29.9 €


Red, pink and white, dusted with red, strong fragrance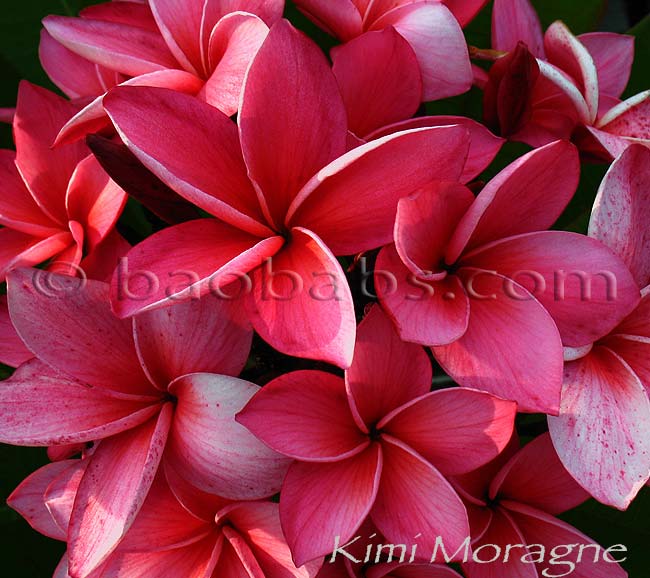 Plumeria rubra KIMI MORAGNE
Kimi Moragne, Grainy Moragne, Grandny, Grainy Rorong[X]
ЧЕРЕНОК 20-25cm : 19.5 €

РАСТЕНИЕ (черенок с корнями) 15-25cm : 29.9 €


Very large and beautiful flowers of unique patternation. Fragrance is very strong cinnamon and nutmeg. Creamy pink petals with a dark red star shape in center. Splashed spots of red throughout. Flowers are fragrant fruity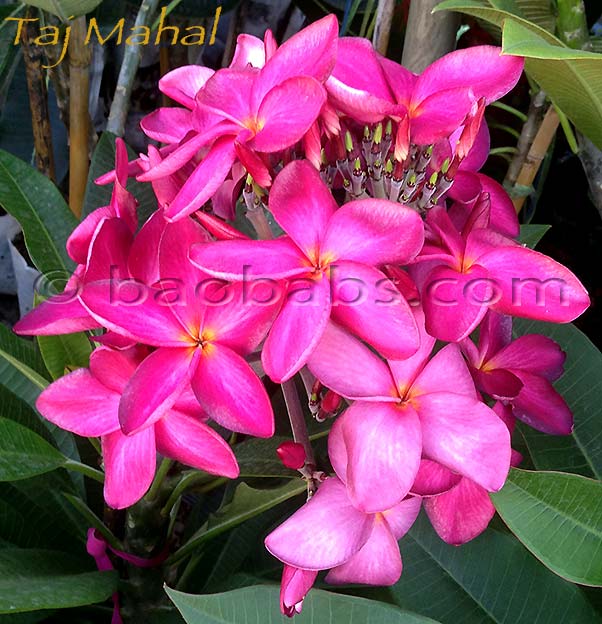 Plumeria rubra TAJ MAHAL THAI
ЧЕРЕНОК 20-25cm : 19.5 €

РАСТЕНИЕ (черенок с корнями) 15-25cm : 29.9 €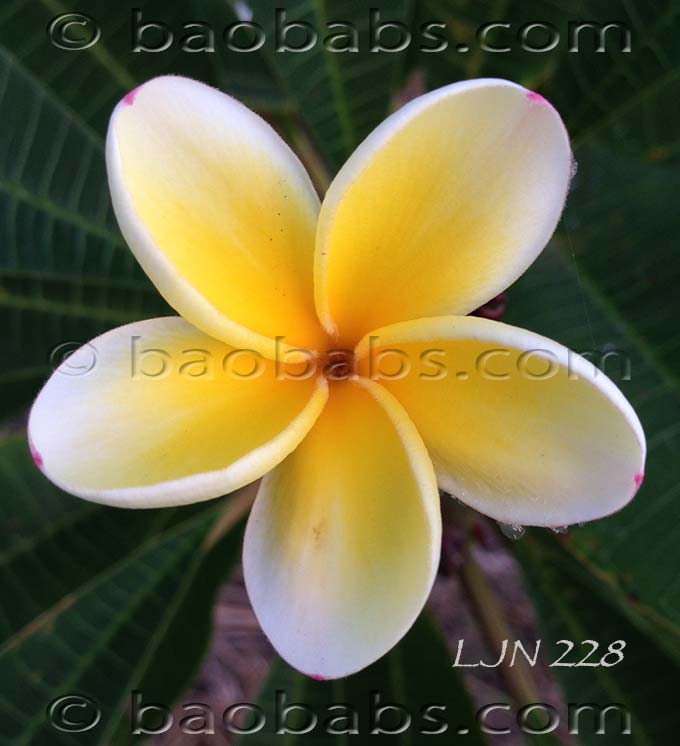 Plumeria rubra LJN228
ЧЕРЕНОК 20-25cm : 15.6 €

РАСТЕНИЕ (черенок с корнями) 20-25cm : 26 €