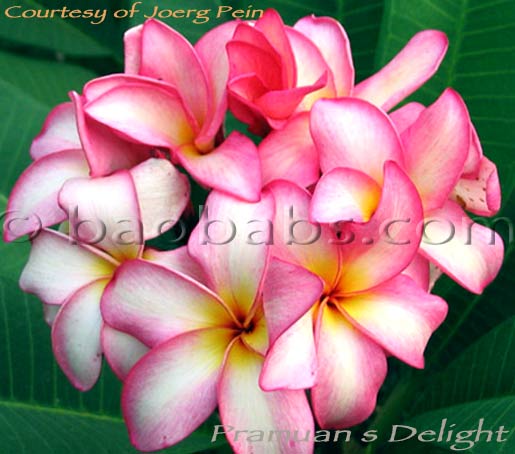 Plumeria rubra PRAMUAN S DELIGHT
РАСТЕНИЕ (черенок с корнями) 25-30cm : 29.9 €


Lovely and well balanced combination of pink with white and yellow on these remarkable flowers. Petals are separated and only slightly overlapping : mainly pink with some red veining, turning to yellow towards center and joining in a red star-shaped eye. Diameter: 2.5" to 3" ( 6.0 to 7.5 cm ). Flowers are forming ball shaped trusses. Pink color intensifying during cool season in tropical climate. Fragrance: sweet honey fragrance. Leaves: medium green with wavy margins and pointed tip. Habit: broad upright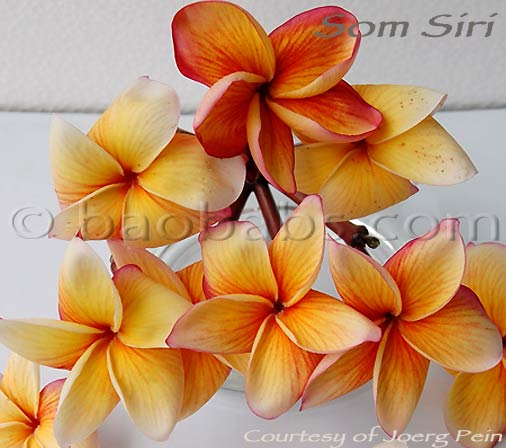 Plumeria rubra SOM SIRI
Orange Siri[X]
ЧЕРЕНОК 20-25cm : 26 €

РАСТЕНИЕ (черенок с корнями) 20-25cm : 33.8 €


Deep yellow with red striations, 2" to 3" ( 5.0 to 7.50 cm)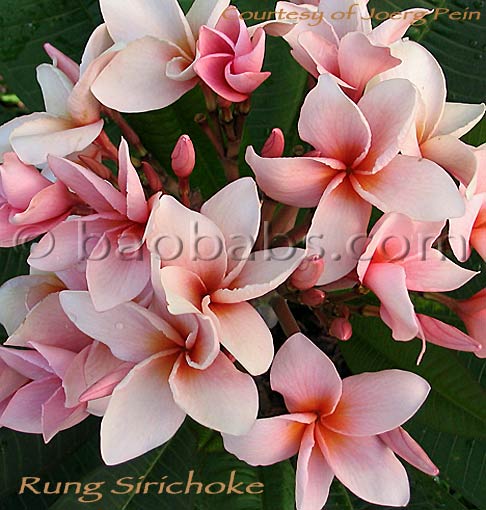 Plumeria rubra RUNG SIRICHOKE
Rung Sri Choc[X]
СЕМЕНА (3) : 3.9 €

ЧЕРЕНОК 20-25cm : 19.5 €


7.50 - 8.0 cm pink to cream-pink with salmon central area. Petals: broad elliptical, overlapping, medium substance. Fragrance: smooth, sweet, medium intensity Leaves: beautifully dark green, often with purple hue and purplish veining, not shiny, elliptical with pointed tip. Long flowering period and flower-heads with multiple flower-buds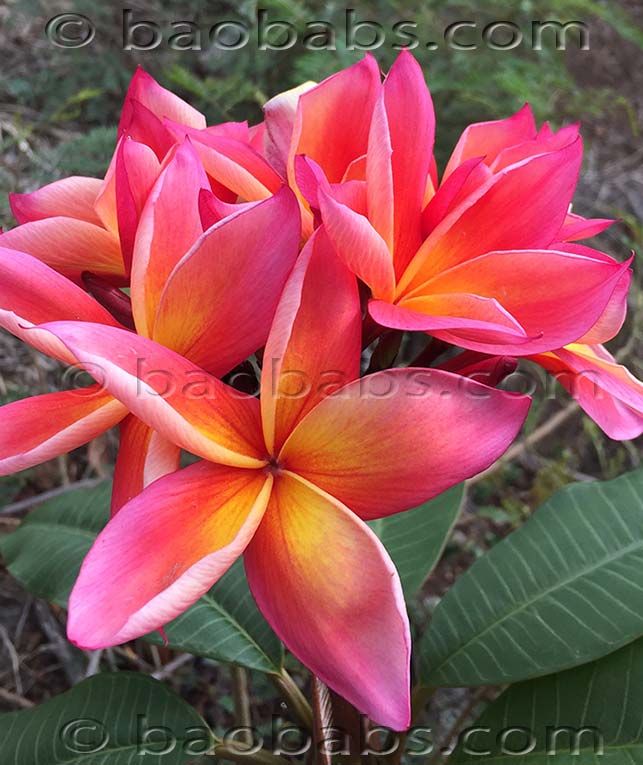 Plumeria rubra JEANNIE MORAGNE
Jean Moragne Jr. , Jeannie, Jean Moragne Jr[X]
СЕМЕНА (3) : 6.5 €

ЧЕРЕНОК 20-25cm : 26 €

РАСТЕНИЕ (черенок с корнями) 15-25cm : 29.9 €


Very impressive Plumeria with strong colors and well shaped flowers. Well known variety from USA with large flowers of 3.5" to 4.5" ( 9.0 to 12.0 cm ) flowers. Petals slightly overlapping, oval and sharply pointed. Golden-yellow with red to purplish red area and red-orange veining radiating outwards. Flower-buds:dark red. Fragrance: fruity to smooth honey. Leaves: Elliptical green leaves with red borders with acute tips.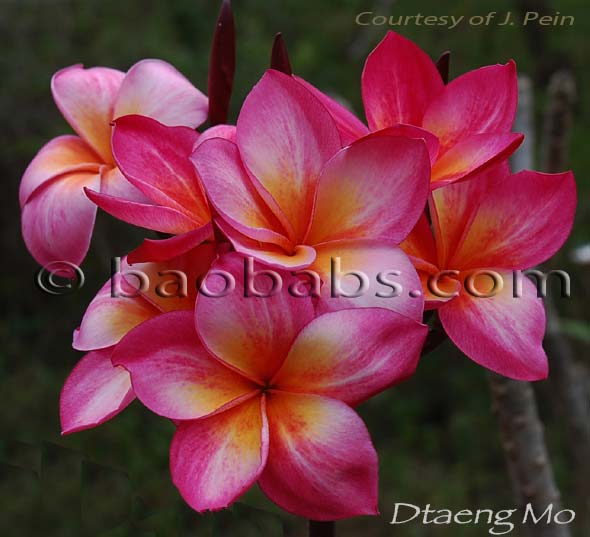 Plumeria rubra DTAENG MO
Watermelon[X]
РАСТЕНИЕ (черенок с корнями) 20-25cm : 29.9 €


Red with orange and gold, increasingly purple with age


Plumeria rubra R-03
Vasithee, Nantharat R-03[X]
ЧЕРЕНОК 20-25cm : 15.6 €

РАСТЕНИЕ (черенок с корнями) 25-30cm : 39 €


Very Beautiful Variety ! Deep-red color and very decorative foliage and habit. Carmine-red flower with darker red striations. Petals: heavily overlapping, broad oval with slightly pointed tip, partly covered with fine hairs. Rather intense, fresh and sweet Fragrance.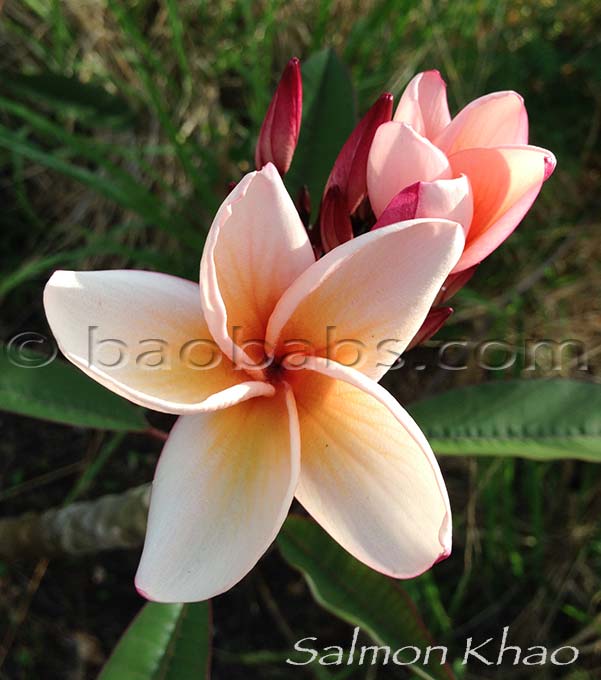 Plumeria rubra SALMON KHAO
Brown White[X]
РАСТЕНИЕ (черенок с корнями) 15-25cm : 29.9 €



Plumeria rubra SOM SUAY
Som Suay[X]
РАСТЕНИЕ (черенок с корнями) 20-25cm : 29.9 €


yellow/orange flowers with pink centre, compact habit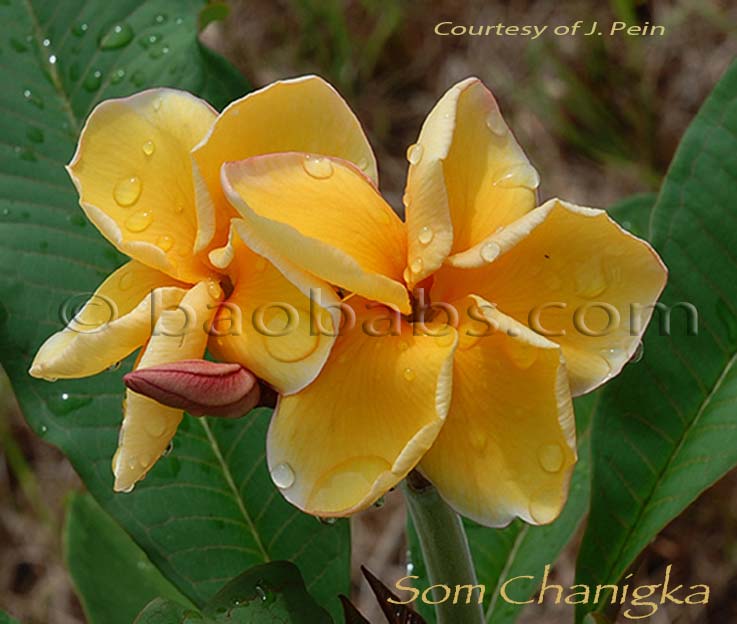 Plumeria rubra SOM CHANIGKA
Chanigka Orange[X]
РАСТЕНИЕ (черенок с корнями) 20-25cm : 29.9 €


Glowing golden-orange color with cream area along margin. Very good keeping quality, slow growing.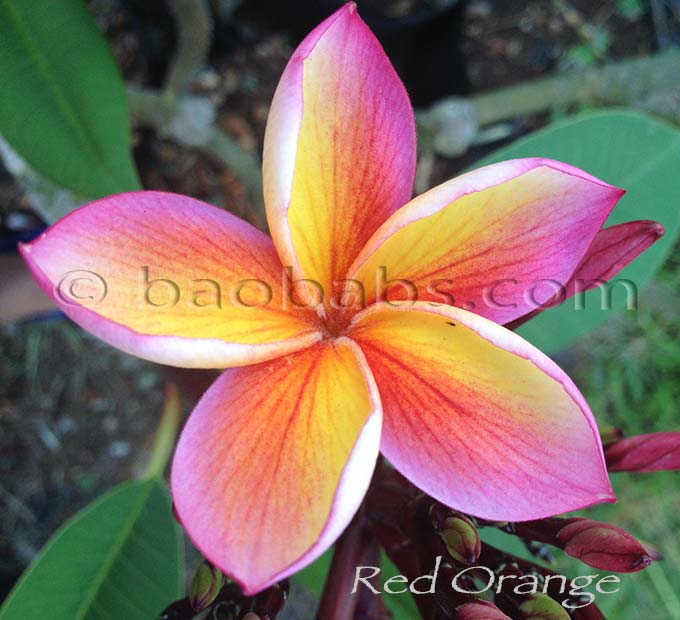 Plumeria rubra RED-ORANGE
JL Red-Orange[X]
РАСТЕНИЕ (черенок с корнями) 25-30cm : 33.8 €


This beautiful plumeria blooms with nice clusters of 3 inch heavily veined flowers with a stunning meltdown of red and orange hues.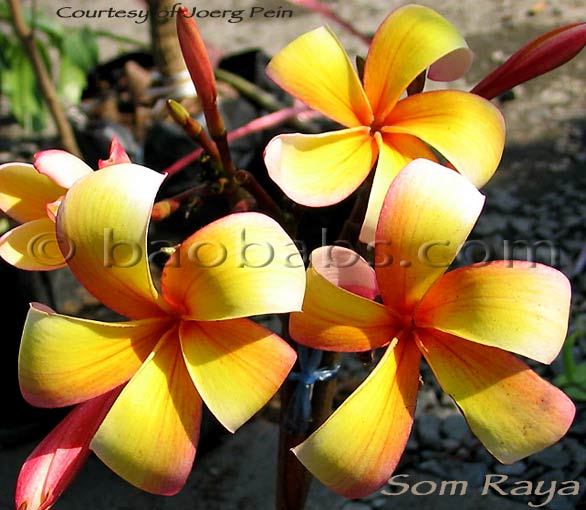 Plumeria rubra SOM RAYA
Firestorm, Ceylon Beauty, Shooting Star, Raya Orange, Thai Firestorm, Red Orange[ ]
ЧЕРЕНОК 20-25cm : 29.9 €

РАСТЕНИЕ (черенок с корнями) 15-25cm : 39 €


Beautiful Yellow-orange flowers with pink shades, 3"-4" (7.50 -10 cm), strong grower. The ultimate brilliant rainbow. Great bloomer, Medium growth habit and a strong floral scent. Striking orange pinwheel variety from Thailand.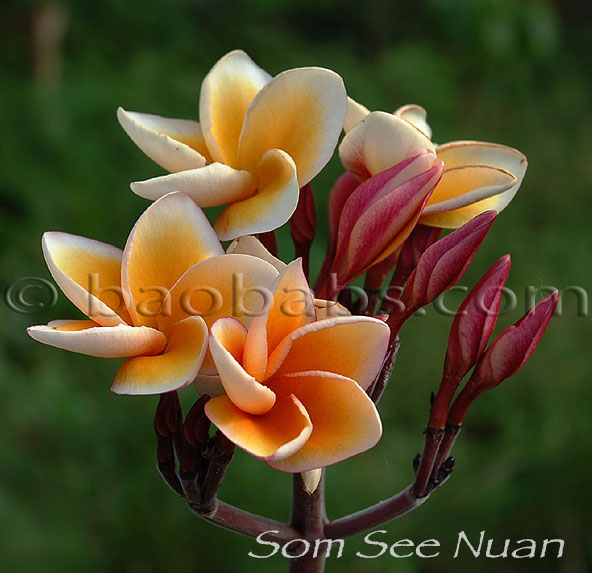 Plumeria rubra SOM SEE NUAN
Orange See Nuan[X]
РАСТЕНИЕ (черенок с корнями) 20-25cm : 29.9 €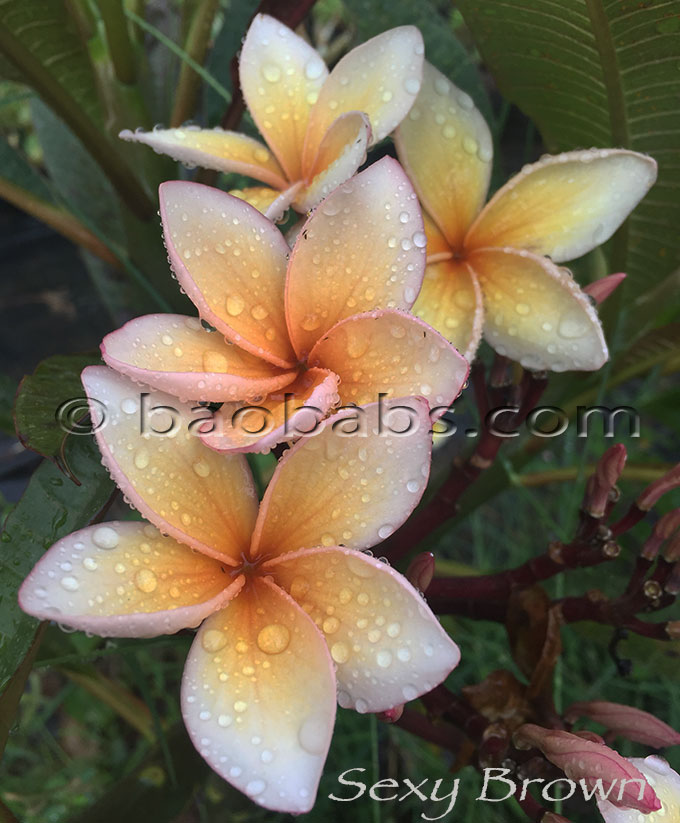 Plumeria rubra SEXY BROWN
#4234[ ]
РАСТЕНИЕ (черенок с корнями) 15-25cm : 29.9 €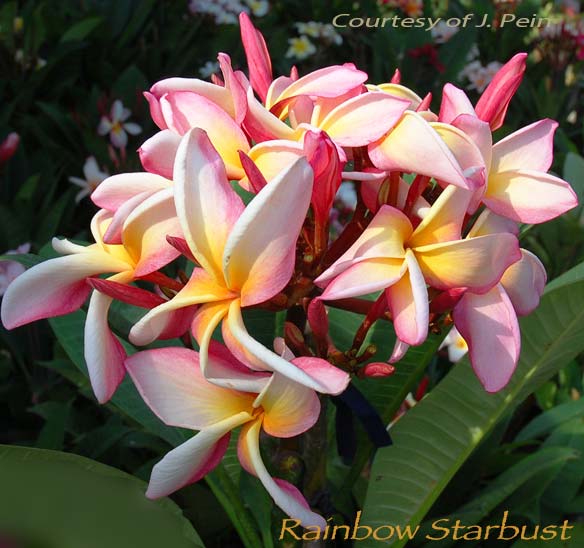 Plumeria rubra RAINBOW STARBURST
Leela , Big Mountain Rainbow[X]
РАСТЕНИЕ (черенок с корнями) 20-25cm : 29.9 €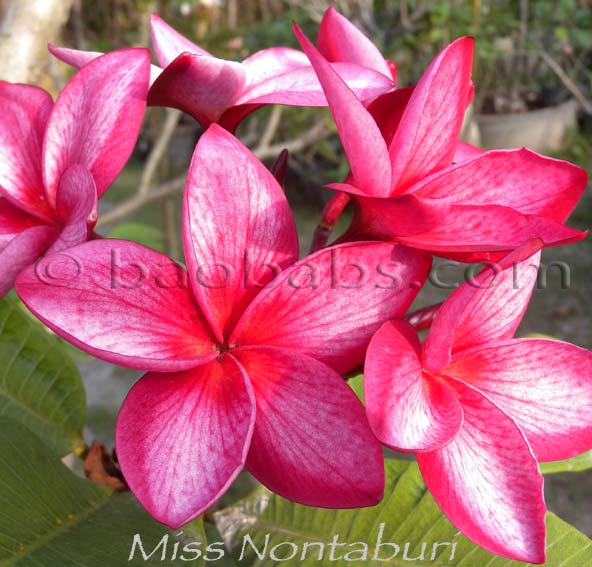 Plumeria rubra MISS NONBURI
Red Butterfly, Bewitched , Miss Nonthaburi, Saw Mongnon, Sao Mongnon, Sao Nonburi, Nonthaburi Lady, Nonburi Lady, Sao Nonthaburi[X]
РАСТЕНИЕ (черенок с корнями) 15-25cm : 29.9 €


Showy flower at 4-5 inches (10-12.5cm) average! The coloration is an extremely beautiful and grainy, deep pink-red with flecks of white. White to creamy-white with intense red to burgundy-red area along margin with red veining and dusting over rest of surface. Throat orange-red.Flowers emerging from very dark red flower-buds. Petals overlapping, oval with slightly pointed tip.The effect is quite dazzling on a flower of this size. Leaves : medium green with light green veining, elliptical with pointed tip. A lovely and very sweet fragrance.

Copyright © Le Jardin Naturel