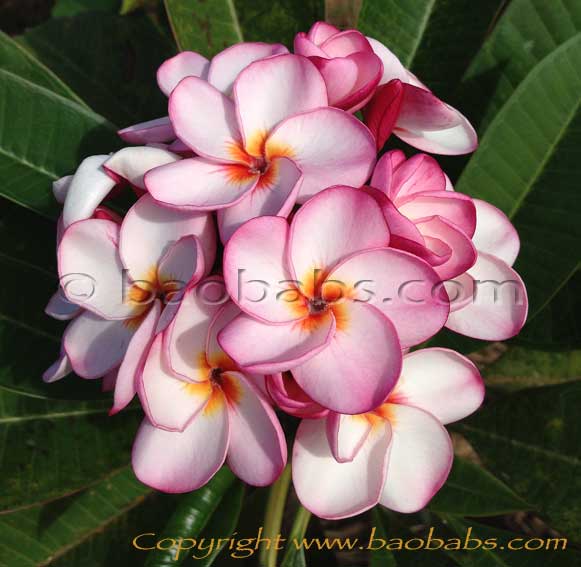 Plumeria rubra TORNADO
Thai Tornado , 4606[X]
СЕМЕНА (3) : 3.9 €

ЧЕРЕНОК 20-25cm : 19.5 €

РАСТЕНИЕ (черенок с корнями) 15-25cm : 28.6 €


Not the same Tornado as sold in the USA. Round 2.5" (6.0 cm) flowers, pink with lighter pink areas and orange markings spreading from center. Petals circular, pink with darker pink along rim. Fragrance: strong and sweet wild Strawberry Broad leaves, medium green.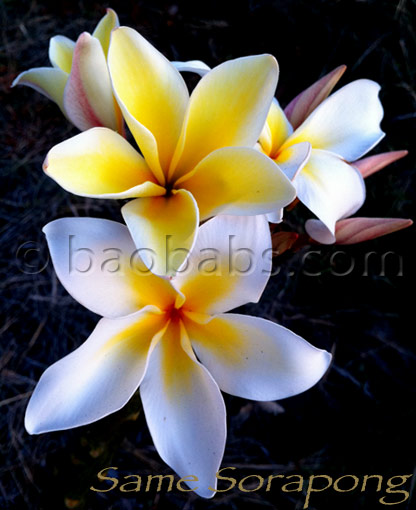 Plumeria rubra VISHNU GOLD
Vishanu Gold , Vichnu Gold, Lueang Bang Phra, Sorapong, Same Sorapong, Emperor[X]
ЧЕРЕНОК 20-25cm : 15.6 €

РАСТЕНИЕ (черенок с корнями) 15-25cm : 27.3 €


Large trumpet shaped flowers of heavy substance with overlapping petals. White, increasingly yellow towards center. Flower diameter 3" to 4" ( 7.5 to 10 cm ). Petals overlapping, pointed tip, white and yellow with some red markings. Fragrance: Peach, medium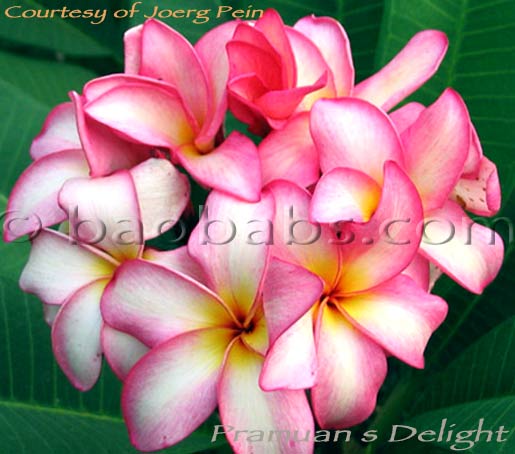 Plumeria rubra PRAMUAN S DELIGHT
РАСТЕНИЕ (черенок с корнями) 25-30cm : 29.9 €


Lovely and well balanced combination of pink with white and yellow on these remarkable flowers. Petals are separated and only slightly overlapping : mainly pink with some red veining, turning to yellow towards center and joining in a red star-shaped eye. Diameter: 2.5" to 3" ( 6.0 to 7.5 cm ). Flowers are forming ball shaped trusses. Pink color intensifying during cool season in tropical climate. Fragrance: sweet honey fragrance. Leaves: medium green with wavy margins and pointed tip. Habit: broad upright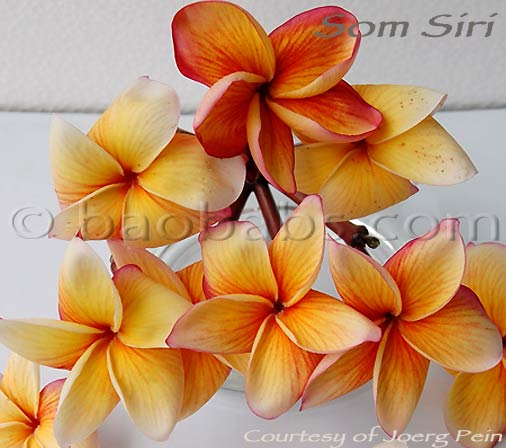 Plumeria rubra SOM SIRI
Orange Siri[X]
ЧЕРЕНОК 20-25cm : 26 €

РАСТЕНИЕ (черенок с корнями) 20-25cm : 33.8 €


Deep yellow with red striations, 2" to 3" ( 5.0 to 7.50 cm)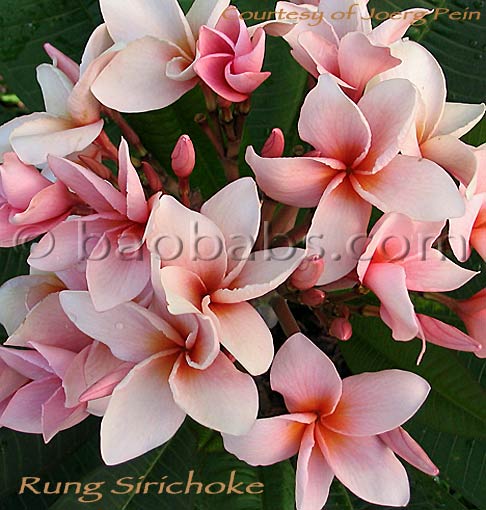 Plumeria rubra RUNG SIRICHOKE
Rung Sri Choc[X]
СЕМЕНА (3) : 3.9 €

ЧЕРЕНОК 20-25cm : 19.5 €


7.50 - 8.0 cm pink to cream-pink with salmon central area. Petals: broad elliptical, overlapping, medium substance. Fragrance: smooth, sweet, medium intensity Leaves: beautifully dark green, often with purple hue and purplish veining, not shiny, elliptical with pointed tip. Long flowering period and flower-heads with multiple flower-buds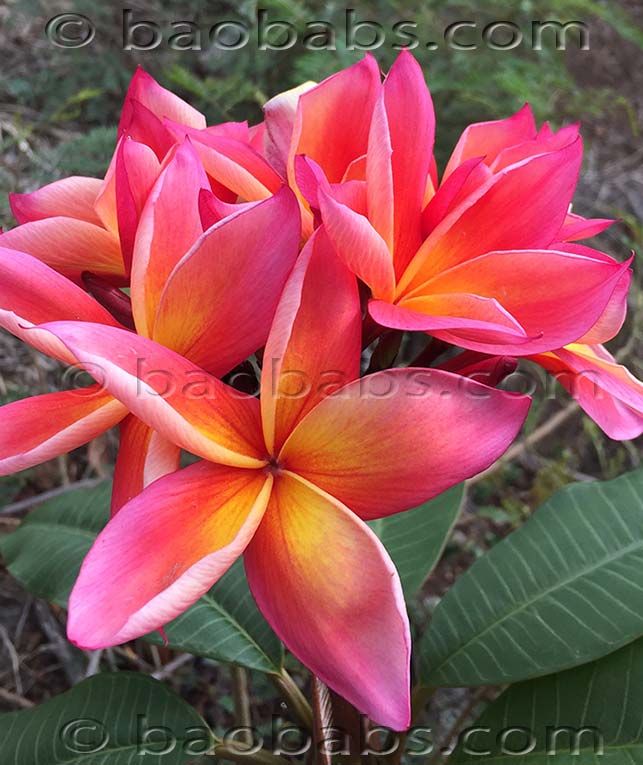 Plumeria rubra JEANNIE MORAGNE
Jean Moragne Jr. , Jeannie, Jean Moragne Jr[X]
СЕМЕНА (3) : 6.5 €

ЧЕРЕНОК 20-25cm : 26 €

РАСТЕНИЕ (черенок с корнями) 15-25cm : 29.9 €


Very impressive Plumeria with strong colors and well shaped flowers. Well known variety from USA with large flowers of 3.5" to 4.5" ( 9.0 to 12.0 cm ) flowers. Petals slightly overlapping, oval and sharply pointed. Golden-yellow with red to purplish red area and red-orange veining radiating outwards. Flower-buds:dark red. Fragrance: fruity to smooth honey. Leaves: Elliptical green leaves with red borders with acute tips.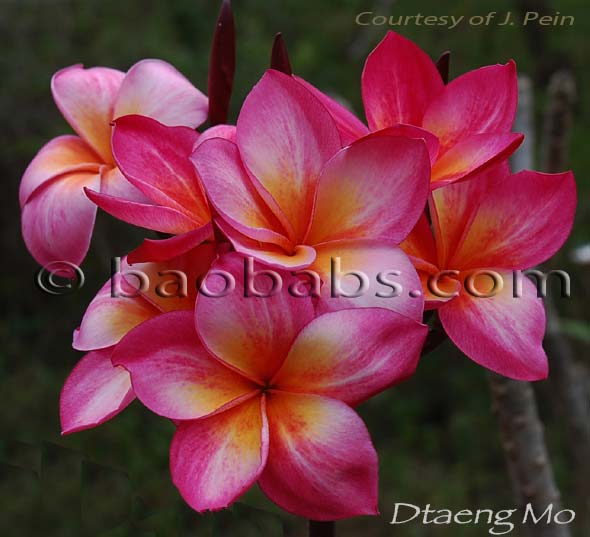 Plumeria rubra DTAENG MO
Watermelon[X]
РАСТЕНИЕ (черенок с корнями) 20-25cm : 29.9 €


Red with orange and gold, increasingly purple with age


Plumeria rubra R-03
Vasithee, Nantharat R-03[X]
ЧЕРЕНОК 20-25cm : 15.6 €

РАСТЕНИЕ (черенок с корнями) 25-30cm : 39 €


Very Beautiful Variety ! Deep-red color and very decorative foliage and habit. Carmine-red flower with darker red striations. Petals: heavily overlapping, broad oval with slightly pointed tip, partly covered with fine hairs. Rather intense, fresh and sweet Fragrance.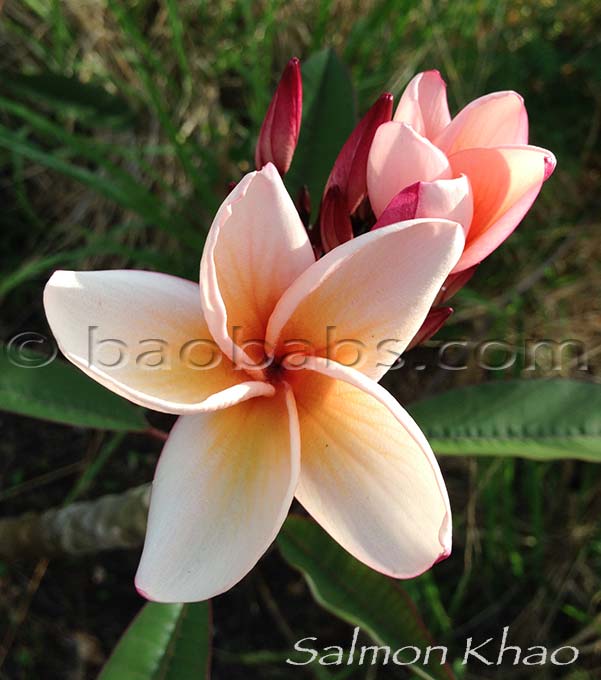 Plumeria rubra SALMON KHAO
Brown White[X]
РАСТЕНИЕ (черенок с корнями) 15-25cm : 29.9 €



Plumeria rubra SOM SUAY
Som Suay[X]
РАСТЕНИЕ (черенок с корнями) 20-25cm : 29.9 €


yellow/orange flowers with pink centre, compact habit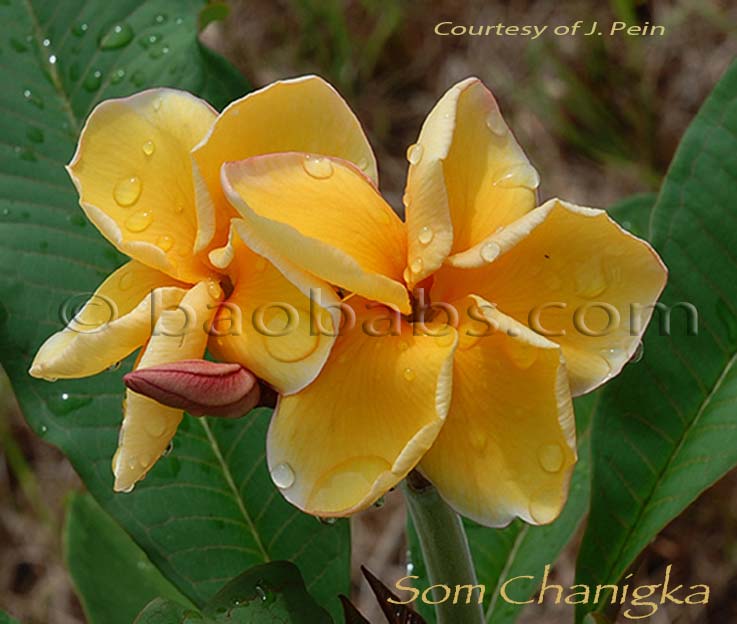 Plumeria rubra SOM CHANIGKA
Chanigka Orange[X]
РАСТЕНИЕ (черенок с корнями) 20-25cm : 29.9 €


Glowing golden-orange color with cream area along margin. Very good keeping quality, slow growing.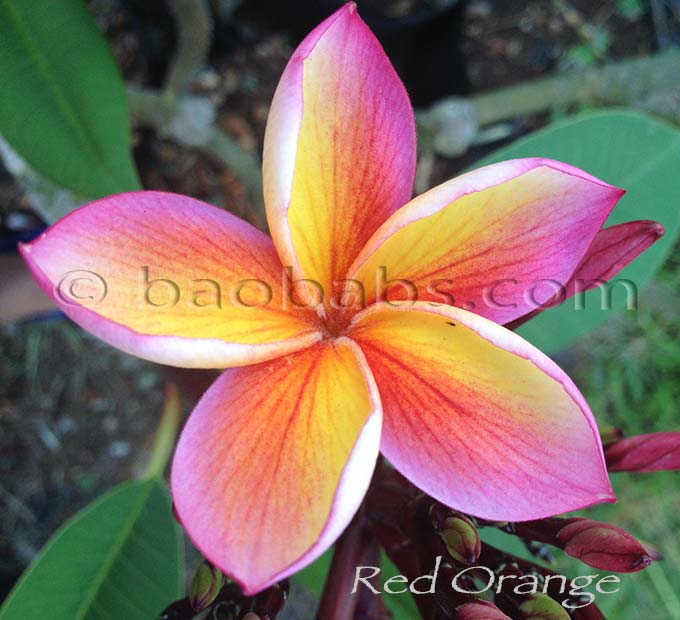 Plumeria rubra RED-ORANGE
JL Red-Orange[X]
РАСТЕНИЕ (черенок с корнями) 25-30cm : 33.8 €


This beautiful plumeria blooms with nice clusters of 3 inch heavily veined flowers with a stunning meltdown of red and orange hues.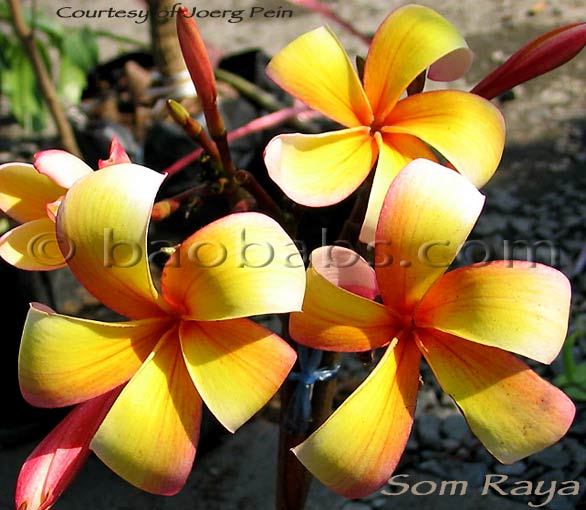 Plumeria rubra SOM RAYA
Firestorm, Ceylon Beauty, Shooting Star, Raya Orange, Thai Firestorm, Red Orange[ ]
ЧЕРЕНОК 20-25cm : 29.9 €

РАСТЕНИЕ (черенок с корнями) 15-25cm : 39 €


Beautiful Yellow-orange flowers with pink shades, 3"-4" (7.50 -10 cm), strong grower. The ultimate brilliant rainbow. Great bloomer, Medium growth habit and a strong floral scent. Striking orange pinwheel variety from Thailand.