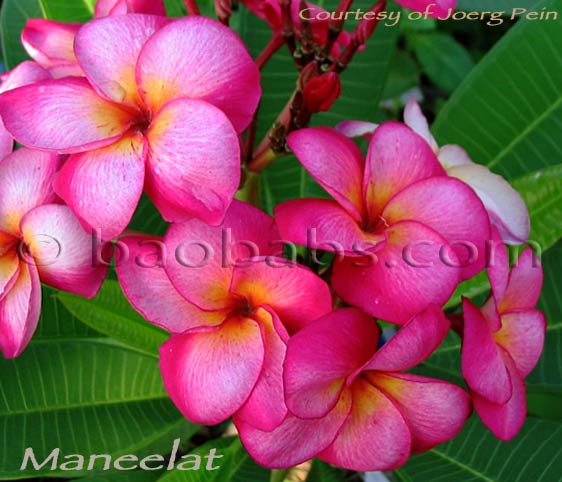 Plumeria rubra MANEELAT
Maneelat[H] Maree Rat[P] Manerath[A]
ЧЕРЕНОК 20-25cm : 15.6 €

РАСТЕНИЕ (черенок с корнями) 20-25cm : 26 €

РАСТЕНИЕ (черенок с корнями) 35-40cm : 33.8 €


A very special color. 2.5"- 3.5" ( 6.0 - 9.0 cm ) diameter flat flowers of purplish-red to dark purplish-pink with small yellow-orange central area. Petals: moderately overlapping, broad oval, dark purple-pink over white background, yellow with orange towards base. Substance: good Fragrance: fresh, wild straw-berry, medium intensity Leaves: dark green with light green veining, elliptical with downward pointing tip.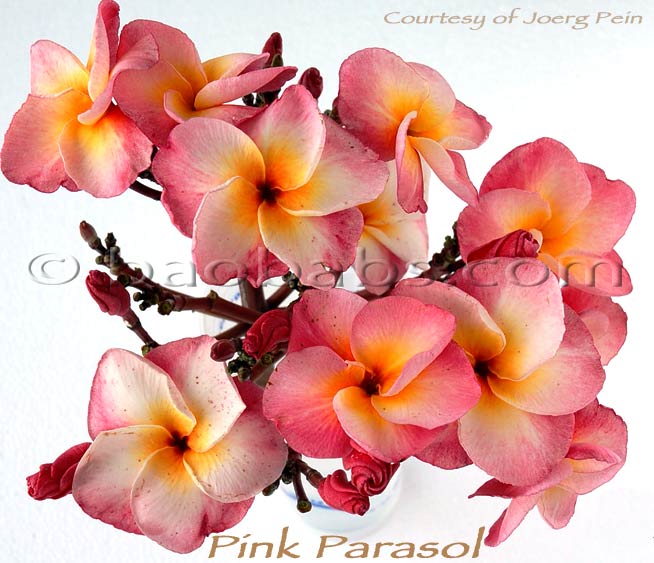 Plumeria rubra PINK PARASOL
4810[X]
ЧЕРЕНОК 20-25cm : 19.5 €

РАСТЕНИЕ (черенок с корнями) 25-30cm : 26 €

РАСТЕНИЕ (черенок с корнями) 35-40cm : 33.8 €


Large flowers, pink and white with yellow thoat, 3" to 3.5"(7.50 to 9.0 cm)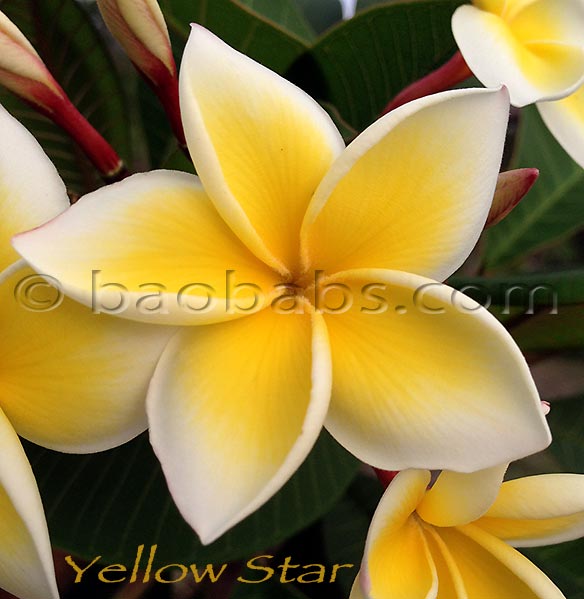 Plumeria rubra LJN YELLOW STAR
ЧЕРЕНОК 20-25cm : 15.6 €

РАСТЕНИЕ (черенок с корнями) 20-25cm : 26 €


Fleur en forme d'étoile quasiment parfaite ! Les pétales d'excellente consistance, de couleur jaune doré, ont une marge blanche du plus bel effet. Variété créée par Le Jardin Naturel.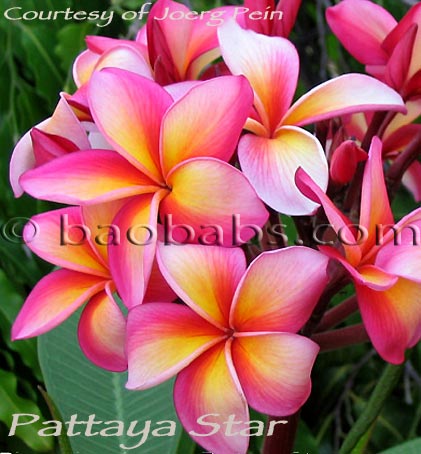 Plumeria rubra PATTAYA STAR
РАСТЕНИЕ (черенок с корнями)20-25cm : 39 €


3.5" to 4" ( 8.0 to 10 cm ) large flowers of pink, yellow and orange with some red veining. Petals slightly overlapping, oval, recurved , pink with shades of gold, yellow and orange. Increasingly yellow and orange with age. Fragrance: sweet, medium to strong Leaves: medium green, elliptical with pointed tip Impressive Rainbow variety with intense coloration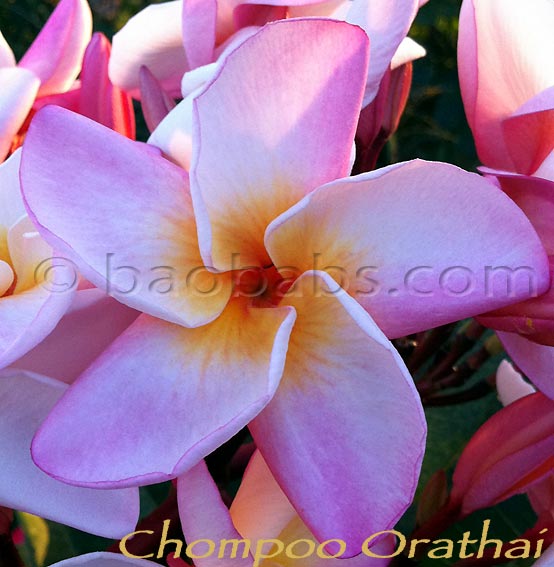 Plumeria rubra CHOMPOO ORATHAI
Orathai Pink, Orathai[X]
ЧЕРЕНОК 20-25cm : 14.3 €

РАСТЕНИЕ (черенок с корнями) 25-30cm : 29.9 €


2.5" - 3" ( 6.0 to 7.50 cm ) diameter flowers of light pink with deeper pink and orange throat. Petals: heavily overlapping, light pink with deep pink area and orange towards base. Substance: good Petioles covered with white hairs Fragrance: medium intensity, sweet. Leaves: young leaves emerald green, later dark olive green with light green veining.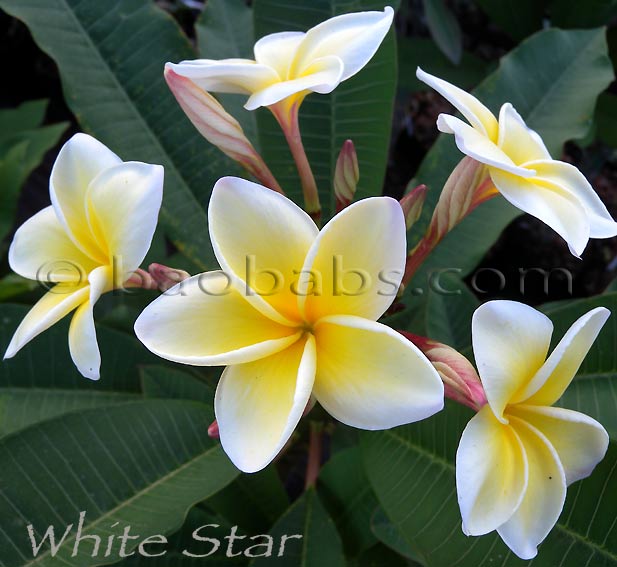 Plumeria rubra WHITE STAR
Celadine,Hawaiian Yellow, Graveyard Yellow, Common Yellow , Common Cream, Yellow, Huevos, Common White[X]
СЕМЕНА (3) : 3.9 €

ЧЕРЕНОК 10-15cm : 9.1 €

ЧЕРЕНОК 20-25cm : 15.6 €

РАСТЕНИЕ (черенок с корнями) 15-25cm : 26 €


Most desirable plumeria for fragrance. The flowers are medium to large 3 1/2 inches and brilliant yellow, with a broad white margin around the firm textured petals. Strong lemon fragrance with very good keeping quality. Vigorous but compact grower. Thick branched and heavy blooms. The fragrance is somewhat like dish soap.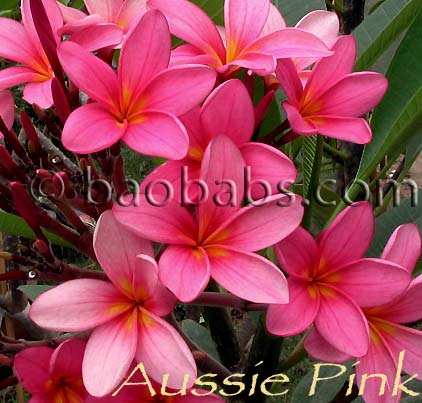 Plumeria rubra AUSSIE PINK
Pink Lizzie, Pink Australis, Fairy Wings, Common Aussie Pink, Gentle Pink, Chompoo Kluai Mai , Joshua , Cairns Red, Deep Fuchsia, Deep Aussie Pink, Abernathy Red, Emma Jade, Red Frangipani, Port South Road, Bundall Beauty, Padstow Pink, Fuchsia, Pink Glow, Aussie Deep Pink[X]
РАСТЕНИЕ (черенок с корнями) 20-25cm : 33.8 €


Huge basketball sized clusters of 4" flowers. Compact growth. Lanky. Peachy scent. One of the hardiest plumerias. Strong, sweet fragrance. Upright and open branching variety suitable for landscaping, moderate to light pink with small brilliant yellow centre. Light pink flowers which are streaked with darker pink lines and a yellow orange center. Long pink petals with rich red center. With additional heat, the flowers are very strongly colored but within the plant you will still find pastel colors. The inflos continue to grow throughout the blooming season.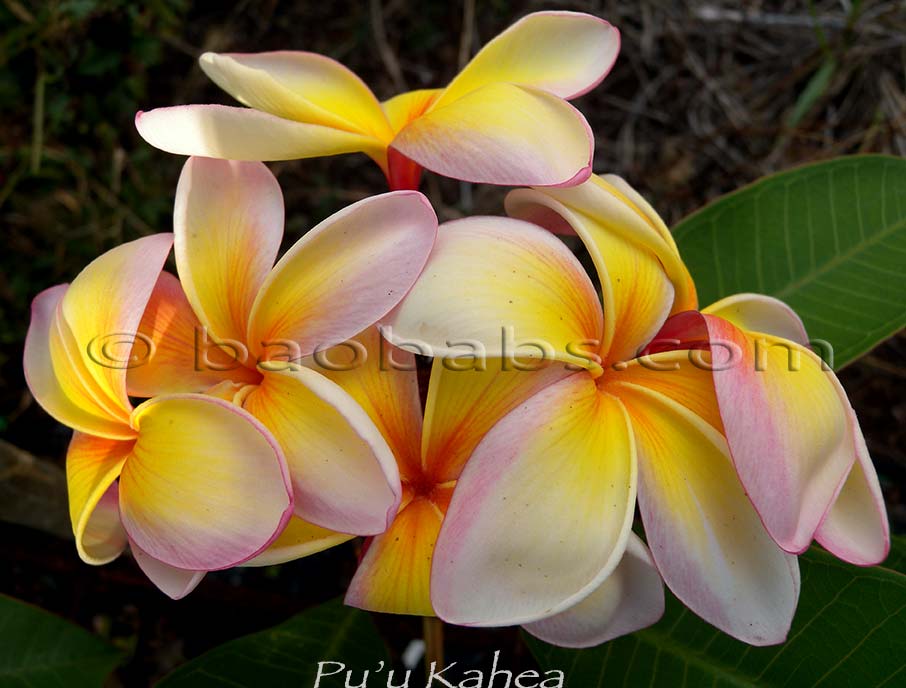 Plumeria rubra PUU KAHEA
O'Sullivan, Fiesta, Rainbow Spider,Rainbow Surprise,Mooi Rainbow[X]
ЧЕРЕНОК 20-25cm : 15.6 €

РАСТЕНИЕ (черенок с корнями) 15-25cm : 39 €


Truly superior flower, brilliant yellow with a strong red band on both front and back of petals. Individual blossoms are very large, just over 4" in diameter. Fragrance is tangy lemon. Brilliant yellow with a deep reddish edge, lemon fragrance, good keeping quality. Parentage: P. rubra X P. rubra forma acutifolia. Very large rainbow with thick branching. Beautiful bright yellow star shape with a strong red band. Tall grower. Medium tree. Very rich colors, a spicy scent and big bloom heads. It has proven to be a fast grower producing tall trees with thick branches, very sturdy and good for windy areas.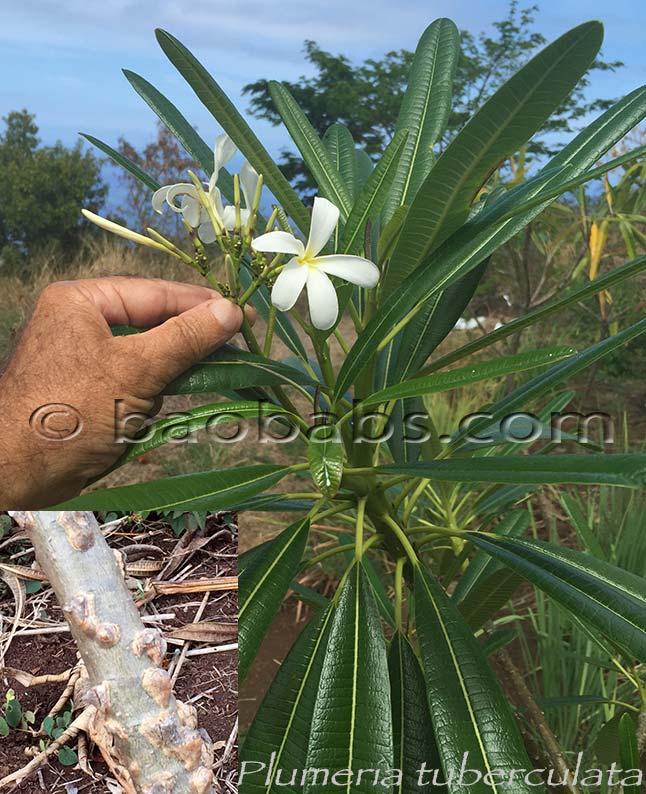 Plumeria tuberculata
Plumeria obtusa tuberculata[X]
СЕМЕНА (3) : 3.9 €

ЧЕРЕНОК 20-25cm : 19.5 €

РАСТЕНИЕ (черенок с корнями) 20-25cm : 26 €


A highly ornamental upright evergreen shrub with spearhead shaped elongated leaves. Very large 4 -5", stunning pure white spider like flowers which are highly perfumed. Rare plumeria with a beautiful trunk and white fragrant flowers. Small tree with dwarf growth habit. It looks similar to P. obtusa but the flowers have a really sweet scent. It also has more narrow leaves. Dinosaur texture, bug free evergreen leaves, resistant to rust, and dense tree form, upright growth habit. Knobby trunk. Some confusion between P. tuberculata and P. obtusa var sericifolia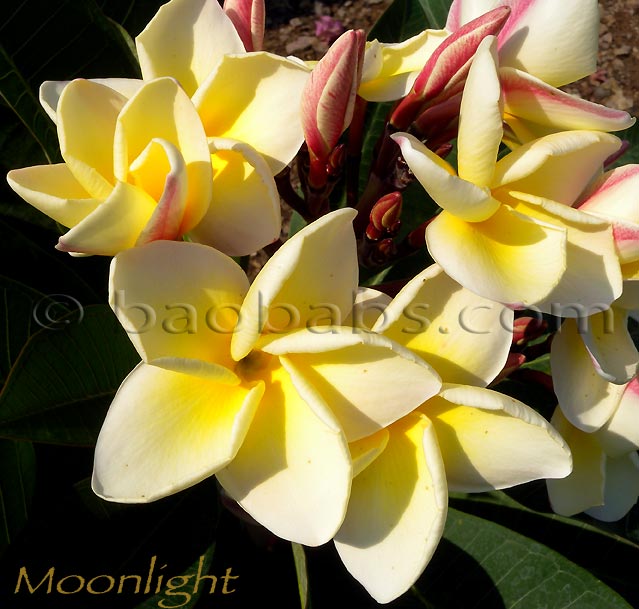 Plumeria rubra MOONLIGHT
ЧЕРЕНОК 15-20cm : 15.6 €

РАСТЕНИЕ (черенок с корнями) 25-30cm : 29.9 €


Cream-yellow flowers , 3" ( 7.50 cm). The petals overlap strongly. The outer edge of the petals bears a very apparent red strip on the buds of flowers, which contrasts nicely with the pale yellow color of the petals. Sweet lemon fragrance. Excellent consistency and rustic variety.

Plumeria rubra MUANG PUANG ROI
Violet Queen, Muang Puang, Muang Rashenee[X]
СЕМЕНА (3) : 3.9 €

ЧЕРЕНОК 20-25cm : 15.6 €

РАСТЕНИЕ (черенок с корнями) 25-30cm : 26 €


Lilac/lavender with yellow and pink centre. The medium flowers are produced in large bunches. Regularly produces double and triple flowers although not always. The perfume is very sweet and strong. 2" to 3" and dense clusters, with conspicuous light purple petals and bright golden-orange in the center. The purple color will become purple-blue color once it has been blooming for few days. Round, strongly overlapping petals, forming a cup shaped flower. One side of each petal would bend toward the petals base. Slightly sweet fragrance.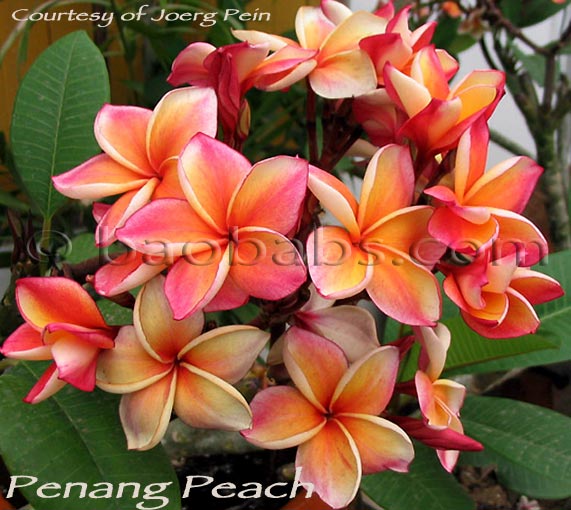 Plumeria rubra PENANG PEACH
Som Garasin, Thai Gold, Thai Yellow, Thai Salmon, California Sunset, Som Kalisin, Thai Gold[ ]
СЕМЕНА (3) : 3.9 €

ЧЕРЕНОК 20-25cm : 19.5 €

РАСТЕНИЕ (черенок с корнями) 15-25cm : 29.9 €


Yellow-orange flowers with red veins and markings of 2" to 3" appear in dense clusters. Petals overlapping, of good substance and keeping quality. A remarkable characteristic is the alteration of color depending on the season. The flowers will turn towards red in hot and dry weather and display much more yellow during cooler temperatures. Fragrance: mild, fruity reminiscent of Peach. Broad elliptical leaves are of medium green color with pointed tips and distinct veining.


Plumeria rubra PHET PACHARA
Pacharaporn Diamond[X]
РАСТЕНИЕ (черенок с корнями) 20-25cm : 29.9 €


3" textured brownish-cream with yellow shading over central area, covering about 50% of the whole surface. Petals overlapping and of heavy substance, uniquely shaped with greatest width near base. Keeping quality: very good Fragrance: intense, sweet. Extraordinary coloration and twisted Leaves: narrow and long, medium green, elliptical with pointed tip. 2" rounded and heavy brownish-cream and pink flowers. Incredibly strong and perfume sweet Fragrance. Tends to be compact like Penang Peach, and grows into a dense tree. Needs heat to bring out the Salmon orange. Many inflos but the inflos are not huge, more like Nebels Gold. Vigorous grower, unusual sweet spicy scent, dark foliage. Red veining on leaves and compact growth habit. Sets seed.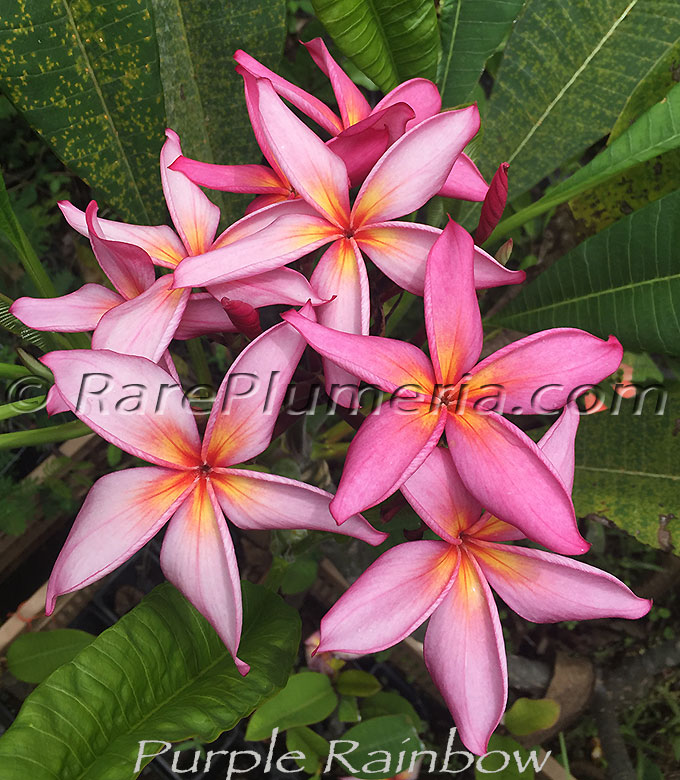 Plumeria rubra PURPLE RAINBOW
Muang Sairung , Violet Rainbow[X]
ЧЕРЕНОК 20-25cm : 19.5 €

РАСТЕНИЕ (черенок с корнями) 15-25cm : 29.9 €


A stunning purple-maroon with a golden-yellow center and red veining spreading from eye. Wonderful, sweet fragrance. Large star-shape 4" to 5". Petals widely separated, asymmetrical and pointed. Backside purple over white with maroon stripe along rim. Keeping quality: good. Fragrance: medium, smooth honey. Sweet but not strong scent. Very tall.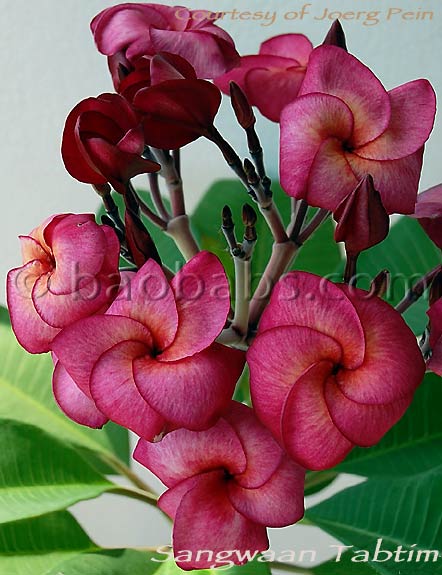 Plumeria rubra SANGWAAN TABTIM
Sangwan Tabtim, Sanglant Tubtim, 118[X]
ЧЕРЕНОК 15-20cm : 19.5 €


3" to 3.5" ( 7.5 - 9.0 cm ) rounded flowers . Shades of red to dark pink spread over cream background with occasionally white shining through. Petals : very broad, fan-shaped and heavily overlapping. Fragrance: very sweet, medium Leaves: medium green, obovate with pointed tip. Note: Unusual flower-shape and coloration

Copyright © Le Jardin Naturel