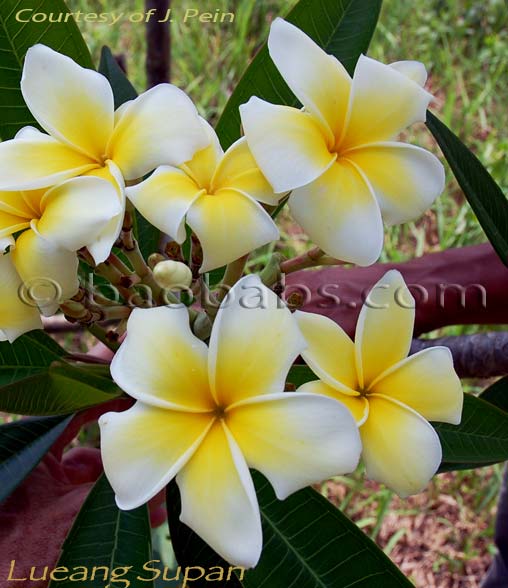 Plumeria rubra LUEANG SUPAN
Yellow Supan[X]
РАСТЕНИЕ (черенок с корнями) 20-25cm : 29.9 €


Yellow with white flowers and yellow-orange center of 2.5" to 3.5" (7.5 to 9.0 cm )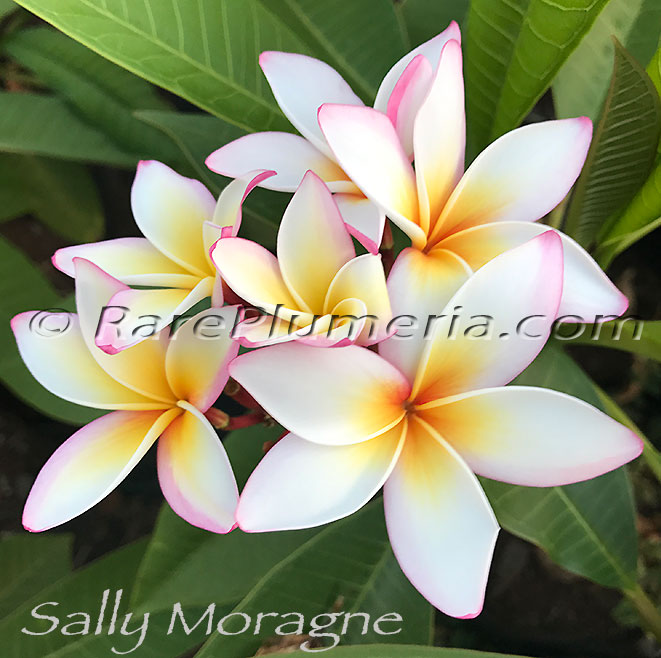 Plumeria rubra SALLY MORAGNE
РАСТЕНИЕ (черенок с корнями) 20-25cm : 39 €


Large pink, orange and yellow rainbow fades to almost white. Wide elliptical overlapping petals, floral fragrance, lanky grower. Pink with strong sweet fragrance. Large, light peachy pink with a golden center and pink shading at the edge. Distinctive red veining radiating to the outer edge. Large 4-5" light pale pink with small yellow center and light red veins on outer edge. Good sweet fragrance with nice texture. Large tree. Wide petals with rounded tip, highly overlapped; heavy texture; 4-1/2 to 5", strong sweet fragrance; keeping quality good. Wonderfully fragrant white rainbow. Makes an exquisitely tree. Cold sensitive. Roots sensitive to compaction. Pod parent: Daisy Wilcox. Pollen parent: Scott Pratt. Very lush and heavy blooming. Fragrance is remarkable. Leaves are typically wavy.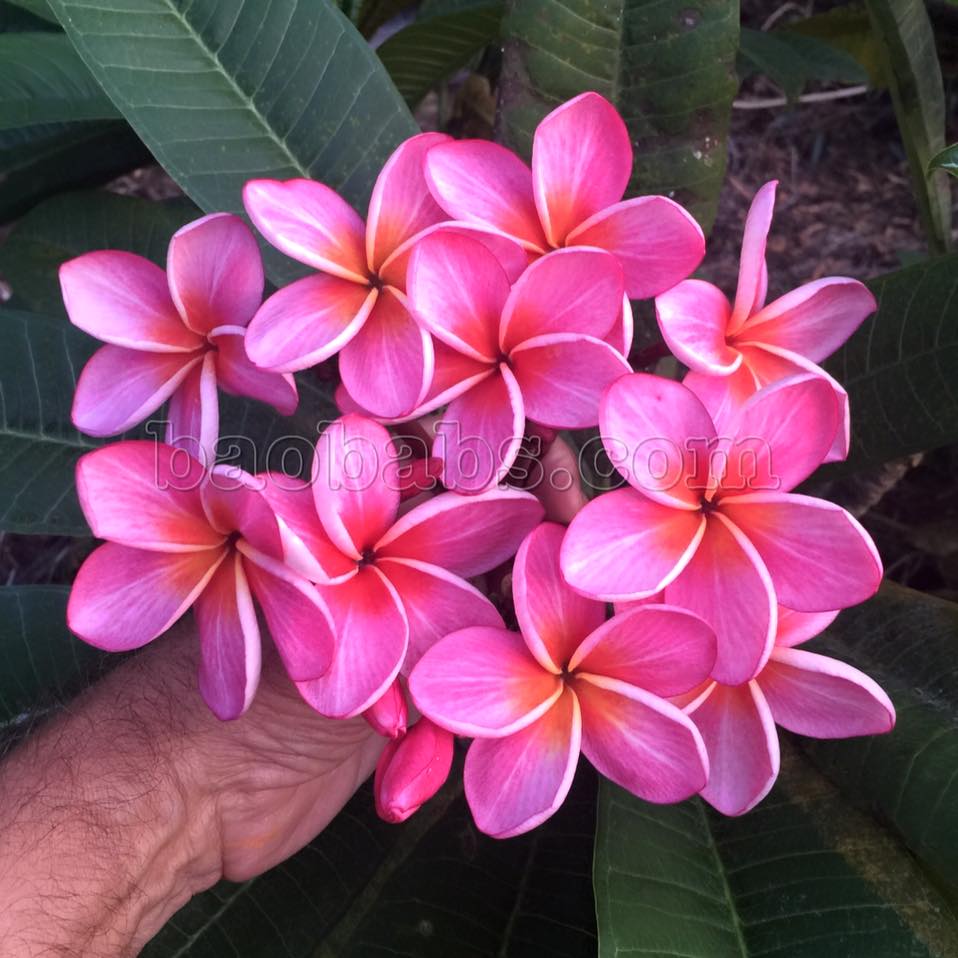 Plumeria rubra STAR RUBY
ЧЕРЕНОК 15-20cm : 19.5 €

РАСТЕНИЕ (черенок с корнями) 20-25cm : 39 €


A must among the frangipani! Gorgeous, sweetly scented blossoms. Beautiful blooming and unique color composition. Deep pinkish-red to red and each petal is a white stripe that forms a star in the center. Orange heart. Very nice shape of petals, reddish green leaves. This is a compact grower, so it is great for a large pot. A very compact variety with large clusters of bright pink flowers.


Plumeria rubra ORANGE SPLENDOUR
Orange Splendor, MKD B7, Orange Star[X]
РАСТЕНИЕ (черенок с корнями) 25-30cm : 29.9 €


Red-orange with gold, 3" (7.50 cm ), strong grower.


Plumeria alba
ЧЕРЕНОК 20-25cm : 14.3 €

РАСТЕНИЕ (черенок с корнями) 15-25cm : 26 €


Plumeria alba is a species of the genus Plumeria. This 2-8m evergreen shrub has narrow elongated leaves, strongly perfumed white flowers with a yellow center. Native to Central America and the Caribbean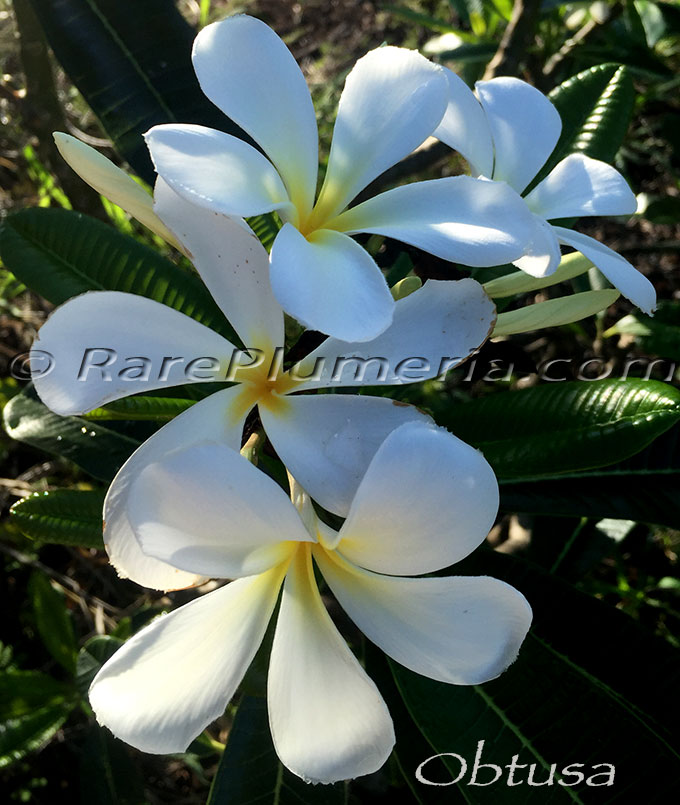 Plumeria obtusa
Singapore, Khao Puang, Evergreen Singapore White, Singapore Obtusa , Singapore White[X]
ЧЕРЕНОК 15-20cm : 14.3 €


An open pollinated plant. Seeds from this plant have produced many different named cultivars. Large white, slight yellow eye. Prolific bloomer. Very glossy, dark, rounded evergreen leaves. No pink or red bands on front or back; petal wide, round tip, no overlapping, no color bands; moderate texture; 3 1/2"; very fragrant lemon, bitter lemon white flowers. Flowers whose waxy surface along with the bright buttery-yellow center is quite a nice contrast to the dark green and glossy leaves. Among the most fragrant plumeria and is easily recognized by its glossy, very rigid and dark green leaves. Evergreen in the tropics and frequently blooming while other plumeria are dormant. Difficult to root. Likes dry conditions. As a tree it is more compact and much more densely foliated and P rubra. The name Singapore Plumeria was applied to Plumeria obtusa when it was introduced into Hawaii from Singapore in 1931 by Harold Lyon.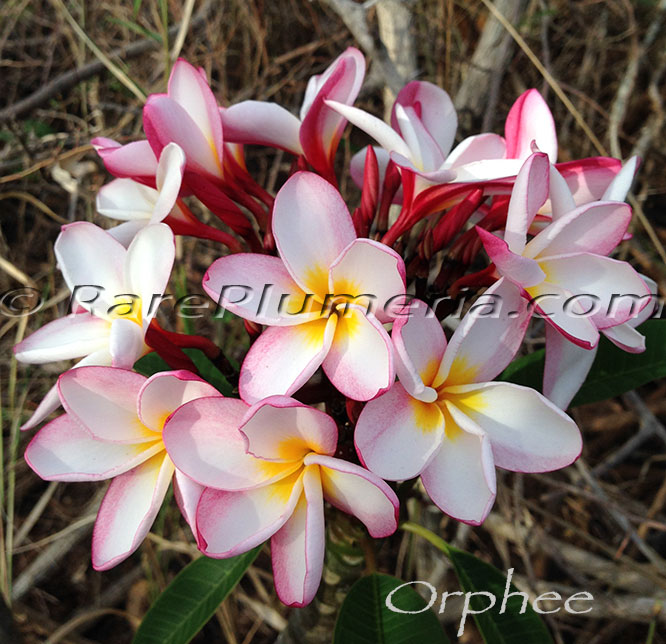 Plumeria rubra ORPHEE
ЧЕРЕНОК 25-30cm : 26 €

РАСТЕНИЕ (черенок с корнями) 15-25cm : 26 €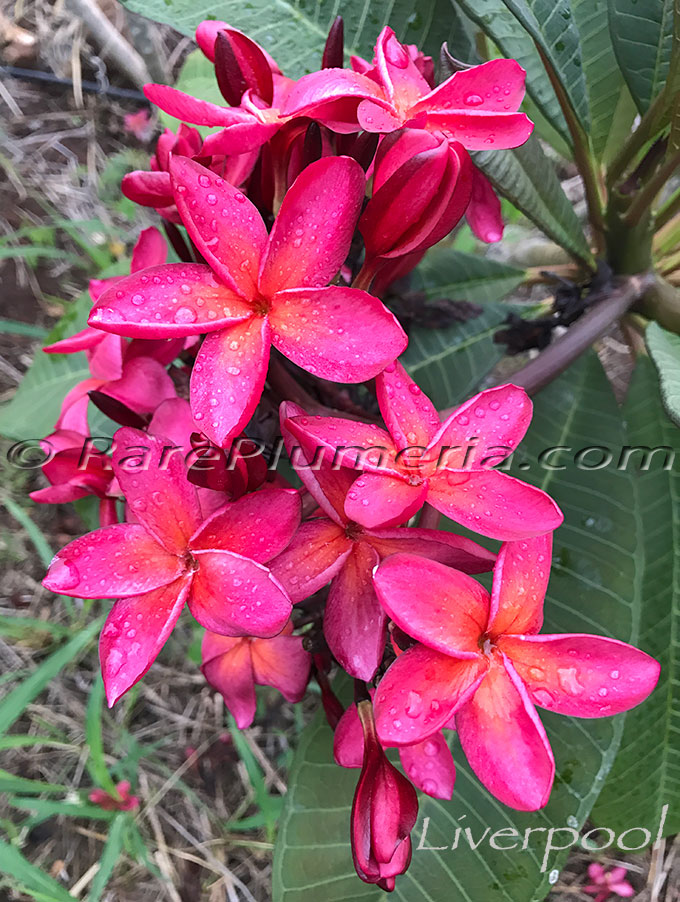 Plumeria rubra LIVERPOOL
РАСТЕНИЕ (черенок с корнями) 20-25cm : 29.9 €


3" ( 7.50 cm) purplish-red with orange-red throat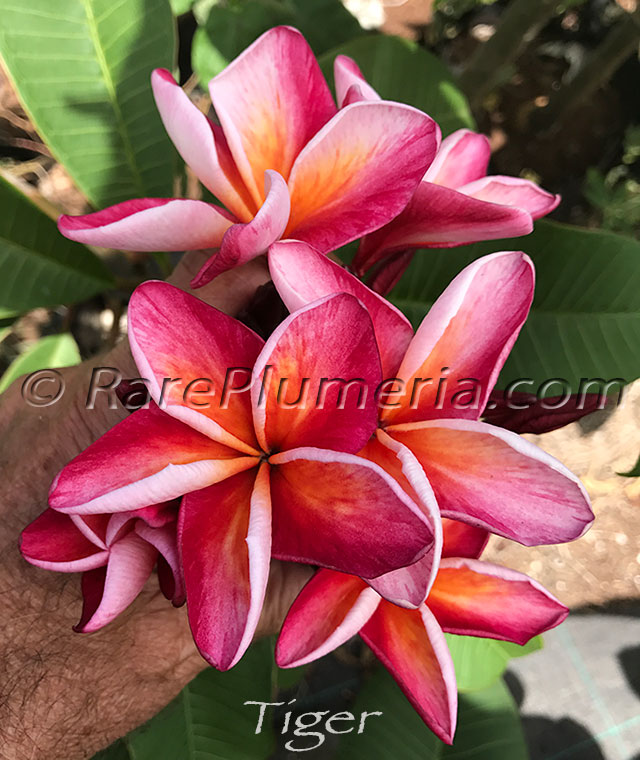 Plumeria rubra TIGER
Black Ruby, Red Dragon Heart , 4711, Red Dragon, Jack 50, J50, LaiSuea, Galaxy[X]
СЕМЕНА (3) : 3.9 €

ЧЕРЕНОК 20-25cm : 19.5 €

РАСТЕНИЕ (черенок с корнями) 25-30cm : 26 €


Beautifully shaped, brightly colored 4" blooms with heavy streaks on a predominately pink background. No two flowers are the same, as each is uniquely striped. Thick petals and a nice scent. A very unusual, slow growing, and compact Plumeria. in the heat it gets nice solid colors..if you're in a milder temp it gets gorgeous streaks along the edges. Compact, nicely scented. Amazing stripes, great fragrance. Multi-colored with dark pink striped on the petals, orange center, mild scents.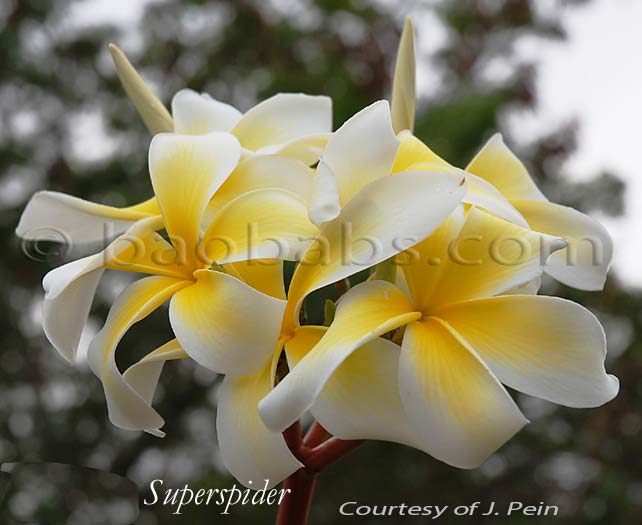 Plumeria rubra SUPERSPIDER
РАСТЕНИЕ (черенок с корнями) 20-25cm : 29.9 €


Large white and yellow flowers with narrow, long petals, strong upright grower.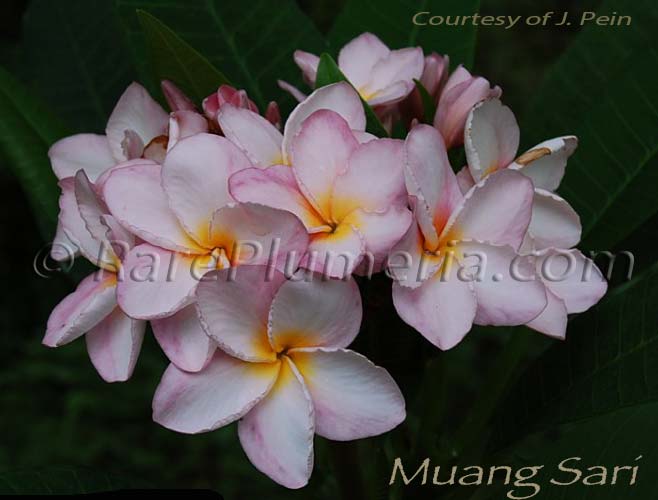 Plumeria rubra MUANG SARI
P-26, Violet Sari[X]
РАСТЕНИЕ (черенок с корнями) 20-25cm : 29.9 €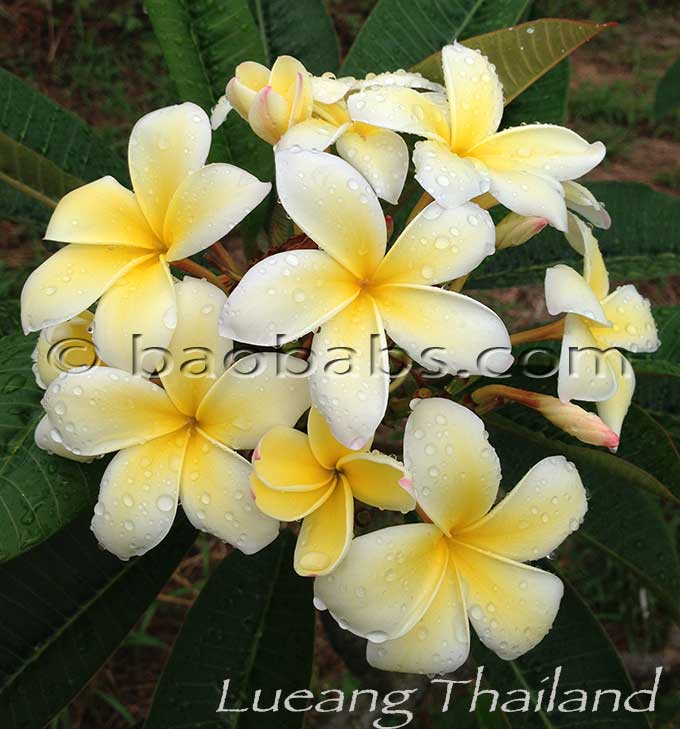 Plumeria rubra LUEANG THAILAND
Yellow Thailand[X]
СЕМЕНА (3) : 3.9 €



Plumeria rubra LUEANG MANAO
РАСТЕНИЕ (черенок с корнями) 15-25cm : 29.9 €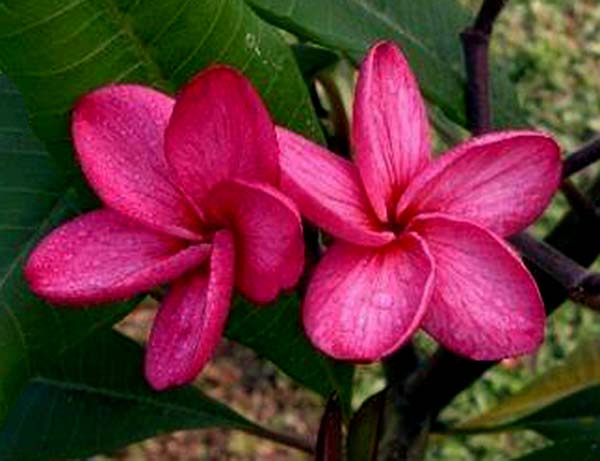 Plumeria rubra GROVE FARM
Daisy Wilcox[X]
РАСТЕНИЕ (черенок с корнями) 20-25cm : 29.9 €


Moderate pink, small bright yellow center, strong grainy red bands on front and back, wide elliptical petals, rounded tips, high overlapping, heavy texture, keeping quality good. Medium pink with a small brilliant yellow center and wide petals. Red bands on front and back. Good texture. A nice unique rose / nutmeg spicy fragrance. A good upright grower and good bloomer. Rachel's Cloud is often sold as GF.

Copyright © Le Jardin Naturel