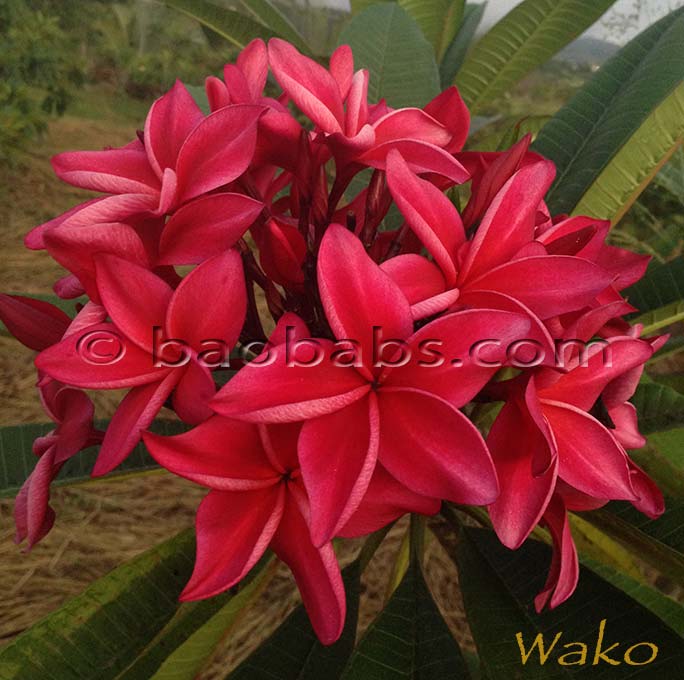 Plumeria rubra WAKO
Yarkoo[P] Wako[H] Wah Gkor[X] Black Red[B]
ЧЕРЕНОК 15-20cm : 23.4 €

РАСТЕНИЕ (черенок с корнями) 15-25cm : 29.9 €


One of the best red varieties ! Dark red 3" ( 7.50 cm ) star-shaped flowers with separated petals. Fragrance: sweet, medium intensity. Leaves: long and narrow, medium green with red thin line along margin.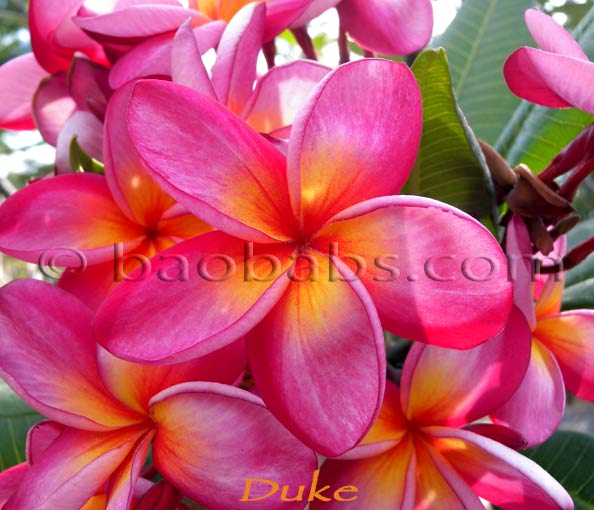 Plumeria rubra DUKE
Tuk[X]
СЕМЕНА (3) : 5.2 €

ЧЕРЕНОК 20-25cm : 19.5 €

РАСТЕНИЕ (черенок с корнями) 15-25cm : 29.9 €


Cultivar named in honor of Duke Kahanamoku of Hawaii, the most famous name in surfing - an Olympic champion, a Hollywood actor and a Hawaiian hero. The petals are round and broad, with dark red lines radiating forward, and overlap moderately. Intense red and pink, with a small bright yellow center. Intense and soft fragrance of fruit punch. Blooming is very important and continues for several months. Duke is one of the most perfumed flowers, becoming even more fragrant after picking. The texture and maintaining quality are excellent. It is not tolerant to cold.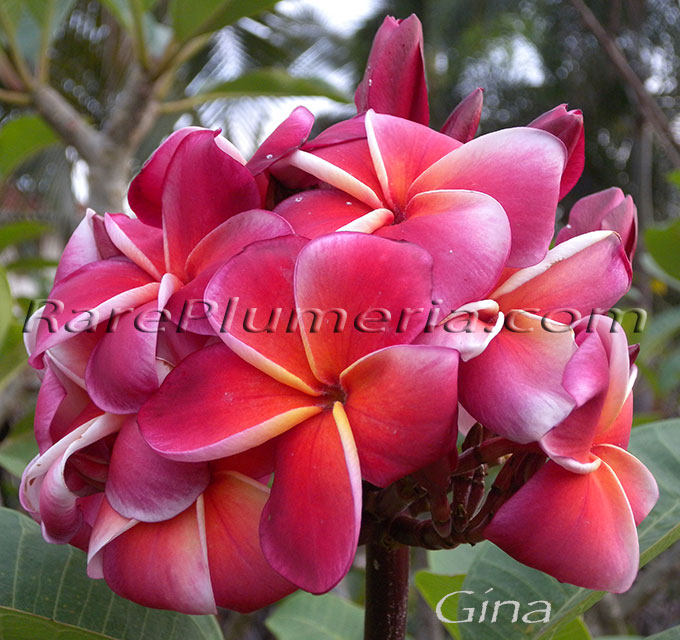 Plumeria rubra GINA
Jeena , Jena, Jeena Red[ ]
ЧЕРЕНОК 20-25cm : 22.1 €


Deep copper-orange-red and purple red, 3.5" ( 9.0 cm), sturdy branches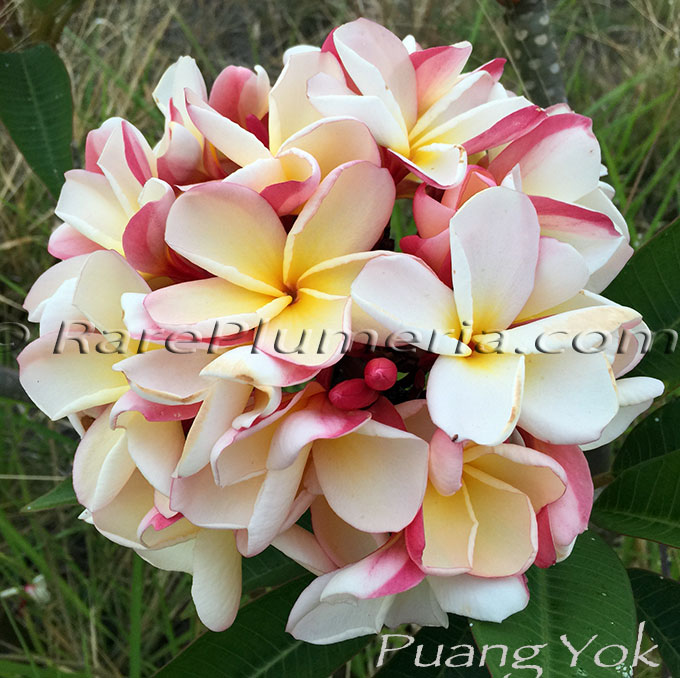 Plumeria rubra PUANG YOK
Poung Yok[X]
СЕМЕНА (3) : 3.9 €

ЧЕРЕНОК 20-25cm : 19.5 €

РАСТЕНИЕ (черенок с корнями) 25-30cm : 29.9 €


Yellow to cream-yellow with red or pink, 2.5" to 3" (6-7,5cm); Petals: rounded, overlapping, good substance. Fragrance: sweet with a hint of mushroom, medium intensity. Leaves: medium green, pointed tip. Unusual coloring.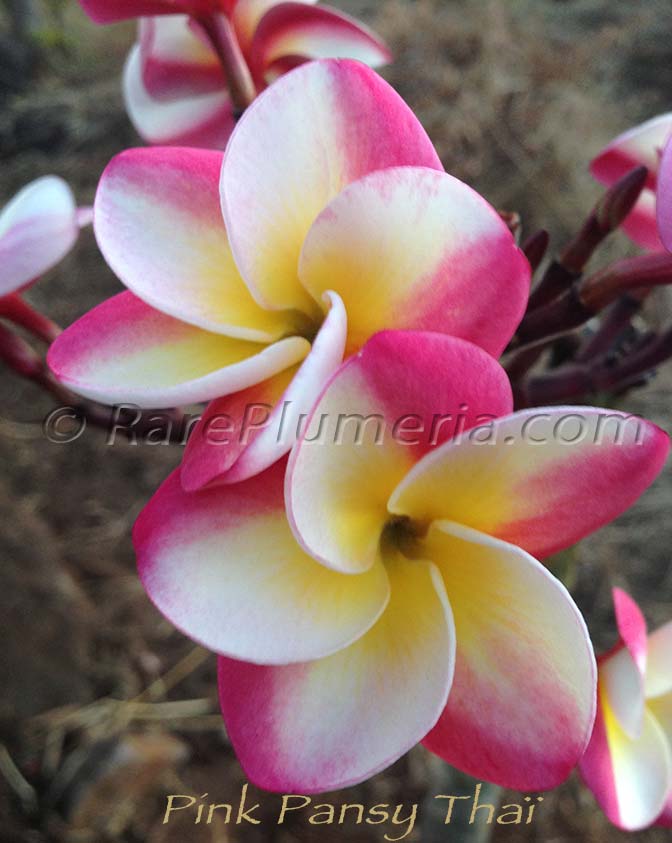 Plumeria rubra PINK PANSY THAI
Kasem's Delight, PK-110, Cranberry Cream, Danai Delight[X]
РАСТЕНИЕ (черенок с корнями) 10-15cm : 26 €


Not far from the J.L. Pink Pansy, but different. Probably a seedling of J.L. Pink Pansy. White with contrasting dark red margin2.5"to 3"(6.0 to 7.50 cm), branches well. One of the best smelling Plumeria. Strong perfume compares to a heavenly women perfume.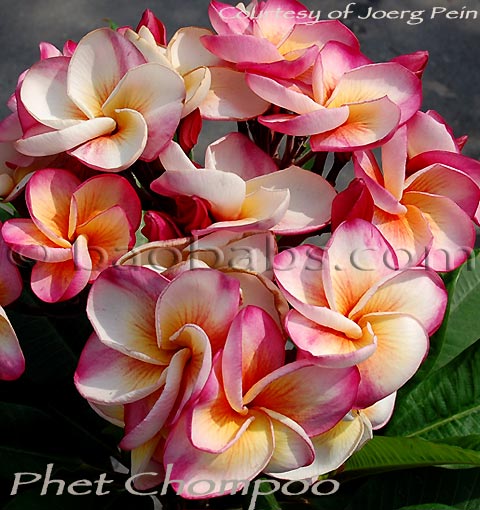 Plumeria rubra PHET CHOMPOO
Pink Diamond, Jacks Cup , Pink diamond, Perch Chompoo, Thuay Klom, Pok's Rainbow, Hurricane Sunrise[X]
СЕМЕНА (3) : 3.9 €

ЧЕРЕНОК 10-15cm : 19.5 €


Also named Plumeria Pink Diamond. A Plumeria with many positive aspects and one of the best in this color range. 3.0" to 3.5" ( 7.50 to 9.0 cm ) almost flat flowers with heavily overlapping petals of good substance. Petals round, white with yellow and pink area, orange-yellow towards center with some red veining. Keeping quality: very good Fragrance: medium intense, fresh and sweet. Leaves: Emerald green, decorative, broad elliptical with pointed tip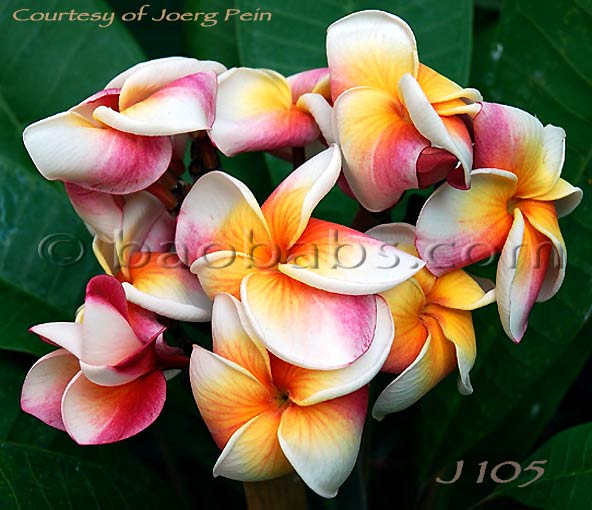 Plumeria rubra J105
New Shocking, Josie, Norma Christina, Norma, Lampang Symphony[X]
ЧЕРЕНОК 20-25cm : 19.5 €

РАСТЕНИЕ (черенок с корнями) 20-30cm : 26 €


2.5" to 3.0" wide open, flat and uniquely colored flowers of good substance. Petals heavily overlapping, white with purple and golden-brown, turning to orange at center. Fragrance: sweet, medium, Leaves: medium to dark green, wider towards tip. Unique coloration makes this unusual Plumeria interesting. overlapping, white with dark pink or red area, turning to yellow and orange towards base. Fragrance: sweet, faint to medium Leaves: medium green, broad elliptical with pointed tip. Compact growth habit. Shiny, rounded leaves and beautiful, scented flowers, not to mention a semi-compact growth habit and excellent blooming performance. Creamy White Petals with Red - Purple edges and orange center. Flowers are fragrant peachy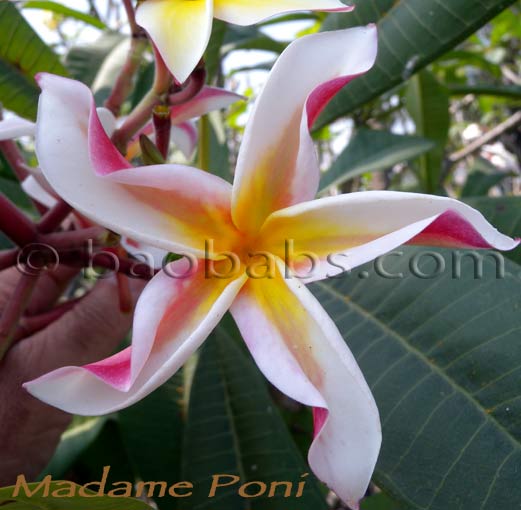 Plumeria rubra MADAME PONI
Corkscrew, Curly Holt, Waianae Beauty, Star, Ponytail , Waianea Beauty, Pony Tail[X]
РАСТЕНИЕ (черенок с корнями) 20-25cm : 39 €


Petal narrow, tapering tip, no overlapping. strong red band on back, twist usually running length of petal. Good texture. Keeping quality good. A rainbow colored flower that has uniquely twisted long narrow petals. Wide greenish-yellow band (with dark red striping) fading to white, yellow center, strong red band on back, tendency to fade, long narrow petals twisting incurving and upturned, tapered pointed tips, 3,5" diameter, slight sweet fragrance. Spectacular Flower. Medium compact tree.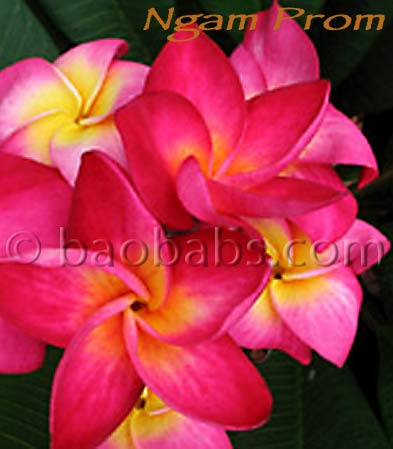 Plumeria rubra NGAM PROM
Wendy Red, Mars Moon[X]
СЕМЕНА (3) : 3.9 €

ЧЕРЕНОК 20-25cm : 15.6 €

РАСТЕНИЕ (черенок с корнями) 15-25cm : 29.9 €


3" to 3.5" ( 7.5 - 9.0 cm ) glowing red flowers with orange-yellow throat. Petals strongly overlapping, oval with slightly pointed tip. Bright red, orange-yellow towards base, turning to pink with age and recurving. Fragrance: smooth, medium intensity. Leaves: broad and flat , medium green with light green veining. Nicely contrasting and strong colors on this new Plumeria, which deserves attention. The fragrance is smooth and sweet and of medium intensity.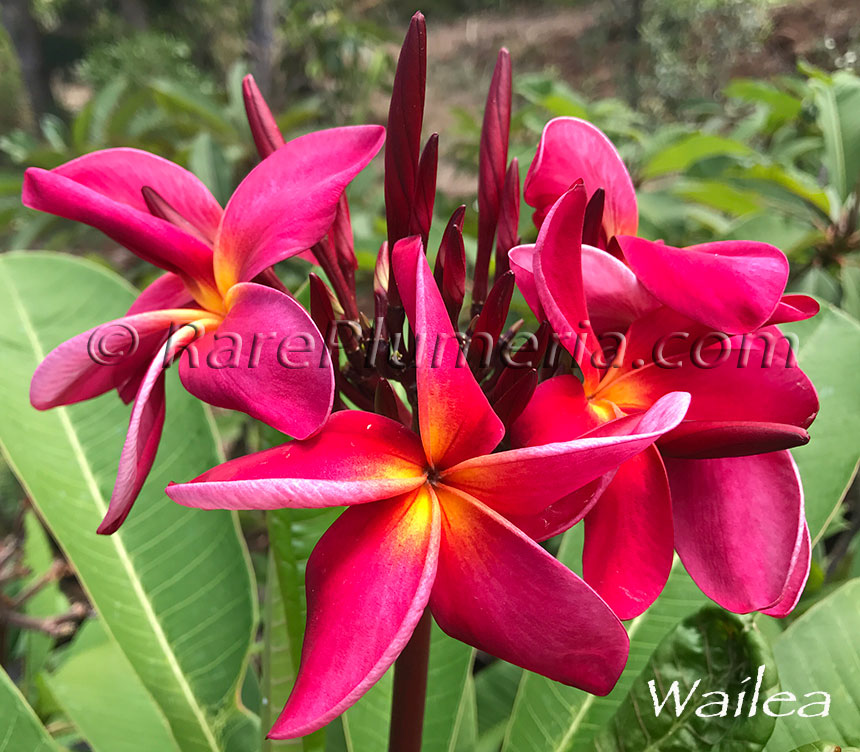 Plumeria rubra WAILEA
СЕМЕНА (3) : 3.9 €

ЧЕРЕНОК 20-25cm : 19.5 €

РАСТЕНИЕ (черенок с корнями) 35-40cm : 39 €


Large 3.5 to 4 ( 9-10cm ) magenta colored flowers with yellow throat. Petals : separated and slightly twisted, red-pink or magenta, increasingly bluish with age. Fragrance: medium, sweet. Leaves: light green with lighter veining, elliptical, pointed tip.

Plumeria rubra ORANGE SIXTY
Dulcemia , Orange 60, Mai Tai, 4108[X]
СЕМЕНА (3) : 3.9 €

ЧЕРЕНОК 20-25cm : 26 €

РАСТЕНИЕ (черенок с корнями) 25-30cm : 39 €


3.0" to 3.5" flowers Orange, yellow, white and maroon with golden orange throat. Petals oval, slightly overlapping, white and yellow to orange-yellow with maroon or purplish-red area and conspicuous veining. Substance: medium Large trusses with multiple flowers Fragrance: medium to strong. fresh and sweet Leaves: olive green, elliptical, pointed tip Nice flowers with conspicuous red striations and veining. Red color intensifying with heat and sunlight.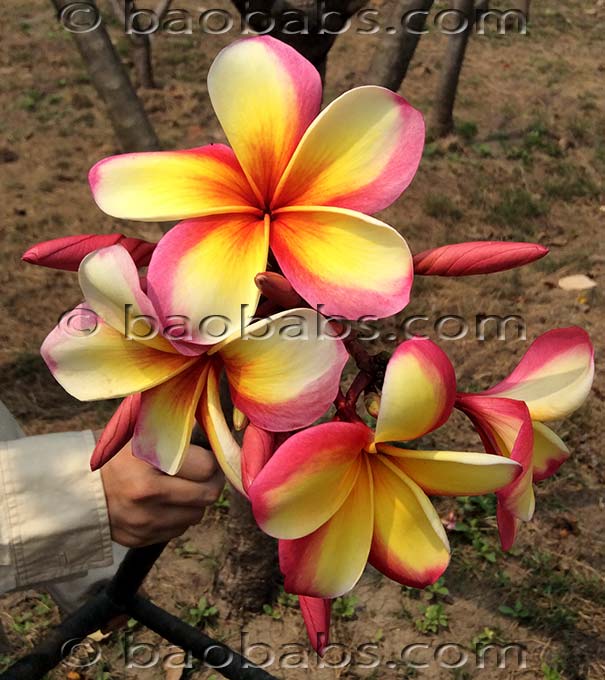 Plumeria rubra PHET PHAYARAE
Brazil[X]
РАСТЕНИЕ (черенок с корнями) 20-25cm : 29.9 €


Yellow flowers with orange-pink-colored pattern. Flower size: 7.5 cm . Perfume-like scent, medium intensity. Upright growth.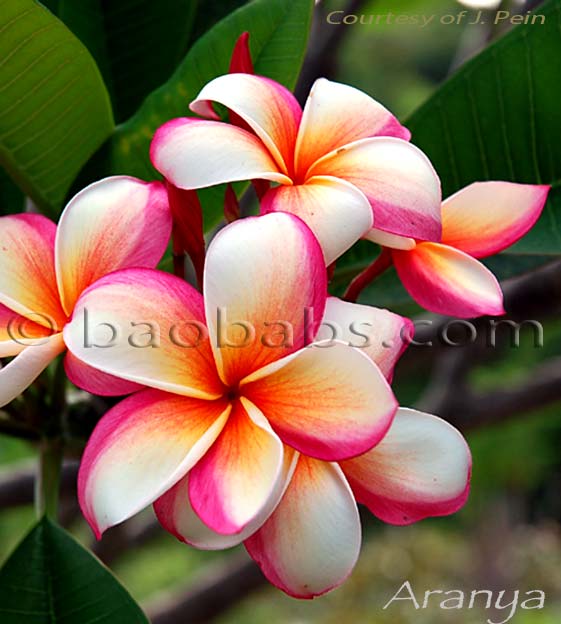 Plumeria rubra ARANYA
РАСТЕНИЕ (черенок с корнями) 20-25cm : 29.9 €


Large flowers (9 to 12 cm in diameter) ; cream with orange hues and deep pink or purplish-pink along margin of petals.

Copyright © Le Jardin Naturel