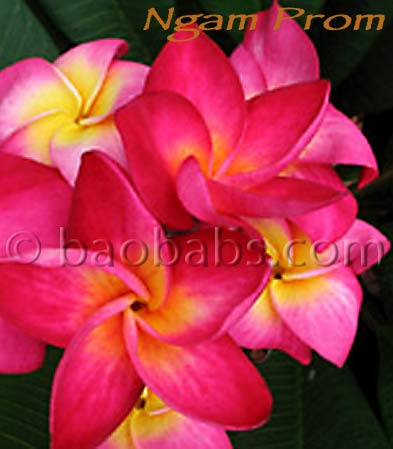 Plumeria rubra NGAM PROM
Wendy Red, Mars Moon[X]
СЕМЕНА (3) : 3.9 €

ЧЕРЕНОК 20-25cm : 15.6 €

РАСТЕНИЕ (черенок с корнями) 15-25cm : 29.9 €


3" to 3.5" ( 7.5 - 9.0 cm ) glowing red flowers with orange-yellow throat. Petals strongly overlapping, oval with slightly pointed tip. Bright red, orange-yellow towards base, turning to pink with age and recurving. Fragrance: smooth, medium intensity. Leaves: broad and flat , medium green with light green veining. Nicely contrasting and strong colors on this new Plumeria, which deserves attention. The fragrance is smooth and sweet and of medium intensity.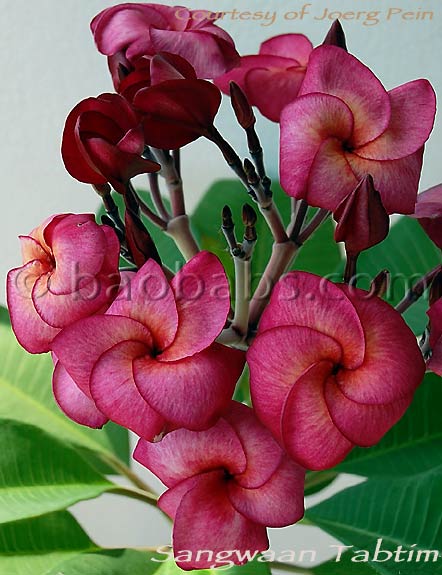 Plumeria rubra SANGWAAN TABTIM
Sangwan Tabtim, Sanglant Tubtim, 118[X]
ЧЕРЕНОК 15-20cm : 19.5 €


3" to 3.5" ( 7.5 - 9.0 cm ) rounded flowers . Shades of red to dark pink spread over cream background with occasionally white shining through. Petals : very broad, fan-shaped and heavily overlapping. Fragrance: very sweet, medium Leaves: medium green, obovate with pointed tip. Note: Unusual flower-shape and coloration


Plumeria rubra LUEANG ROTCHANA
РАСТЕНИЕ (черенок с корнями) 25-30cm : 29.9 €


Golden-yellow, strong citrus fragrance. Petals obovate, pointed, overlapping and of smooth, velvety texture. Backside light yellow with red band along edge. Substance: good, resulting in rigid and durable flowers Fragrance: highly fragrant spicy lemon, more smooth and Vanilla with maturity. Certainly one of the best pure yellows, producing full clusters of flowers.

Plumeria rubra SOM CHOROTON
Som Choraton, Orange Choroton, Somchalothorn, Orange Chalothorn[X]
РАСТЕНИЕ (черенок с корнями) 20-25cm : 29.9 €


2.5" to 3.5" purplish-pink with orange and red striations. Petals: broad oval, pointed tip, overlapping and of good substance. Purplish-pink, increasingly gold and orange toward base, overlaid with red striations. Fragrance: medium, sweet. Sturdy branches whose tips produce large bouquets of purplish pink blooms with eye-catching orange- salmon striations. 3.5" and have a lovely sweet jasminey fragrance.. Chalathorn mean river/water in Thai.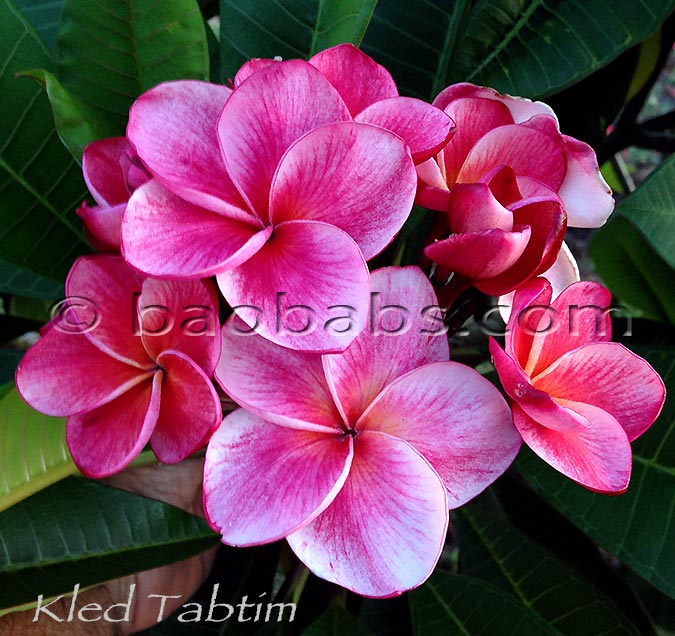 Plumeria rubra KLED TABTIM
Kred Tubtim, Ruby Flake, Iridium[X]
СЕМЕНА (3) : 3.9 €

ЧЕРЕНОК 20-25cm : 15.6 €

РАСТЕНИЕ (черенок с корнями) 15-25cm : 26 €


Rounded 2.5 - 3.0" ( 6.0 - 7.50 cm ) flowers consisting of heavily overlapping, broad petals. Dark Red with white area along rim. Red area turning to light red and orange with age, unveiling conspicuous veining over cream-white background. Good substance and exceptional keeping quality. Fragrance: Mild, sweet. Leaves: medium green, elliptical with downward pointing tip.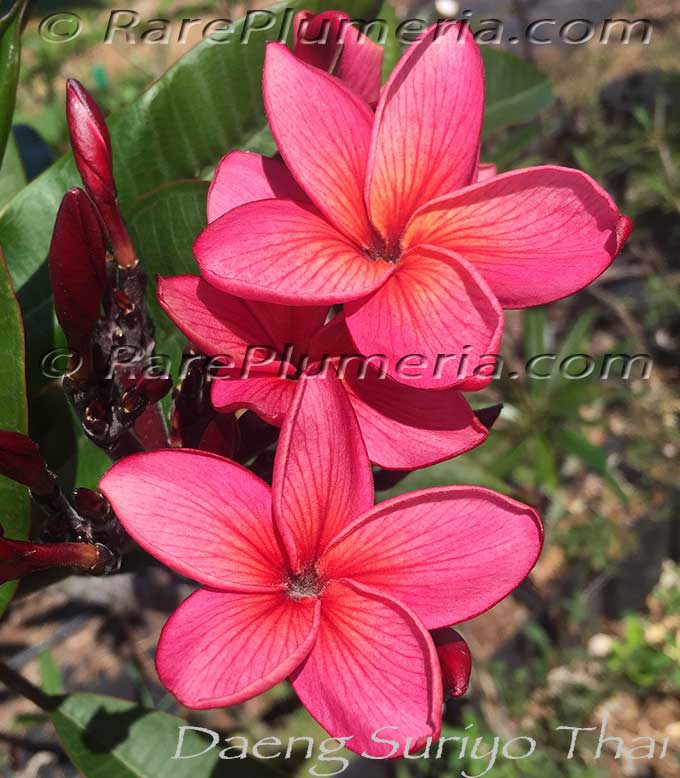 Plumeria rubra DAENG SURIYO THAI
Red Suriyothai[X]
РАСТЕНИЕ (черенок с корнями) 25-30cm : 39 €


2" to 2.5" cherry-red to salmon-red flowers of heavy substance. Petals: heavily overlapping, broad an slghtly angular with pointed tip. Leaves: very dark green, often with purplish tint and red thin line along margin, broad elliptical with downward pointing tip. Tips of branches often very dark purplish-green.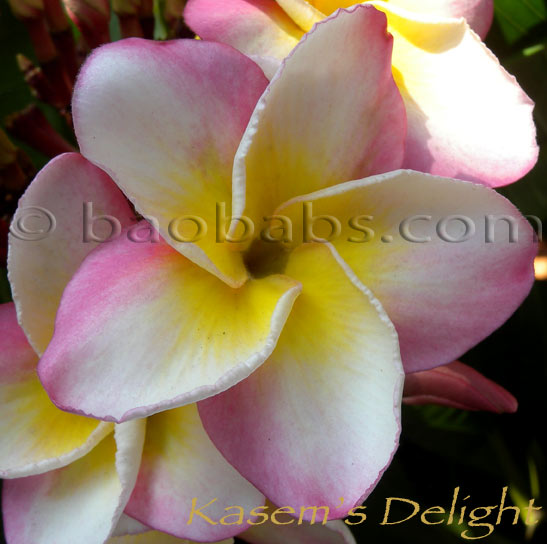 Plumeria rubra KASEM DELIGHT
4222[X]
ЧЕРЕНОК 20-25cm : 19.5 €

РАСТЕНИЕ (черенок с корнями) 25-30cm : 29.9 €


White with pink along margin and yellow center, 2" to 2.5" (5.0 to 6.0 cm), well branching, opening from dark red flower buds. Snow-white with light yellow throat and pink to red-pink shading along both margins of petals. Petals: heavily overlapping slightly pointed and twisted. Fragrance: faint; Leaves: medium green, elliptical with pointed tip. Small round solid white petals red edging and yellow center. grape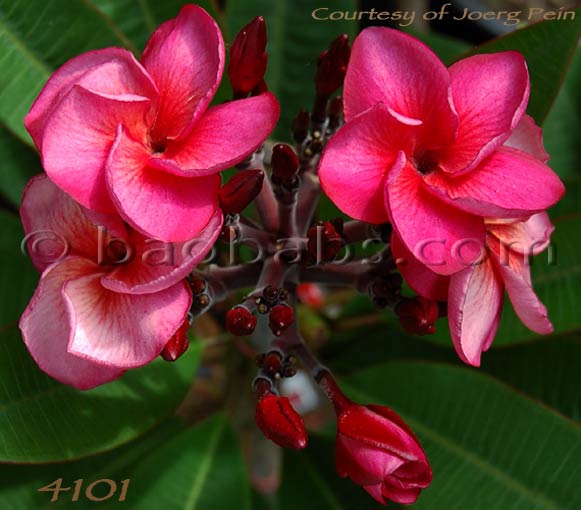 Plumeria rubra IRMA #5
Irma 5, Irma Bryant 5, 4101, Erma 5, Karhun[ ]
СЕМЕНА (3) : 2.6 €

ЧЕРЕНОК 20-25cm : 19.5 €

РАСТЕНИЕ (черенок с корнями) 25-30cm : 29.9 €


3"( 7.50 cm ) flowers , wine-red with orange-red throat and veining, changing to light red with age. The petals have wavy edges and a lovely orange center. The shape is very round. bright pink and slowly fading to light pink revealing the streaked pink and orange lines radiating from the center. Substance: heavy. Fragrance: medium, sweet. Beautiful Sweet scent and bunches of blooms. Recommended. red edges on the leaves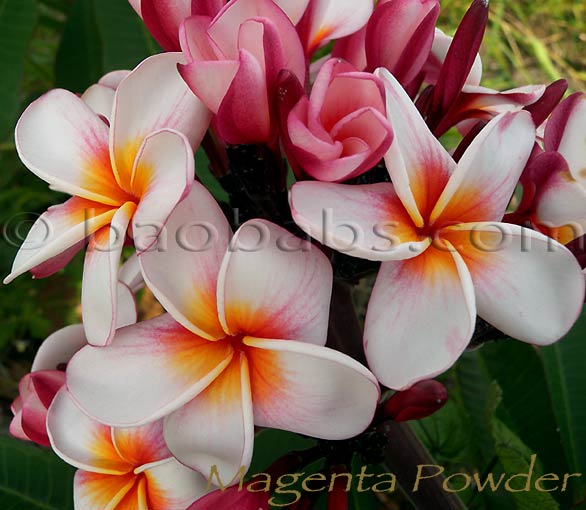 Plumeria rubra MAGENTA POWDER
Gee Phet , Gee Petch , Gee Pet, Jee Petch , Cathay Pearl , Malee, Jeepit[X]
СЕМЕНА (3) : 2.6 €

СЕМЕНА (50) : 23.4 €

ЧЕРЕНОК 20-25cm : 15.6 €

РАСТЕНИЕ (черенок с корнями) 15-25cm : 26 €


Light pink to white flowers with strongly contrasting orange center and red striations spreading from eye. Petals overlapping, elliptical and slightly pointed, light pink to white with stronger pink along margin.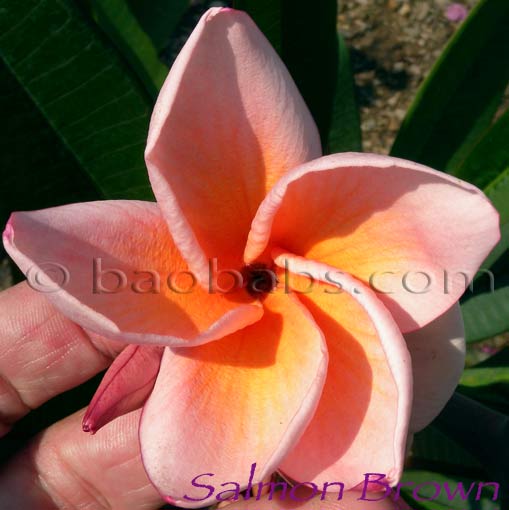 Plumeria rubra SALMON BROWN
4245, Classic Brown, Tangerine, Tippatumporn, C009[X]
РАСТЕНИЕ (черенок с корнями) 20-25cm : 26 €


Thai. Very uncommon color in frangipani. Similar to Salmon Pink but slightly smaller with rounded, heavily overlapping petals. Cream to light brown with salmon center and some darker veining. Salmon color intensity increases with the exposure to sunlight. In the shade the flower colors will be less intensive. Creamy brown; new foliage is dark brown fading to rich green sturdy branching. 3" light pink-brown with muted orange centers. Petals oval and heavily overlap. Keeping quality is fair to good. Slightly powdery musk scent. Medium-tall tree. Tends to abort inflos. Early and easy bloomer. Scent is not too impressive - soft floral smell.Small flowers but thick petals. Lots of branches and sweet scented. Smell like a combination between lime and rose. In Australia, there were two Salmon Brown. One has extremely dark leaves and a much bigger info and flower.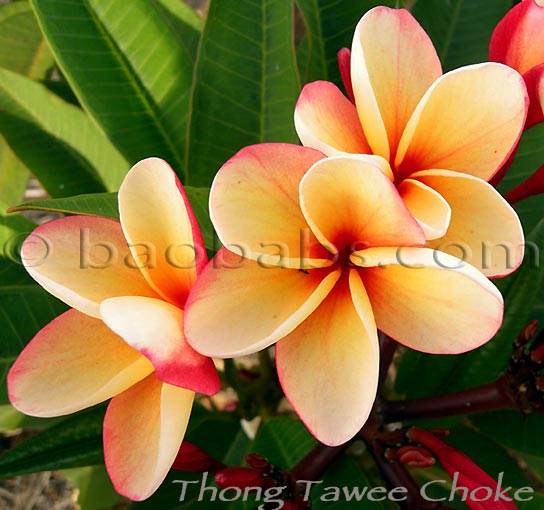 Plumeria rubra THONG TAWEE CHOKE
Tong Tavee Choc[ ]
СЕМЕНА (3) : 3.9 €

СЕМЕНА (50) : 26 €

ЧЕРЕНОК 20-25cm : 14.3 €

РАСТЕНИЕ (черенок с корнями) 15-25cm : 26 €


Means gold peaceful luck. 3.0 to 3.5 inches flowers Orange, yellow, white and maroon with golden orange throat. Petals oval, slightly overlapping, white and yellow to orange-yellow with maroon or purplish-red area and conspicuous veining. Substance: medium Large trusses with multiple flowers Fragrance: medium to strong. fresh and sweet Leaves: olive green, elliptical, pointed tip Nice flowers with conspicuous red striations and veining. Red color intensifying with heat and sunlight.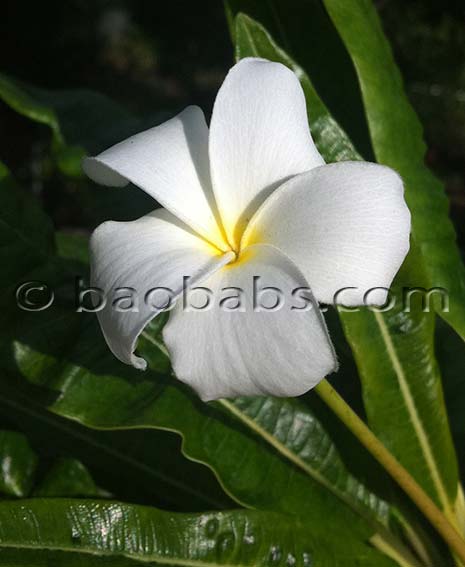 Plumeria cubensis
cubense[X]
СЕМЕНА (3) : 6.5 €

ЧЕРЕНОК 20-25cm : 19.5 €


Botanical species. Native to Cuba. 2" White with small yellow centers cover this species. Obtuse leaves on a small tree. A lovely shrub with glossy dark green strap like leaves and large jasmine like flowers. Compact. No scent but plenty of cute small blooms. Cold tolerant, keeps leaves over winter.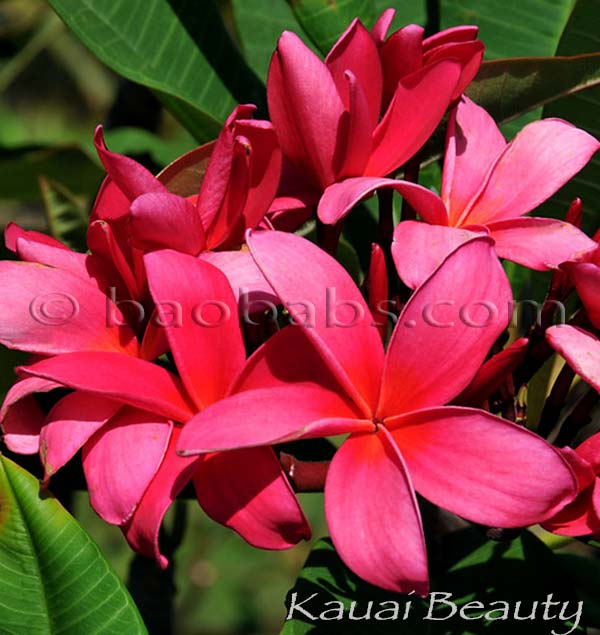 Plumeria rubra KAUAI BEAUTY
РАСТЕНИЕ (черенок с корнями) 20-25cm : 29.9 €


A grainy reddish medium size flower with blackish grain and deep black-red bands on the underside of the petals. It has tight growth habit and the flower petals are very thick. Leaves are dark green with red veins. Blackish grain on front and black-red bands on rear. Not super large but striking nonetheless. Dark red with orange throat, star shape, 2.5", nice fragrance. Late bloomer. Similar to Scott Pratt.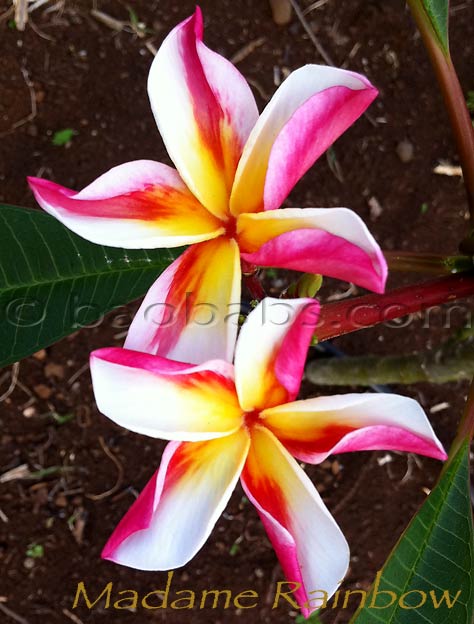 Plumeria rubra MADAME RAINBOW
СЕМЕНА (3) : 3.9 €

ЧЕРЕНОК 20-25cm : 15.6 €

РАСТЕНИЕ (черенок с корнями) 15-25cm : 26 €


Combination of white, orange, red and yellow. Seedling of Madame Poni. Distinct red banded through the centre very similar to Madam Poni but more stunning. Petals slightly overlapping, white with dark pink or red area, turning to yellow and orange towards base. Fragrance: sweet, faint to medium. Leaves: medium green, broad elliptical with pointed tip. Heavy bloomer and has a nice floral fragrance. Changeable. Great bloomer. Easy to root. Deep golden brown center rimmed with orange and yellow that develops in the center of each bloom when the weather turns hot. This contrasts nicely with the white petals rimmed in pink. Also, nicely and sweetly fragrant. Blooms on long inflos. Hybrid from Jack. Often confused with Madame Poni, Buddharaksa, or Pet Sai Rung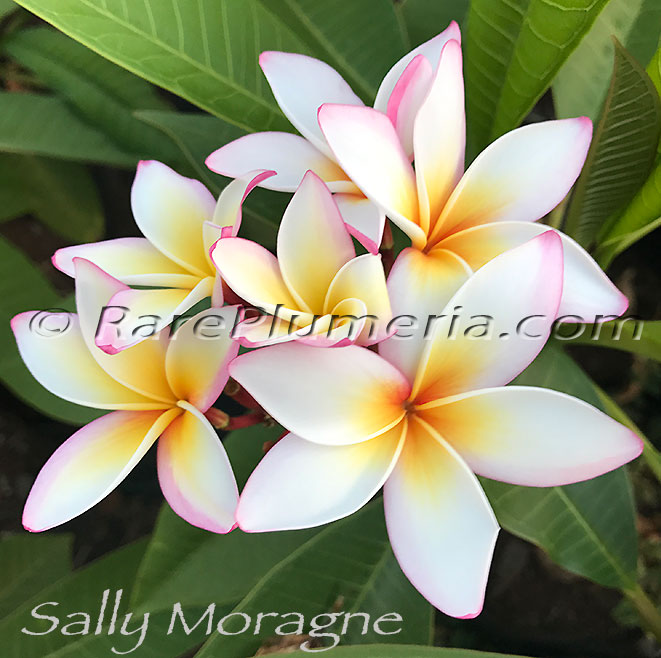 Plumeria rubra SALLY MORAGNE
РАСТЕНИЕ (черенок с корнями) 20-25cm : 39 €


Large pink, orange and yellow rainbow fades to almost white. Wide elliptical overlapping petals, floral fragrance, lanky grower. Pink with strong sweet fragrance. Large, light peachy pink with a golden center and pink shading at the edge. Distinctive red veining radiating to the outer edge. Large 4-5" light pale pink with small yellow center and light red veins on outer edge. Good sweet fragrance with nice texture. Large tree. Wide petals with rounded tip, highly overlapped; heavy texture; 4-1/2 to 5", strong sweet fragrance; keeping quality good. Wonderfully fragrant white rainbow. Makes an exquisitely tree. Cold sensitive. Roots sensitive to compaction. Pod parent: Daisy Wilcox. Pollen parent: Scott Pratt. Very lush and heavy blooming. Fragrance is remarkable. Leaves are typically wavy.

Copyright © Le Jardin Naturel