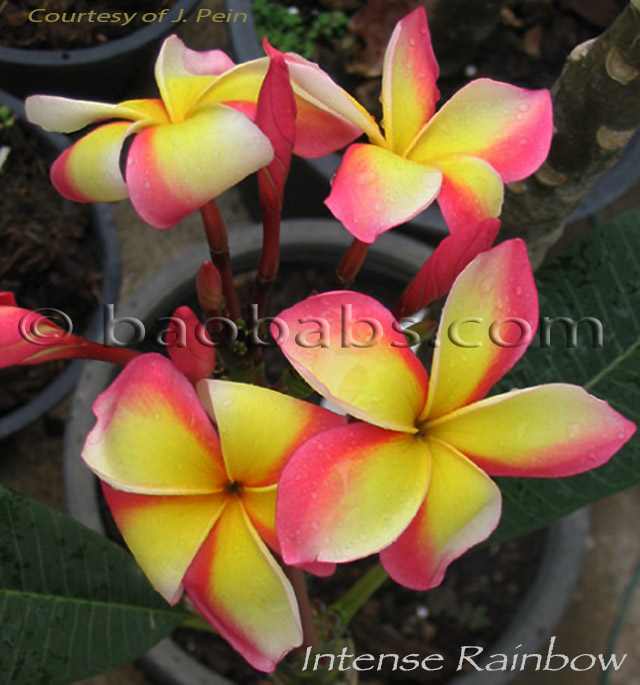 Plumeria rubra INTENSE RAINBOW
Brilliant Rainbow[X]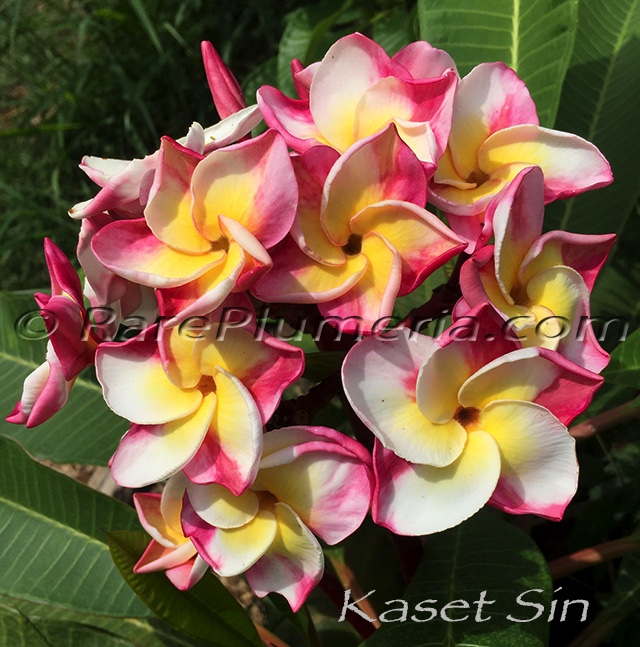 Plumeria rubra KASET SIN
4844, Kaset Silpa,Kased Silp [X]

Beautiful multiple color with big inflos. Gear form with well-balanced bright pink and intense violet pink. Intense violet tinted rim, and bright pink afterward, golden star eye, white background. Very clear white texture is spreading over each petal. Petals are moderate overlapping, forming a cup shape in budding stage and wheel in flower. 3" / 3.5", each petal is wavy, wide twisting with curved and pointed tips. Keeping quality is good. Mild and sweet fragrance. Dramatic pinwheel white with pink edges and large brilliant yellow center, excellent keeping quality with thick texture. Spicy, fresh. Always ruffled like this and the scent is a very nice sweet spice. Strong essence of tropical soap.


Plumeria rubra SAREE
P26 , Muang Saree[ ]

Plumeria rubra CINDY MORAGNE
Cyndi Moragne, Linda[X]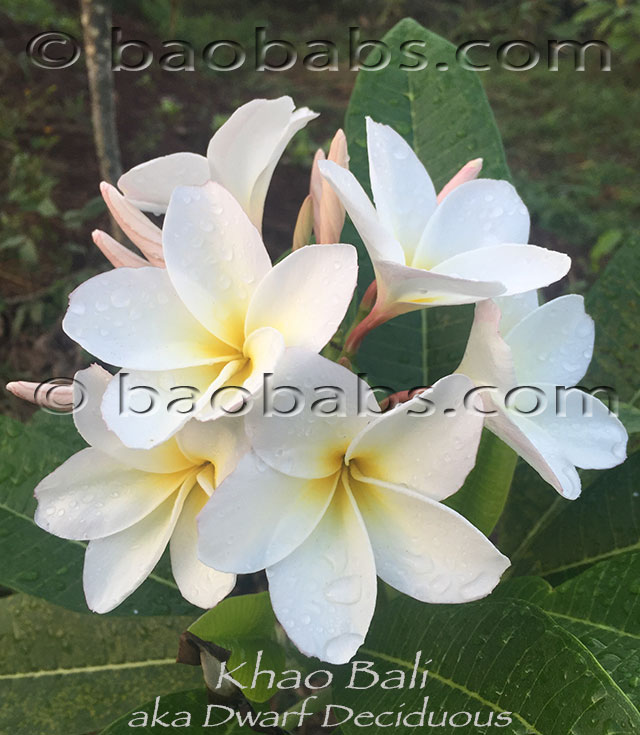 Plumeria rubra KHAO BALI
Dwarf Deciduous[X]

Not a true dwarf. Bright 4-5" snow white with a small bright yellow center. Thick textured with a very strong citrus fragrance. Small well branched tree. Excellent container grower. Huge flowers and exceptional frangipani perfume. Compact grower, but not a true dwarf. Leaves are light green with a pubescent underside. Flowers have citrus fragrance and pale pink bands on reverse. Biggest flowers of all the dwarf frangipani flowers. 4" to 5" white with small yellow center and a heavenly sweet fragrance. The leaves are somewhat obtuse, like the Singapore, but light green, non-glossy and smaller. Very strong citrus scent. Notch on end of petal. Reported to be either extremely fragrant depending on the time of day, or not at all. Very large, white flowers with broad, oval petals, a golden center and an intense perfume. Nearly evergreen plant, its leaves drop briefly and reappear almost immediately. Fuzzy leaves. Continuous bloom.

Plumeria rubra MY VALENTINE

From the late Jim Clark. Unusual white with distinct red edge, overlapping and a slight fold on the petal. Long flowering season. Thick petals with strong pink band on one side. Outstanding bloomer, huge flowers, super color and great scent. Can bloom on previous year's inflo.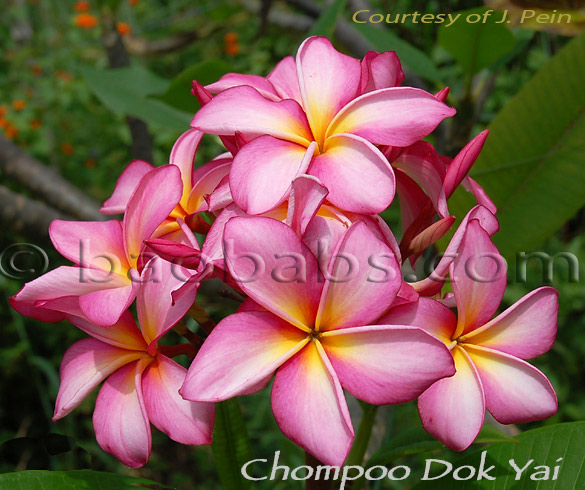 Plumeria rubra CHOMPOO DOK YAI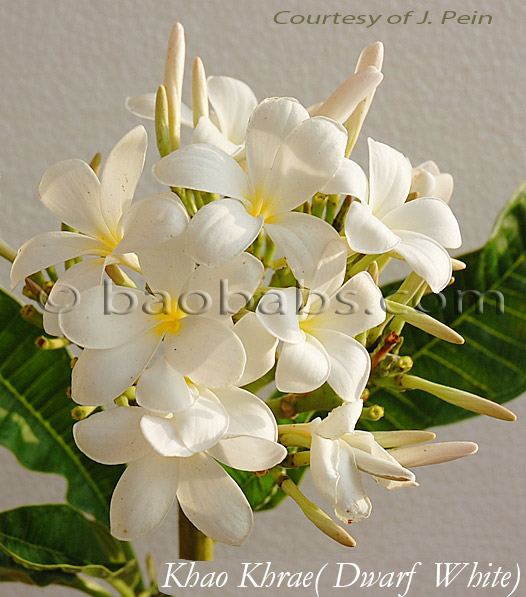 Plumeria rubra KHAO KHRAE
Dwarf White[X]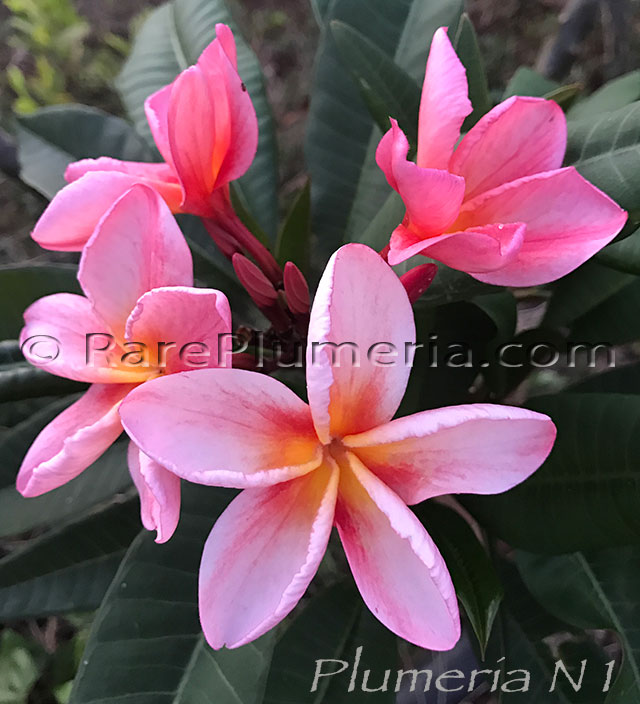 Plumeria rubra N1

3" glowing pink with red veining and orange-red eye. Petals: overlapping, broad oval, medium substance. Fragrance: fresh and sweet, medium intensity. Leaves: beautifully bronze-green with purplish veining, elliptical with pointed, often elongated tip. Unusual coloring.

Copyright © Le Jardin Naturel