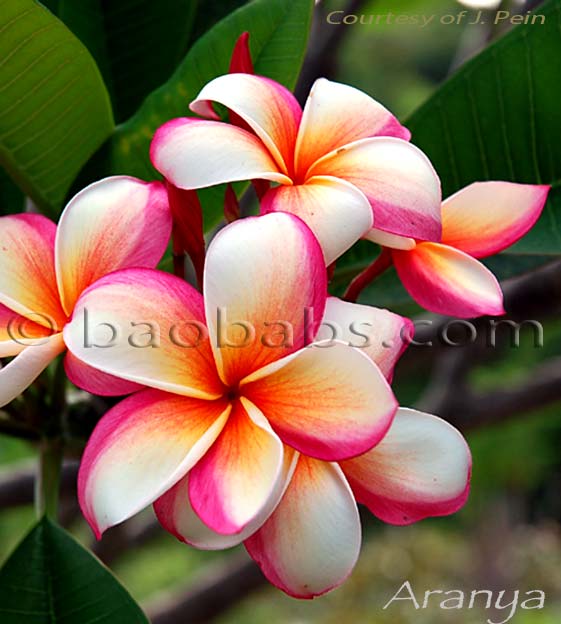 Plumeria rubra ARANYA

Large flowers (9 to 12 cm in diameter) ; cream with orange hues and deep pink or purplish-pink along margin of petals.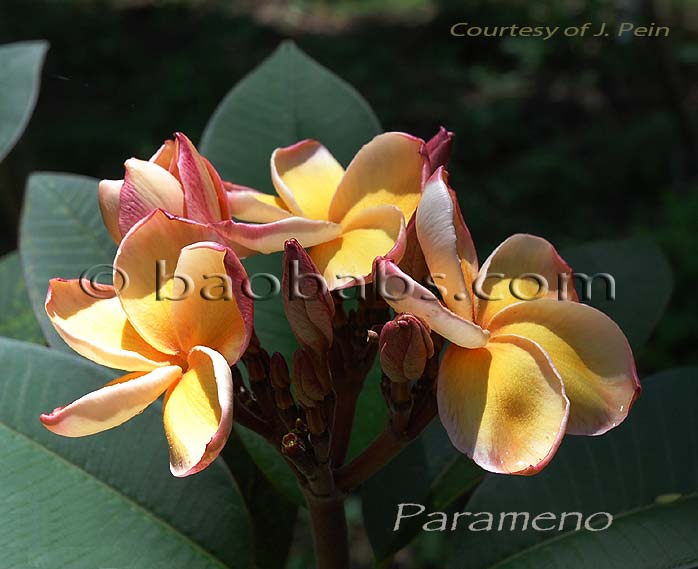 Plumeria rubra PARAMENO
Paramino , Palamino[X]

Nice Orange Flower Strong Flower. Rare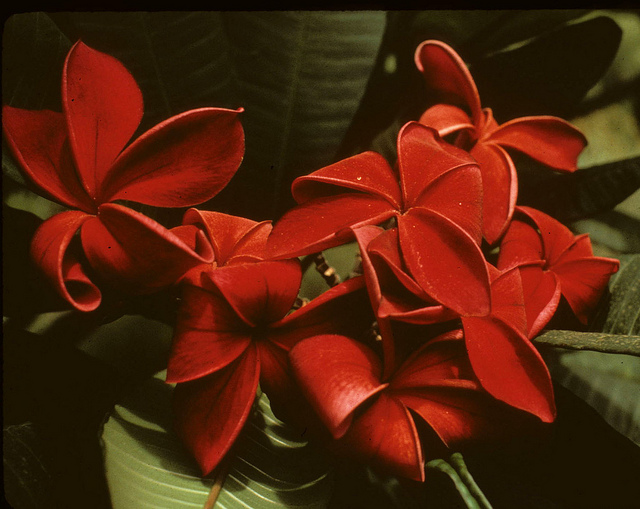 Plumeria rubra HILO BEAUTY
Dakota's Curling Red, Burgundy Special, Black Red, Aussie Black Red, Red Esther, Hi-Lo Beauty[X]

Excellent deep glossy red petals with a long lasting extra spicy fragrance. One of the longest lasting. Flowers are very dark maroon with good texture.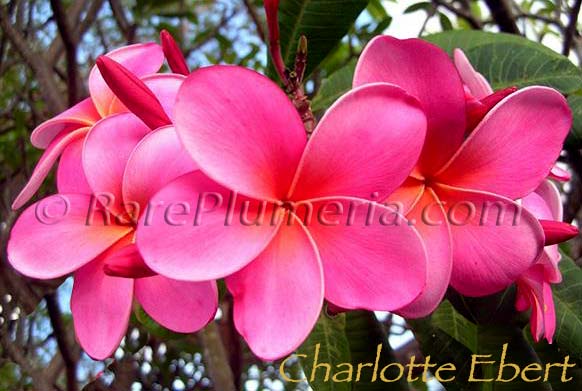 Plumeria rubra CHARLOTTE EBERT
Giant Plastic Pink, Giant Pink[X]

Pink. A very large soft pastel pink flower with very large flower heads. Gardenia scent, aka giant plastic pink. Formerly J.L. Giant Pink. Soft pink flowers of exceptional size (to 5"). Golden eye. Wide petals are very overlapped. One of the most popular among collectors and named for a Hawaiian benefactor of native ancestry.The petals slightly curve back. Sweet rose / Gardenia / coconut jasmine fragrance. The flowers are darker pink upon opening then aging to a lighter pink. All shades appear in the cluster at the same time. Sweet, very enchanting fragrance. Most desirable plumeria for fragrance Semi-tall tree with an open canopy.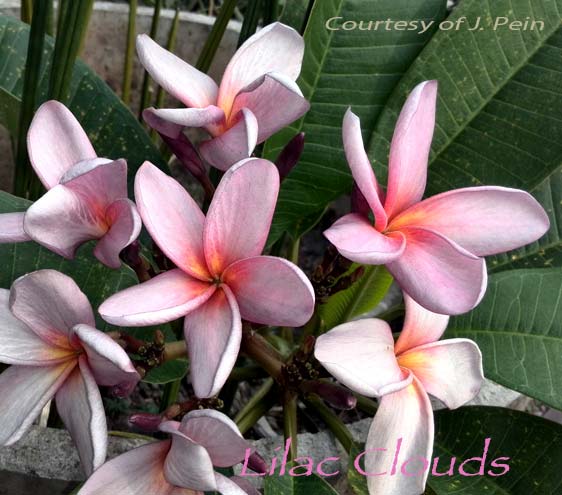 Plumeria rubra LILAC CLOUDS
Lacondon Lilac, Dunkerton's Blue Opal , Lacandan Lilac[X]

The flower is about 2.5 inches across with a peach and lilac fragrance. The growth habit is compact with many branches Medium compact tree. Long lavender petals with dark red center. Flowers are fragrant citrus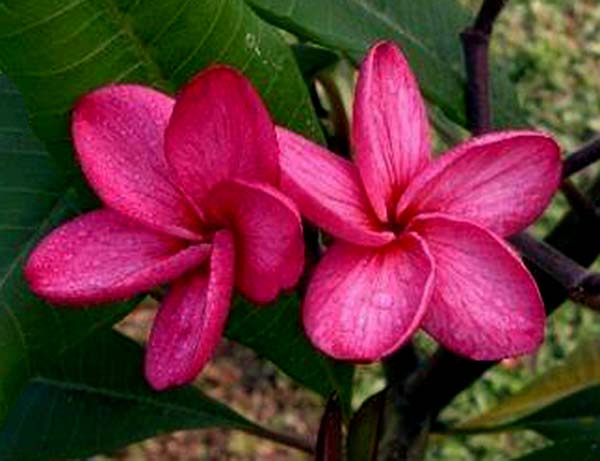 Plumeria rubra GROVE FARM
Daisy Wilcox[X]

Moderate pink, small bright yellow center, strong grainy red bands on front and back, wide elliptical petals, rounded tips, high overlapping, heavy texture, keeping quality good. Medium pink with a small brilliant yellow center and wide petals. Red bands on front and back. Good texture. A nice unique rose / nutmeg spicy fragrance. A good upright grower and good bloomer. Rachel's Cloud is often sold as GF.


Plumeria rubra KANEOHE SUNRISE

Red, orange, pink and yellow blend. 3" with ovate petals that slightly overlapped. A mild peachy scent, sweetly scented 3.5" impressive intense color combination. A huge splash of golden-orange throughout the entire center and grainy hot violet-pink make this beauty stand out and shout. Petals are of thick texture, moderately overlap, and excellent keeping quality. Beautiful rainbow blend including red, orange, pink and yellow, with red lines radiating from the center, kind of like a starburst. Deep pink with large brilliant yellow center, dark red radiating lines. Best of the Kaneohes. Compact. Thick branches. Easy to root.

Copyright © Le Jardin Naturel