Plumeria rubra BLACK RED
Black Red[B]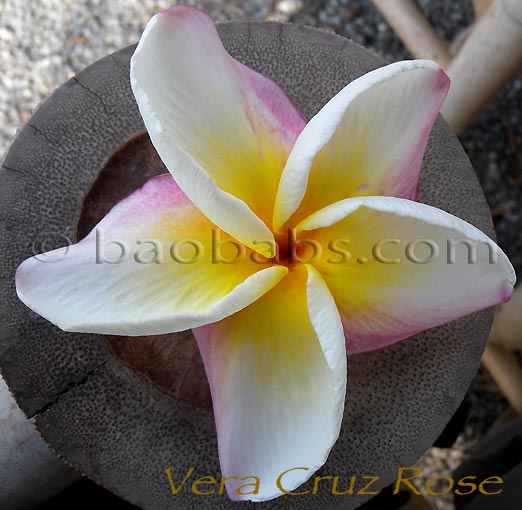 Plumeria rubra VERA CRUZ ROSE
Vera Cruz Rose[B]

Large flowers 3.5 -4 (7,5-10cm) in huge clusters of 30 -50 flowers per bunch. Rainbow swirls of red/rose on the edges of the petal, creamy yellow center. One of the most fragrant of all plumeria. The flower smells just like a rose. The fragrance is so powerful that you can smell it from anywhere in the garden on a warm balmy evening. The flower is 4 inches across and is canary colored with a beautiful red band on the front and back of the petals.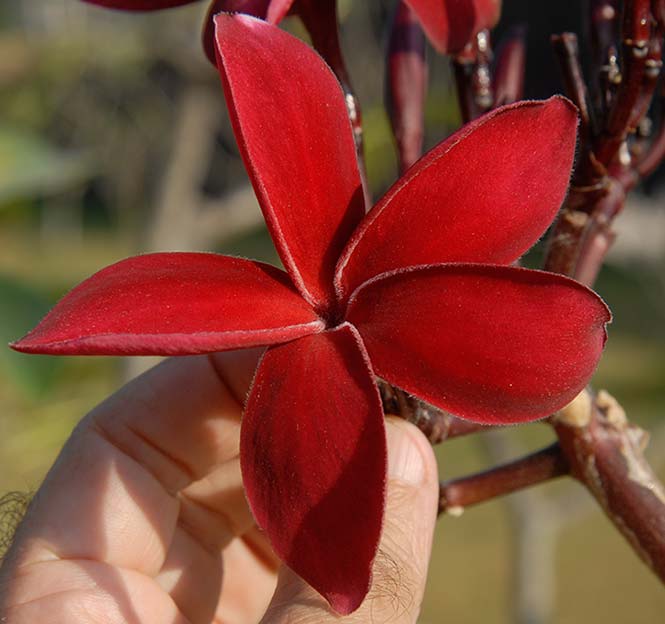 Plumeria rubra POPS RED
Pops Red[L]

4-4.5 inch rich red flowers with white spotted tip, deep coloration, and big cluster of blossoms. Keeping quality is top notch, excellent for lei making. Fragrance is awesome with its spicy sweet scent. Texture is thick and velvety. Tree will get large with age and grows fast.


Plumeria rubra POY NANG NUEA

Cup shaped golden-orange flowers, 2" ( 5.0 cm) , strong upright growing. Fragrance : medium.


Plumeria rubra DAENG MANG MEE
Thai Mermaid, Gem Dang Mae Me, Thai Mermaid Gem[X]

Strongly overlapping oval petals on cup-shaped 2". Rather strong contrasting golden-yellow with orange to dark red shading over about half of the petal. Fragrance: medium strong, reminiscent of Coconut oil, Leaves: medium green, covered with white hairs when young, elliptical with pointed tip and thin red line along margin.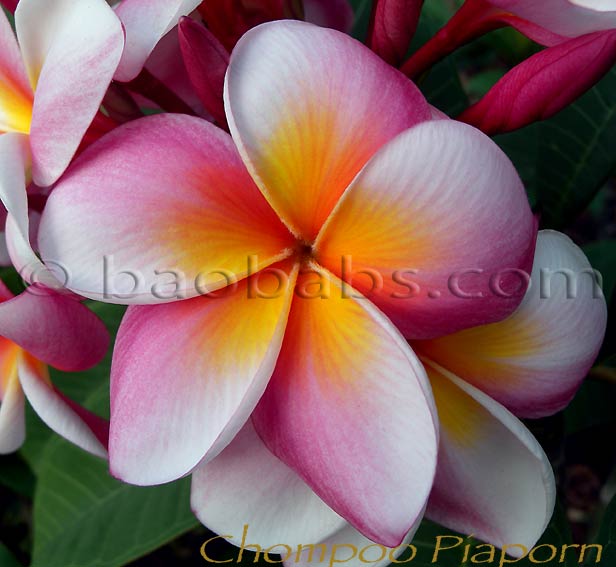 Plumeria rubra CHOMPOO SIN

Pure pink with yellow center, 3" to 3.5"(7.5 to 9.0 cm), sweet fragrance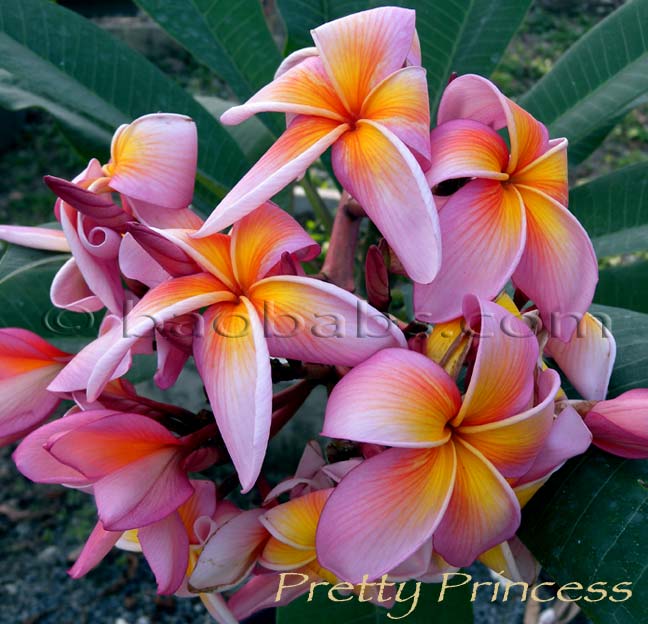 Plumeria rubra PRETTY PRINCESS

Large flowers of 3.5" to 4.5", occasionally 5" ( 9.0 to 11.5 cm ) in diameter Overlapping oval petals, pink with golden yellow and orange towards center and distinctive red veining Fragrance: medium, honey Leaves: medium green, elliptical with pointed tip Please note: Pretty Princess was discovered in a nursery near Ang Thong where is was selected from seedlings of Chompoo Khao Yai. Its flowers are among the largest and most beautiful of all Thai Plumeria varieties so far.


Plumeria rubra LUEANG RACHINEE

Pure Yellow, 2.5" to 3" ( 6.0 - 7.50 cm ), vanilla fragrance


Plumeria rubra ORANGE SPECIAL
Orange Special[X]

Yellow-orange with white rim, 3" to 3.5"(7.5 to 9.0 cm), upright habit


Plumeria rubra RATIGKAM ORANGE

Copyright © Le Jardin Naturel