Plumeria rubra POY NANG NUEA

Cup shaped golden-orange flowers, 2" ( 5.0 cm) , strong upright growing. Fragrance : medium.


Plumeria rubra DAENG MANG MEE
Thai Mermaid, Gem Dang Mae Me, Thai Mermaid Gem[X]

Strongly overlapping oval petals on cup-shaped 2". Rather strong contrasting golden-yellow with orange to dark red shading over about half of the petal. Fragrance: medium strong, reminiscent of Coconut oil, Leaves: medium green, covered with white hairs when young, elliptical with pointed tip and thin red line along margin.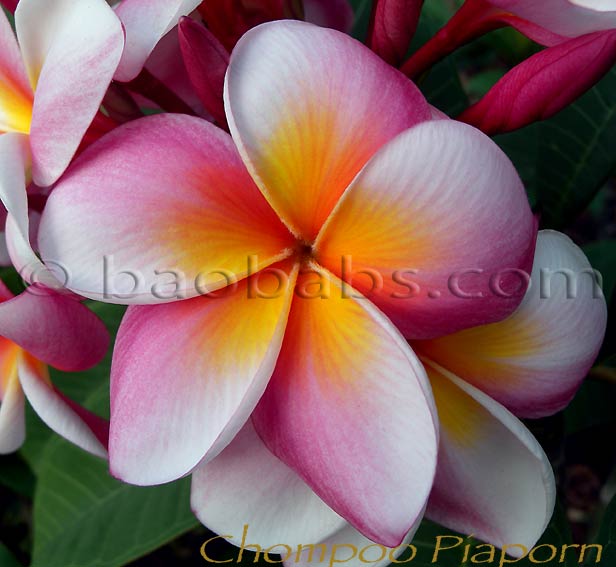 Plumeria rubra CHOMPOO SIN
Chompoo Zin[X]

Pure pink with yellow center, 3" to 3.5"(7.5 to 9.0 cm), sweet fragrance. Similar to Chompoo Nut (Slaughter Pink) but a different shape and more intense coloration. 3" pink with yellow throat and some orange veining spreading from the eye. Oval petals with slightly pointed tip are overlapping and of medium substance. Recurved when mature. Fragrance: smooth, medium Leaves: dark green with light green veining and pointed tip.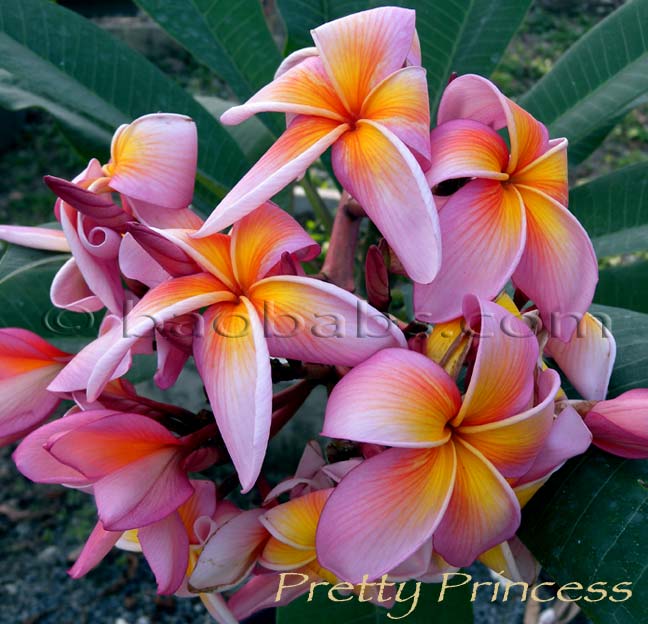 Plumeria rubra PRETTY PRINCESS

Large flowers of 3.5" to 4.5", occasionally 5" ( 9.0 to 11.5 cm ) in diameter Overlapping oval petals, pink with golden yellow and orange towards center and distinctive red veining Fragrance: medium, honey Leaves: medium green, elliptical with pointed tip Please note: Pretty Princess was discovered in a nursery near Ang Thong where is was selected from seedlings of Chompoo Khao Yai. Its flowers are among the largest and most beautiful of all Thai Plumeria varieties so far.


Plumeria rubra LUEANG RACHINEE

Pure Yellow, 2.5" to 3" ( 6.0 - 7.50 cm ), vanilla fragrance


Plumeria rubra ORANGE SPLENDOUR
Orange Splendor, MKD B7, Orange Star[X]

Red-orange with gold, 3" (7.50 cm ), strong grower


Plumeria rubra ORANGE SPECIAL
Orange Special[X]

Yellow-orange with white rim, 3" to 3.5"(7.5 to 9.0 cm), upright habit


Plumeria rubra RATIGKAM ORANGE


Plumeria rubra SAENG THIAN THONG
Bok Rainbow, #4806[X]


Plumeria caracasana

It is an exceptional landscaping evergreen frangipani, being very beautiful even when not in flower. It is much more cold tolerant than other frangipanis. Unlike all other frangipanis, P.caracasana is completely resistant to frangipani rust disease (as are the P.caracasana hybrids). Like its close relative P.pudica, P.caracasana has no perfume.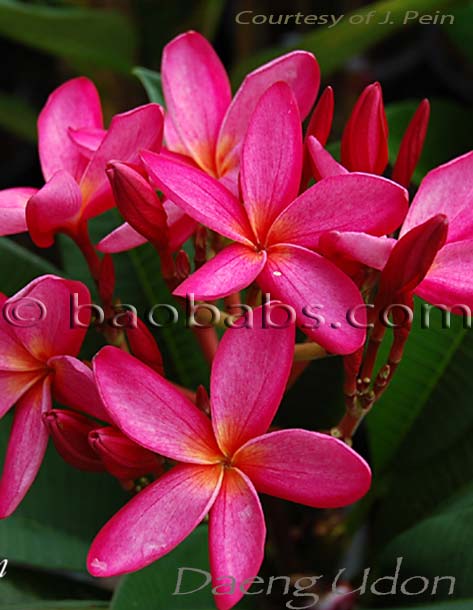 Plumeria rubra DAENG UDON
Thailand Red , Thai Red , Red Velvet, H1[X]

Bright red, star shaped flowers with golden center of 2.5" to 3.5" ( 7.0 to 9.0 cm )


Plumeria rubra DWARF SINGAPORE PINK

Pink Beautiful dwarf variety with pale pink blossoms. Flowers average 2.5 inches in diameter, have a lovely citrus scent, and are of good keeping quality. Mature trees get about 4 feet tall, are very generous bloomers and grow bushy with wonderful thick round evergreen foliage. Evergreen, rare dwarf pink sport of the Singapore White.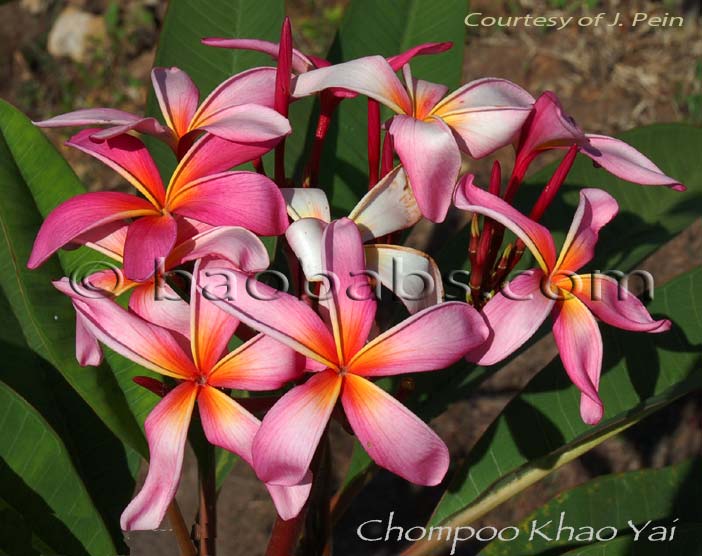 Plumeria rubra CHOMPOO KHAO YAI
Sweet Candy[X]

Large pink flowers, 3" to 4" ( 7.5 to 10 cm )

Copyright © Le Jardin Naturel