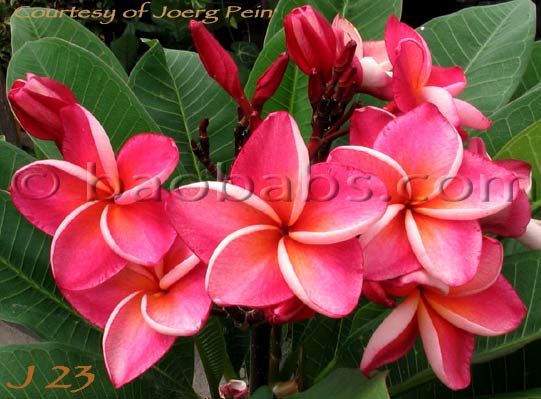 Plumeria rubra J 23

3.0" to 3.5" ( 7.50 to 9.0 cm ) flowers of dark pink and orange. Petals overlapping, round with pointed tip, dark pink, sometimes mauve-pink, turning to orange towards base. Fragrance: medium, mild Leaves: dark green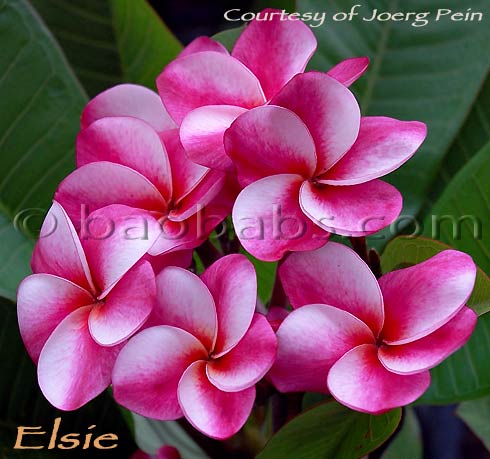 Plumeria rubra ELSIE
JJ Elsie[X]

3" ( 7.50 cm ) rounded flowers of dark pink with lighter pink to white area. Petals: round, heavily overlapping. Fragrance: medium. Leaves: beautiful emerald green, broad oval.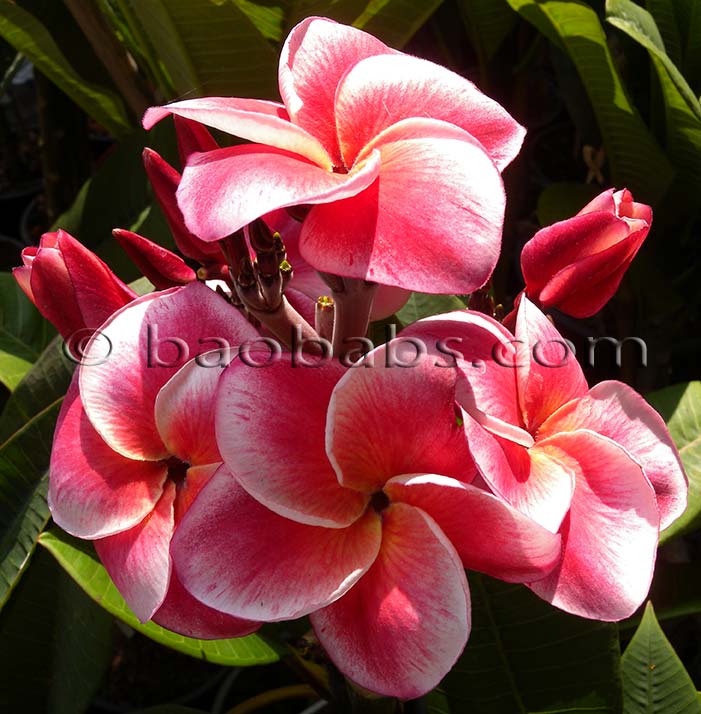 Plumeria rubra CHOMPOO SAMPAAN

2.5" to 3.0" ( average 6.0 cm ) flowers of intense red and pink over white background. Petals: rounded, overlapping, pink with white, intense red-orange towards base. Fragrance: medium, sweet Leaves: medium green, obovate with pointed tip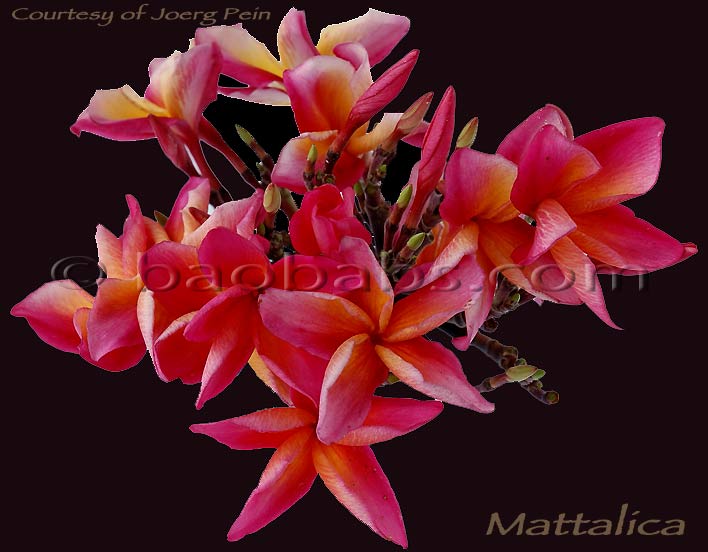 Plumeria rubra MATTALICA
Mattalica[H]

3"(7.50 cm) flowers of red and orange-gold, later purple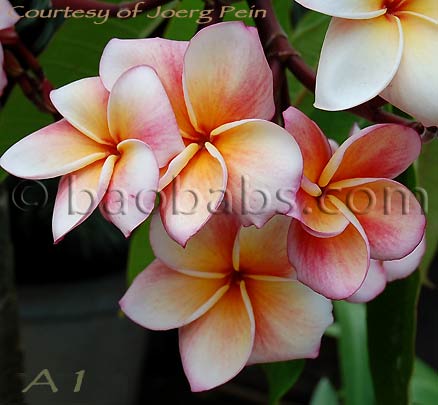 Plumeria rubra ANGEL CROWN
A1,Angel Crown[X]

3 to 3.50 flowers of creme-yellow with pink along rim of petals and red veining spreading from center. Petals: almost circular, heavily overlapping, and flat when opening, later becoming twisted. Substance: medium, increasing to heavy with maturity Fragrance: medium, fresh, sweet Note: unusual coloring and variation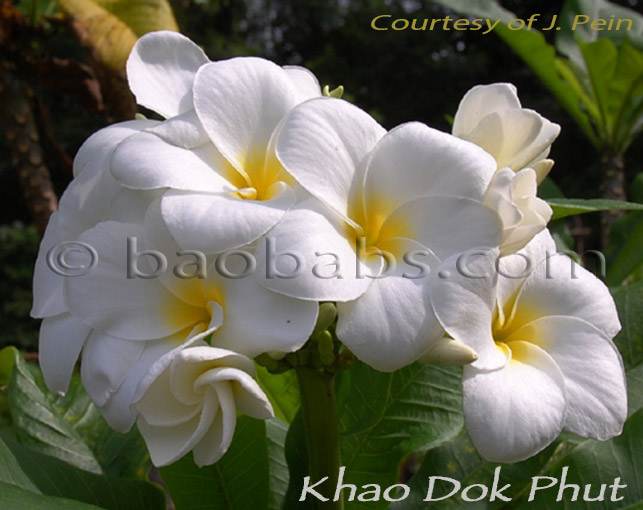 Plumeria rubra KHAO DOK PHUT

This is a rust resistant seedling of Plumeria pudica from Thailand. 3? rounded flowers have a light sweet fragrance and lovely foliage.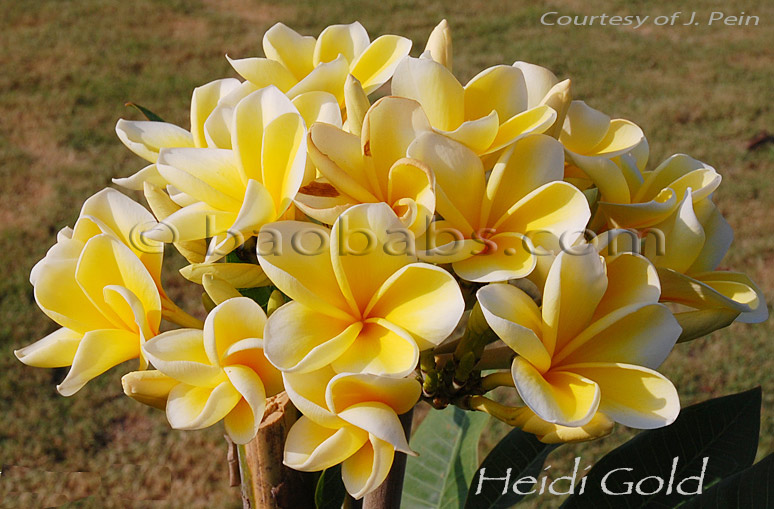 Plumeria rubra HEIDI GOLD
Heidi, Pure Gold, Kokohead Yellow, Peterson's Gold , Robert Anspach's Yellow, Roban's Yellow[X]

Brilliant yellow covering entire blossom, top of petals curl over showing white edge on reverse, no distinctive eye; rounded petals with rounded tips, moderately overlapped; heavy texture; faint peachy scent; keeping quality very good. Full bloom heads with small to medium blooms in tight clusters. Front side of bloom is yellow with a white backside and a faint pink stripe to the backside. Nice fragrance. The fragrance is so overwhelming and very strong. Growth habit is dense. Green leaves are oblanceolate with acuminate tips. Fruity sweet fragrance. More potent in the summer. Very prolific bloomer, great scent, thick petals. The foliage is a lovely shiny deep green. Easy to root. Not Peterson's Gold.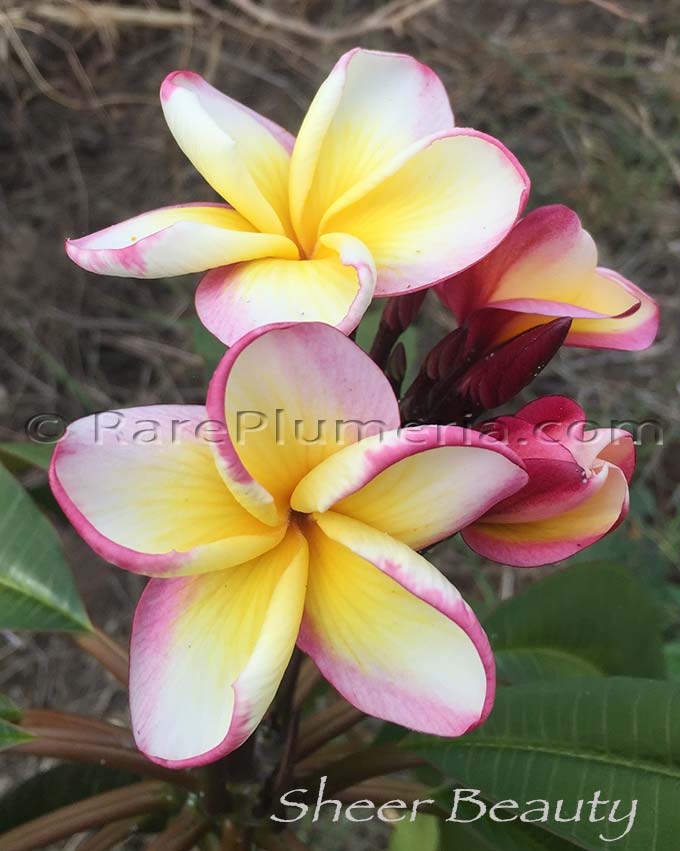 Plumeria rubra SHEER BEAUTY
4437, Thai Dane, New Hybrid, Golden Unicorn, P6[X]

7.50 à 9.0 cm flowers, often consisting of 6 petals. White with large lemon-yellow area and pink. Colors intensifying with hot weather and pink area often turning into red or purplish red. Petals overlapping, asymmetrical, white and yellow with pink area along margin. Backside: cream-yellow with red band. Substance: medium to heavy. Fragrance: medium intensity, coco-lemon. Leaves : light to medium green, long elliptical with pointed tip.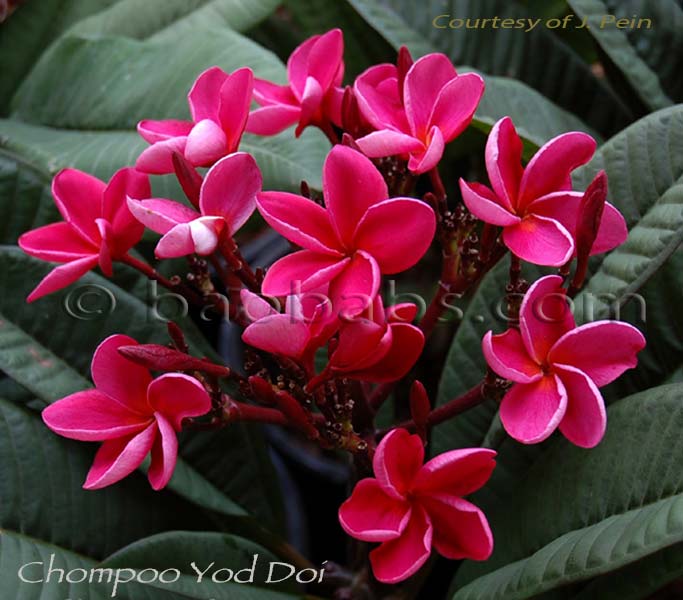 Plumeria rubra CHOMPOO YOD DOI
Chompoo Yod Doy[X]

Intense glowing pink-red with orange throat, 3" (7.50 cm), slow growing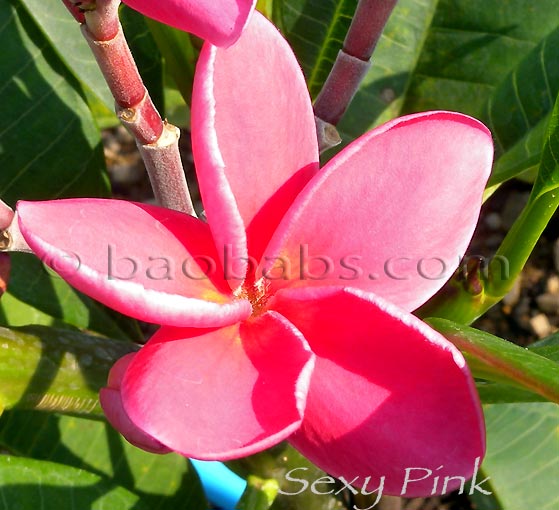 Plumeria rubra SEXY PINK

Light pink with yellow center, 2" to 3" ( 5.0 to 7.50 cm), sweet fragrance. All pink from the centre and classic frangipani scent. Medium to large hot pink. Similar to Firedancer but with slightly broader petals and slightly paler and larger flowers. Like all the cerise frangipani types, it has a gorgeous perfume.


Plumeria rubra BLACK PURPLE
Vuchon Violet, Muang Anchan, Violet Anchan[X]

The picture is in no way photoshopped or enhanced, real colors ! This is a real beauty blooming. The name "Muang Anchan" in Thai means "Purple Ultra-Violet. This unique and rare beauty produces nice deep, dark plum-purple colored, medium size flowers. The overlapping, oval petals are dark purple, with hints of black veination and golden-orange towards center; turning to bluish purple-pink with age.The fragrance is of cinnamon red-hot candies. This is among the most unique Thai varieties with a rare coloration, without doubt the most purple of so many so-called purple plumerias because, when temperatures are hot and under a little bit of shade from the hottest afternoon sun, the flower petals will resemble to silk.