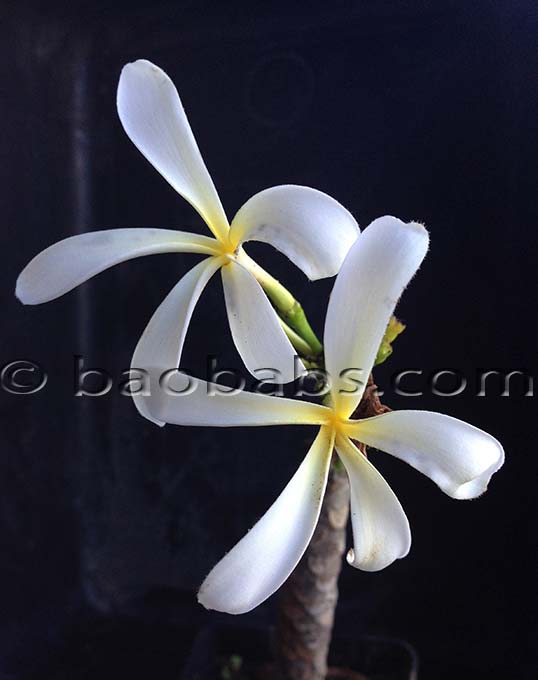 Plumeria rubra HANGING WINDMILL

Plumeria très special, fleurs blanches en forme de pales d un moulin, d\'où son nom. Frangipanier très original.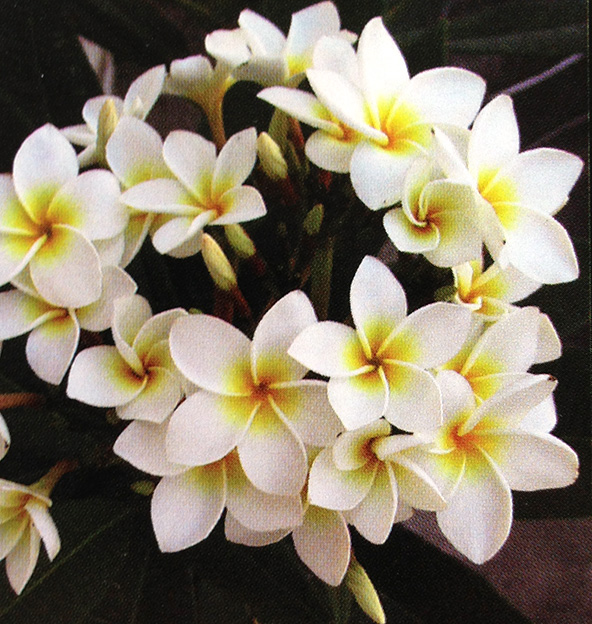 Plumeria rubra KHAO MALEE
White Malee[X]

Rich flowering white w.yellow center, 3"(7.50 cm),dark green beautiful foliage, branches well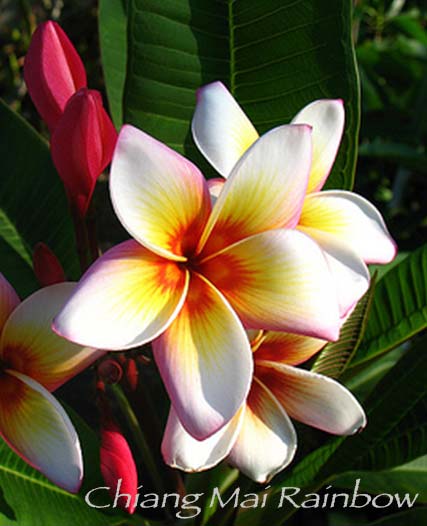 Plumeria rubra CHIANG MAI RAINBOW

White, yellow,and pink rainbow with red-orange throat, and produces a fabulously strong "rose" fragrance, also described as "smelling like a very sweet Lychi fruit tastes"! Variety from Thailand with deep pink to maroon-pink buds that develop into visually stunning flowers of white and yellow, accented by lovely shades of pink, and, brilliant burnt-orange throat which intensifies with heat and appears at its strongest when the flower is past a day old. The petals slightly overlap and this plant has a tendency to produce several 6 petaled flowers in each cluster on mature trees .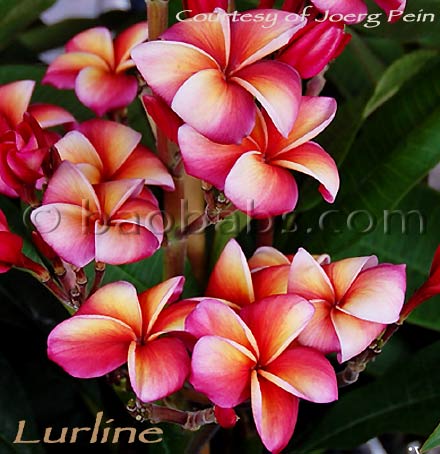 Plumeria rubra LURLINE

One of the most beautiful blooms, deep mass of colors. A smashing combination of reddish-orange on yellow with purplish red tips on outer margins of petals, and exquisite orange star in its center. The flowers, 3-1/2 to 4" diameter, are firm with a outstanding holding capability. The petals are long, wide, and elliptical, moderately overlapping, round tip, and reflexed. Petal edges roll back outlining the flowers with an off white margin producing a strong contrast and beautiful pattern. Purplish red tip and outer margin while the inner margin is a bright yellow-red. The mid-petal is yellowish-red to red with an orange throat. Flowers are fragrant spicy.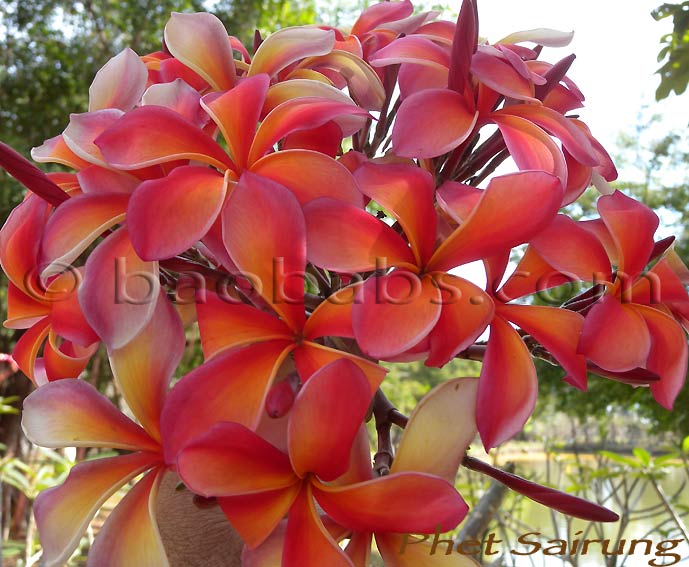 Plumeria rubra TERESA WILDER
Theresa Wilder, Teddy Wilder, Lo Kwain, Phet Sairung, Sam Kasat, Pinwheel Rainbow, Candy Stripe, Barber s Pole, Daeng Orachorn, Petch Sairung[ ]

Pinwheel shaped flowers display a strong red and yellow-orange color combination of 3" to 4" in diameter. Mild, sweet fragrance Leaves elliptic with pointed and sometimes with rounded tip. PROLIFIC BLOOMER WITH UNIQUE PINWHEEL SHAPE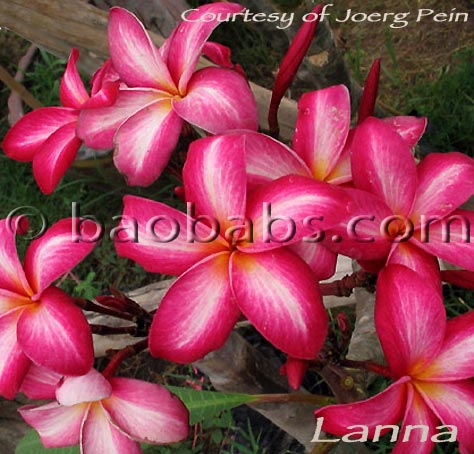 Plumeria rubra LANNA

A famous dark pure purple Dark red flower buds open to red flowers of 2" to 3" in diameter. Petals slightly overlapping, oval and recurved, red with white stripes and striations along middle, orange towards center. Backside of flower pink with strong dark red band along margin. Beautiful contrast of white and red on these flowers, most conspicuous during the cool and dry season in tropical climates.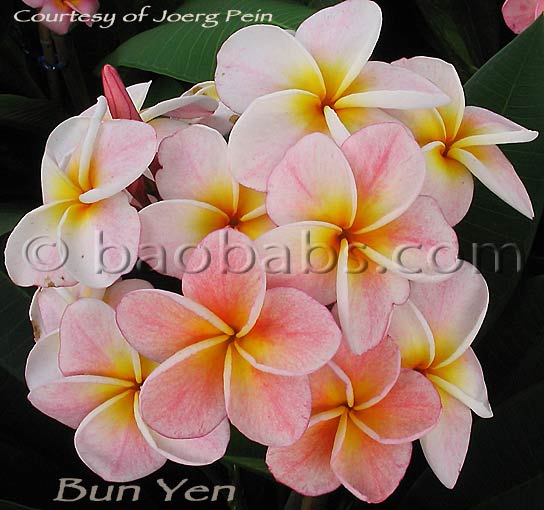 Plumeria rubra BUN YEN
Boon Yen, Banyen[X]

3" to 3.5" flowers ( 7.5 to 8.5 cm ) Petals almost circular in shape, strongly overlapping, light pink with red overlay of web-like markings and striations. Yellow-orange throat, size about 30% of flower diameter Fragrance : medium, smooth - honey Leaves: dark green, elliptical with pointed and slightly elongated tip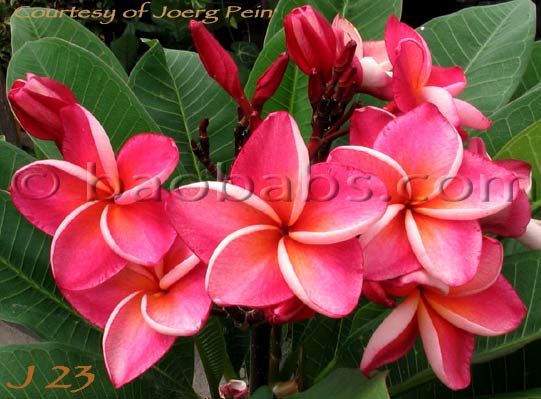 Plumeria rubra J 23

3.0" to 3.5" ( 7.50 to 9.0 cm ) flowers of dark pink and orange. Petals overlapping, round with pointed tip, dark pink, sometimes mauve-pink, turning to orange towards base. Fragrance: medium, mild Leaves: dark green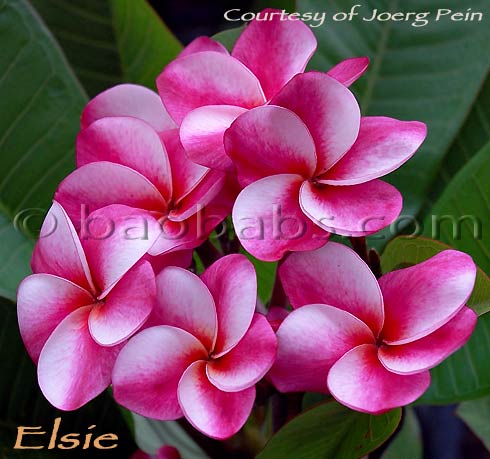 Plumeria rubra ELSIE
JJ Elsie[X]

3" ( 7.50 cm ) rounded flowers of dark pink with lighter pink to white area. Petals: round, heavily overlapping. Fragrance: medium. Leaves: beautiful emerald green, broad oval.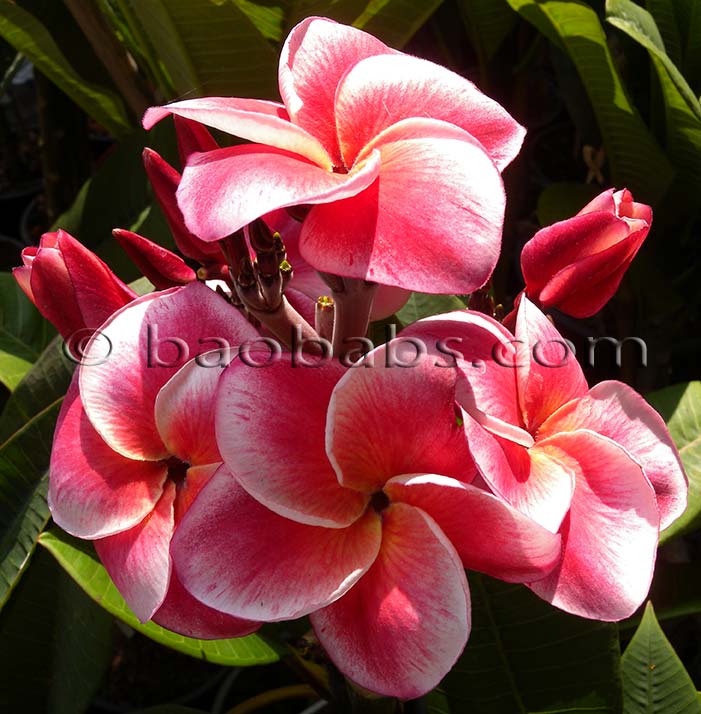 Plumeria rubra CHOMPOO SAMPAAN

2.5" to 3.0" ( average 6.0 cm ) flowers of intense red and pink over white background. Petals: rounded, overlapping, pink with white, intense red-orange towards base. Fragrance: medium, sweet Leaves: medium green, obovate with pointed tip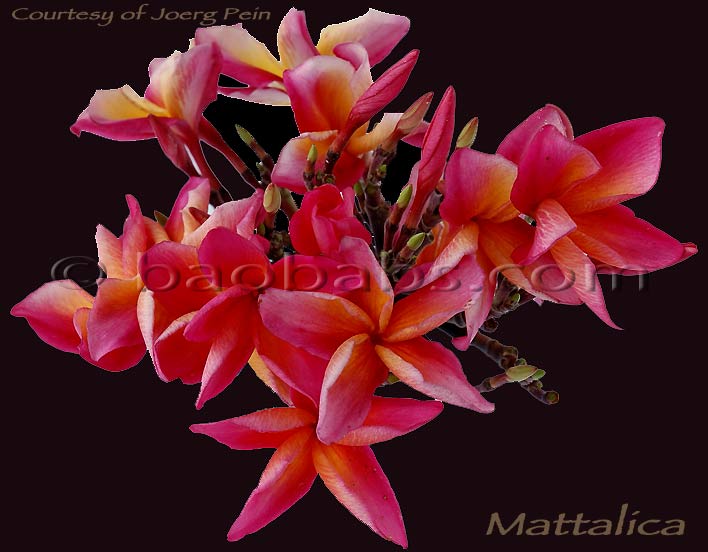 Plumeria rubra MATTALICA
Mattalica[H]

3"(7.50 cm) flowers of red and orange-gold, later purple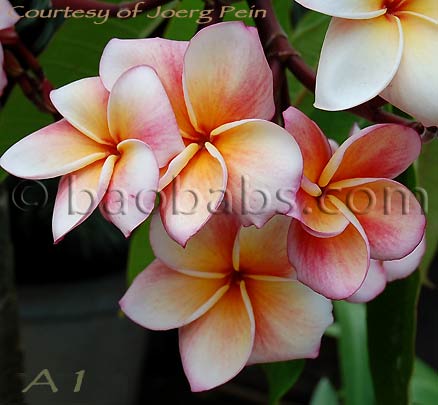 Plumeria rubra ANGEL CROWN
A1,Angel Crown[X]

3 to 3.50 flowers of creme-yellow with pink along rim of petals and red veining spreading from center. Petals: almost circular, heavily overlapping, and flat when opening, later becoming twisted. Substance: medium, increasing to heavy with maturity Fragrance: medium, fresh, sweet Note: unusual coloring and variation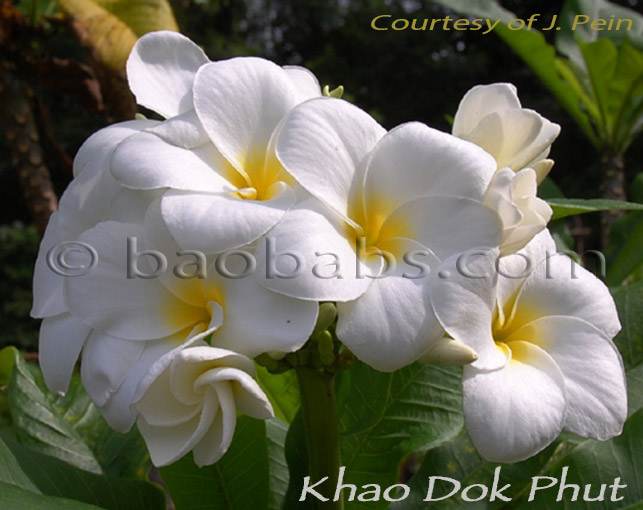 Plumeria rubra KHAO DOK PHUT

This is a rust resistant seedling of Plumeria pudica from Thailand. 3? rounded flowers have a light sweet fragrance and lovely foliage.

Copyright © Le Jardin Naturel