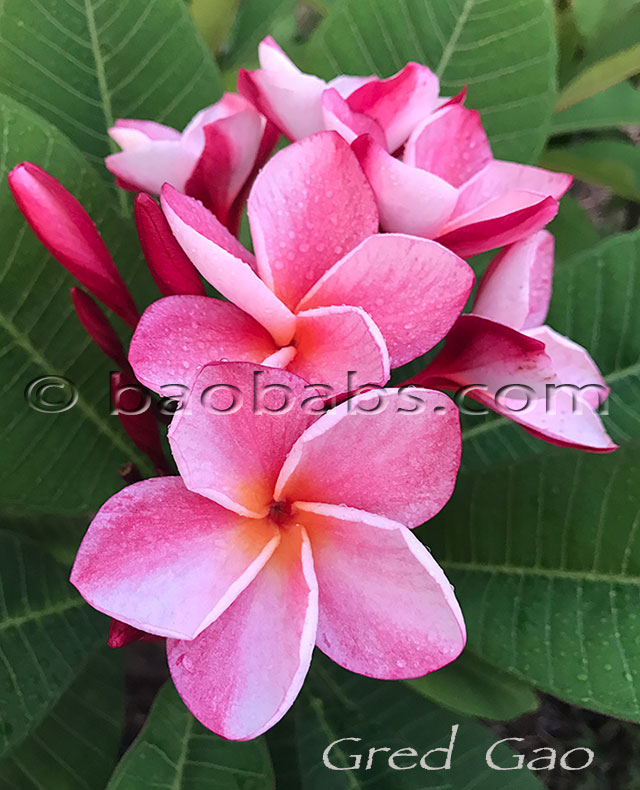 Plumeria rubra GRED GAO
Gred Gao[X]
СЕМЕНА (3) : 2.6 €

ЧЕРЕНОК 20-25cm : 14.3 €

РАСТЕНИЕ (Seedling) : 19.5 €

РАСТЕНИЕ (черенок с корнями) 15-25cm : 26 €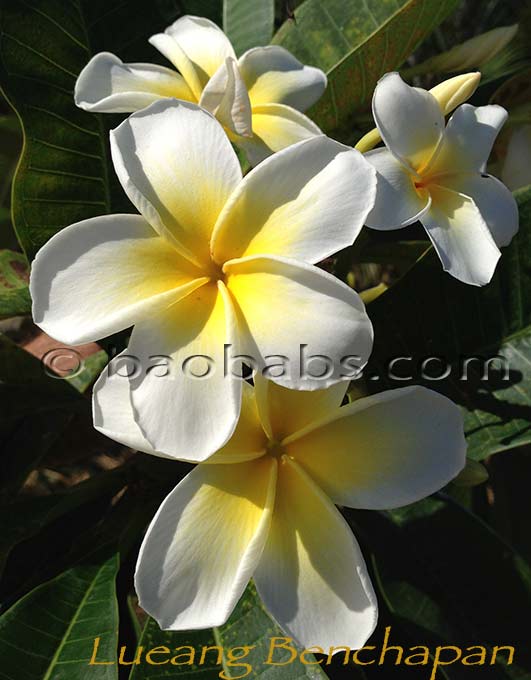 Plumeria rubra LUEANG BENCHAPAN
4038, Lueang Bendjapan[X]
СЕМЕНА (3) : 3.9 €

ЧЕРЕНОК 20-25cm : 19.5 €

РАСТЕНИЕ (Seedling) : 26 €

РАСТЕНИЕ (черенок с корнями) 20-25cm : 29.9 €


Beautiful flowers of 2" to 3" ( 5.0 to 7.5 cm ). White and yellow, twisted petals. Medium strong, sweet fragrance Leaves: medium to dark green, elliptical with pointed tip Habit: plant is a strong grower which produces thick branches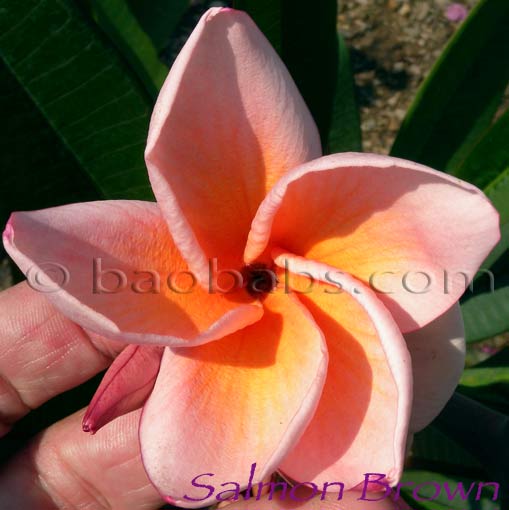 Plumeria rubra SALMON BROWN
4245, Classic Brown, Tangerine, Tippatumporn, C009[X]
РАСТЕНИЕ (Seedling) : 23.4 €

РАСТЕНИЕ (черенок с корнями) 20-25cm : 26 €


Thai. Very uncommon color in frangipani. Similar to Salmon Pink but slightly smaller with rounded, heavily overlapping petals. Cream to light brown with salmon center and some darker veining. Salmon color intensity increases with the exposure to sunlight. In the shade the flower colors will be less intensive. Creamy brown; new foliage is dark brown fading to rich green sturdy branching. 3" light pink-brown with muted orange centers. Petals oval and heavily overlap. Keeping quality is fair to good. Slightly powdery musk scent. Medium-tall tree. Tends to abort inflos. Early and easy bloomer. Scent is not too impressive - soft floral smell.Small flowers but thick petals. Lots of branches and sweet scented. Smell like a combination between lime and rose. In Australia, there were two Salmon Brown. One has extremely dark leaves and a much bigger info and flower.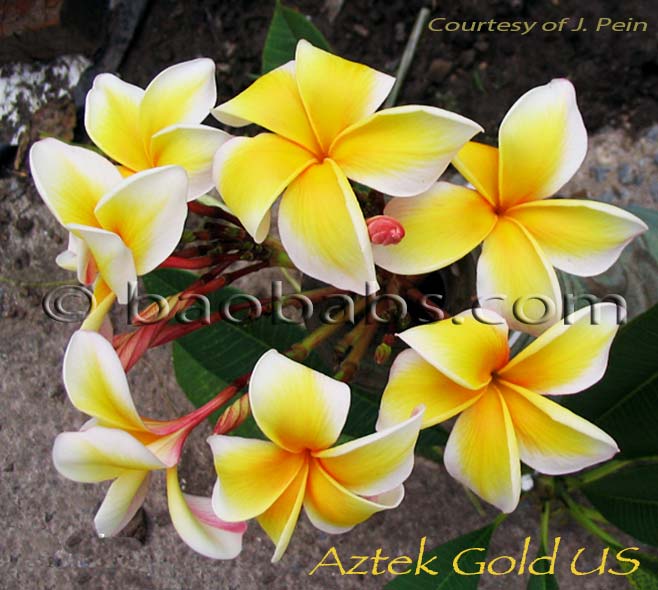 Plumeria rubra AZTEC GOLD
South Florida Gold, Key Largo Gold[X]
СЕМЕНА (3) : 5.2 €

РАСТЕНИЕ (Seedling) : 26 €


Well known variety. Beautiful large yellow flowers. This is a fantastic, large, 10cm yellow flower, that shades to white on the edges. There is a reddish band on the back side of the petals that can show slightly through. This is a very easy to cultivate plumeria, making it a great one for beginners. This plumeria is probably best known for the strong scent of peaches.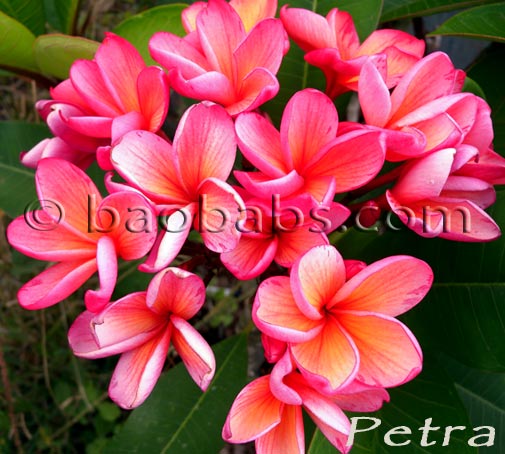 Plumeria rubra DAENG MAHA CHOKE
Bangkok Fire , Orange Hybrid, P-33, Petra[X]
СЕМЕНА (3) : 2.6 €

ЧЕРЕНОК 20-25cm : 19.5 €

РАСТЕНИЕ (Seedling) : 26 €

РАСТЕНИЕ (черенок с корнями) 15-25cm : 29.9 €


Beautiful red variety with decorative leaves, producing full flower-heads. Fragrance: medium to strong, sweet strawberry. 2.5" to 3" ( 6.0 ? 7.50 cm ) bright red flowers with some darker red veining. Petals heavily overlapping, rounded and of medium substance. Fragrance: medium to strong, sweet strawberry. Leaves: bright green, later olive green, stiff and ascending, elliptical with pointed tip, thin red line along rim.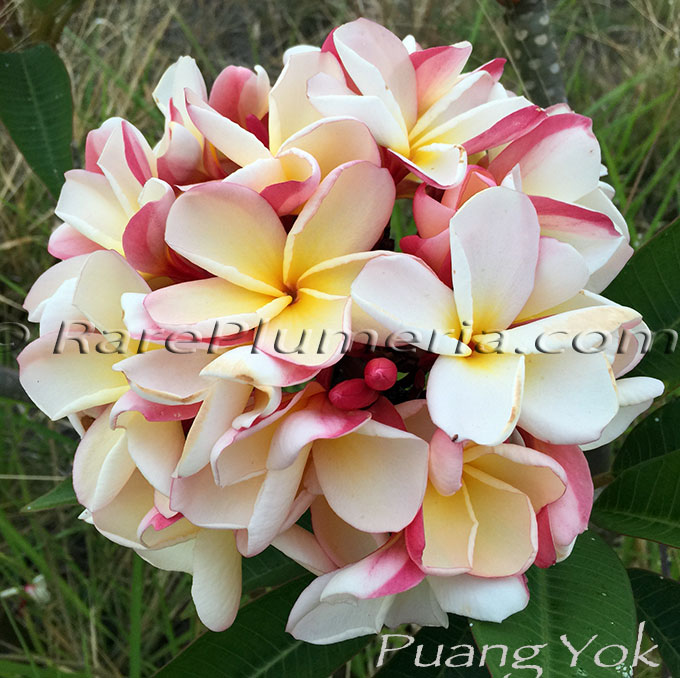 Plumeria rubra PUANG YOK
Poung Yok[X]
СЕМЕНА (3) : 3.9 €

ЧЕРЕНОК 20-25cm : 19.5 €

РАСТЕНИЕ (Seedling) : 23.4 €

РАСТЕНИЕ (черенок с корнями) 25-30cm : 29.9 €


Yellow to cream-yellow with red or pink, 2.5" to 3" (6-7,5cm); Petals: rounded, overlapping, good substance. Fragrance: sweet with a hint of mushroom, medium intensity. Leaves: medium green, pointed tip. Unusual coloring.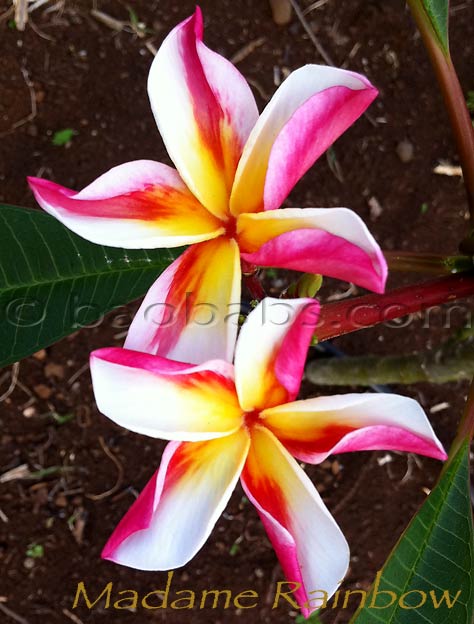 Plumeria rubra MADAME RAINBOW
СЕМЕНА (3) : 3.9 €

РАСТЕНИЕ (Seedling) : 19.5 €

ЧЕРЕНОК 20-25cm : 15.6 €

РАСТЕНИЕ (черенок с корнями) 15-25cm : 26 €


Combination of white, orange, red and yellow. Seedling of Madame Poni. Distinct red banded through the centre very similar to Madam Poni but more stunning. Petals slightly overlapping, white with dark pink or red area, turning to yellow and orange towards base. Fragrance: sweet, faint to medium. Leaves: medium green, broad elliptical with pointed tip. Heavy bloomer and has a nice floral fragrance. Changeable. Great bloomer. Easy to root. Deep golden brown center rimmed with orange and yellow that develops in the center of each bloom when the weather turns hot. This contrasts nicely with the white petals rimmed in pink. Also, nicely and sweetly fragrant. Blooms on long inflos. Hybrid from Jack. Often confused with Madame Poni, Buddharaksa, or Pet Sai Rung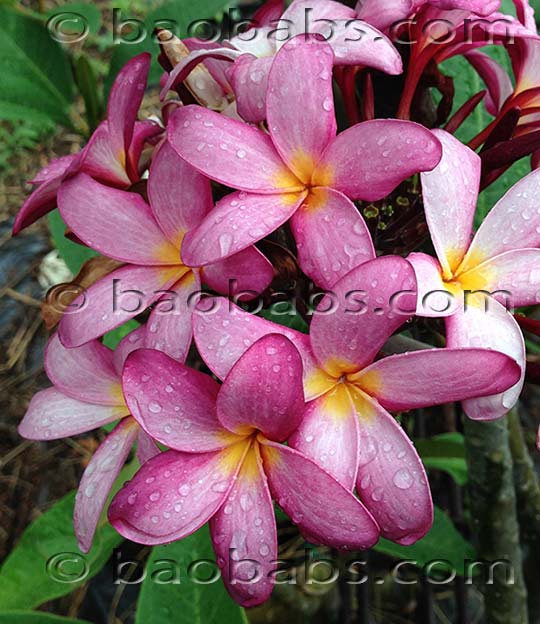 Plumeria rubra MUANG LANNA
Violet Pink[B]
СЕМЕНА (3) : 2.6 €

РАСТЕНИЕ (Seedling) : 19.5 €

ЧЕРЕНОК 20-25cm : 19.5 €

РАСТЕНИЕ (черенок с корнями) 20-30cm : 26 €


A very original and unusual frangipani. Petals whose color is almost deep purple, very regular, and with marked edges. Orange-yellow center. Flowering bouquets of many flowers. Very decorative.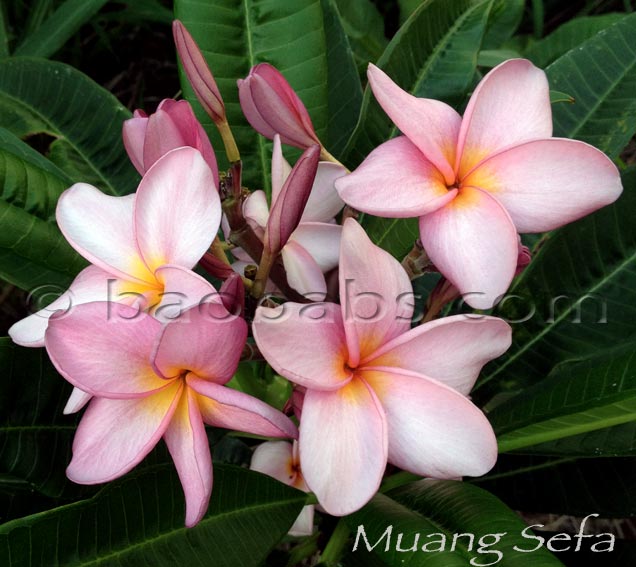 Plumeria rubra MUANG SEFA
Muang Sefa[P]
СЕМЕНА (3) : 3.9 €

ЧЕРЕНОК 20-25cm : 29.9 €

РАСТЕНИЕ (черенок с корнями) 15-25cm : 29.9 €


Plumeria rubra LJN RAINBOW
ЧЕРЕНОК 25-30cm : 14.3 €

РАСТЕНИЕ (черенок с корнями) 15-25cm : 26 €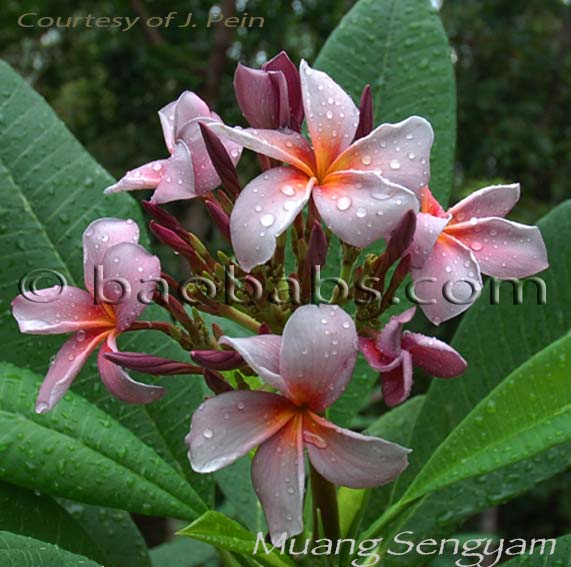 Plumeria rubra MUANG SENGYAM
Sangam Violet, Siam Lavender, Indonesian Violet, Blue Canyon, Muang Sa Ngeam[X]
РАСТЕНИЕ (черенок с корнями) 20-25cm : 29.9 €


Lavender with burnt orange center, 2.5 - 3.5" with a lovely, sweet fragrance. Medium growth and branches beautifully, often more than the standard three.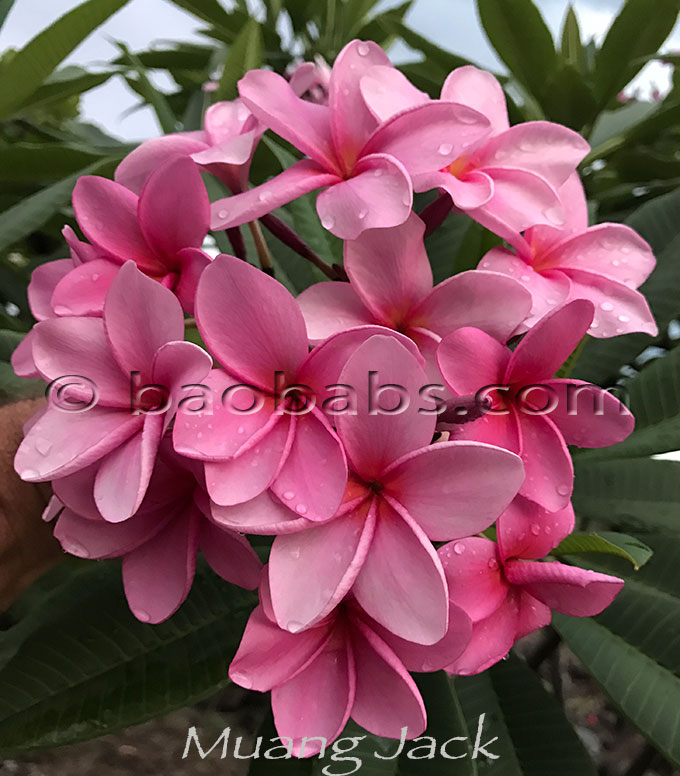 Plumeria rubra MUANG JACK
Purple #1, Purple Queen, Jack\'s Purple , Purple Jack , Violet Princess, Purple Princess , Jack\'s Purple[ ]
СЕМЕНА (3) : 3.9 €

ЧЕРЕНОК 20-25cm : 19.5 €

РАСТЕНИЕ (черенок с корнями) 25-30cm : 26 €

РАСТЕНИЕ (черенок с корнями) 35-40cm : 33.8 €


A remarkable violet background flower with blue veins and 3" to 4" in diameter. When this variety is fully blooming, the color will become strong purple blue. Petals are overlapping with heavy substance and perfect forming. Dusted with yellow-orange in the center. Beautiful medium purple 3" with a lovely orange center. Pleasant, sweet fragrance.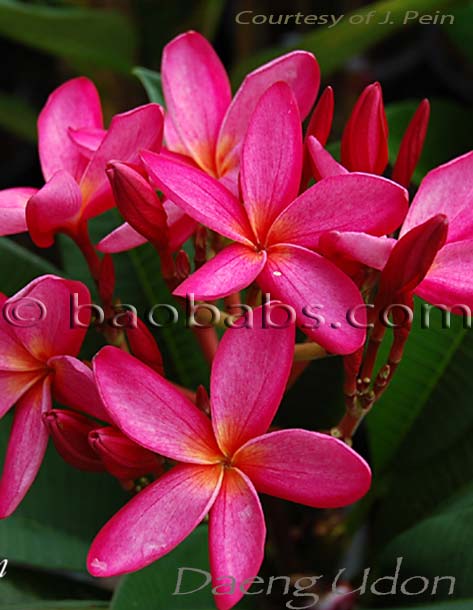 Plumeria rubra DAENG UDON
Thailand Red , Thai Red , Red Velvet, H1[X]
РАСТЕНИЕ (черенок с корнями) 20-25cm : 28.6 €


Strong plumeria scent and 4" bloom. Heavy bloomer throughout the year. Light red, star with golden center, 2.5" to 3.5". Light substance. Flowers appear all year long, opening successively with mild, fruity fragrance with some honey flavor, Habit: broad upright.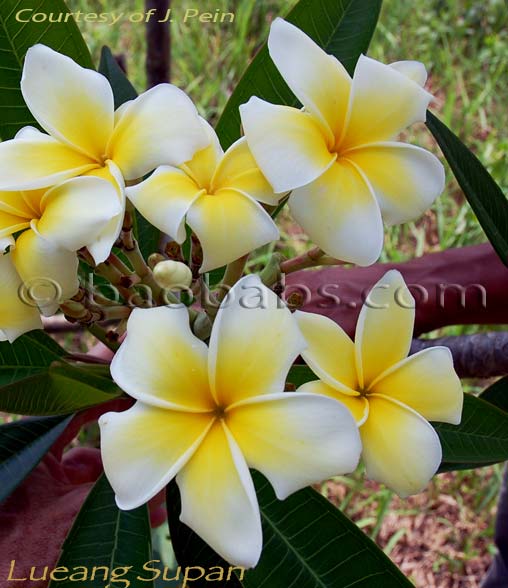 Plumeria rubra LUEANG SUPAN
Yellow Supan[X]
РАСТЕНИЕ (черенок с корнями) 20-25cm : 29.9 €


Yellow with white flowers and yellow-orange center of 2.5" to 3.5" (7.5 to 9.0 cm )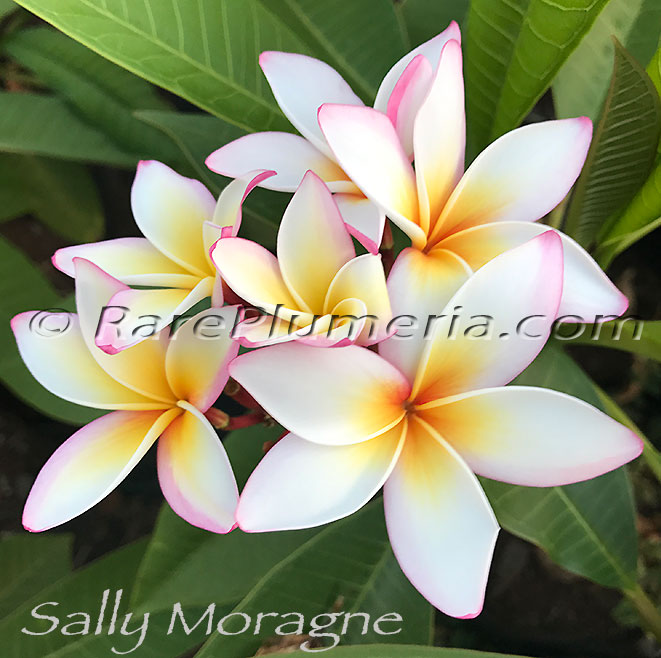 Plumeria rubra SALLY MORAGNE
РАСТЕНИЕ (черенок с корнями) 20-25cm : 39 €


Large pink, orange and yellow rainbow fades to almost white. Wide elliptical overlapping petals, floral fragrance, lanky grower. Pink with strong sweet fragrance. Large, light peachy pink with a golden center and pink shading at the edge. Distinctive red veining radiating to the outer edge. Large 4-5" light pale pink with small yellow center and light red veins on outer edge. Good sweet fragrance with nice texture. Large tree. Wide petals with rounded tip, highly overlapped; heavy texture; 4-1/2 to 5", strong sweet fragrance; keeping quality good. Wonderfully fragrant white rainbow. Makes an exquisitely tree. Cold sensitive. Roots sensitive to compaction. Pod parent: Daisy Wilcox. Pollen parent: Scott Pratt. Very lush and heavy blooming. Fragrance is remarkable. Leaves are typically wavy.

Copyright © Le Jardin Naturel