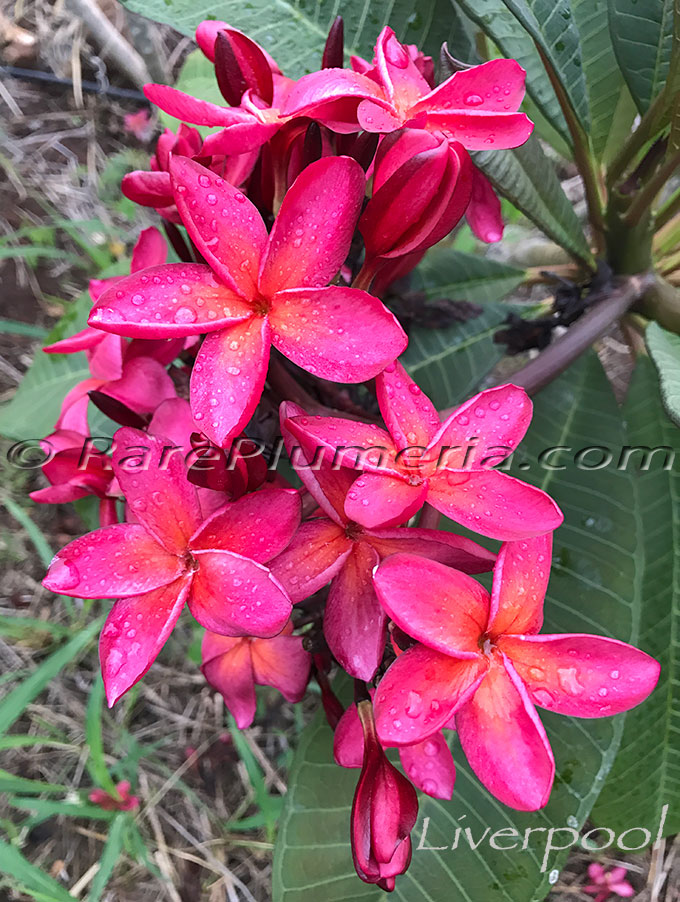 Plumeria rubra LIVERPOOL
РАСТЕНИЕ (черенок с корнями) 20-25cm : 29.9 €


3" ( 7.50 cm) purplish-red with orange-red throat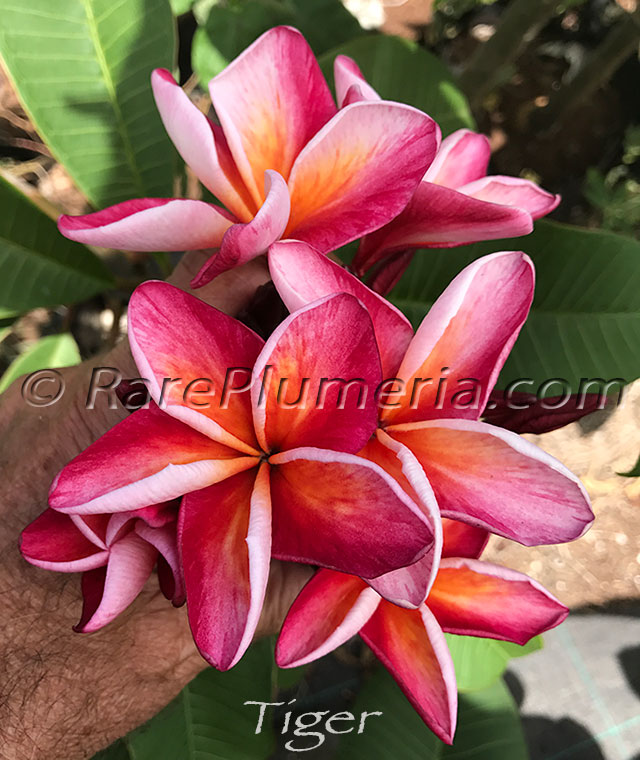 Plumeria rubra TIGER
Black Ruby, Red Dragon Heart , 4711, Red Dragon, Jack 50, J50, LaiSuea, Galaxy[X]
СЕМЕНА (3) : 3.9 €

ЧЕРЕНОК 20-25cm : 19.5 €

РАСТЕНИЕ (черенок с корнями) 25-30cm : 26 €


Beautifully shaped, brightly colored 4" blooms with heavy streaks on a predominately pink background. No two flowers are the same, as each is uniquely striped. Thick petals and a nice scent. A very unusual, slow growing, and compact Plumeria. in the heat it gets nice solid colors..if you're in a milder temp it gets gorgeous streaks along the edges. Compact, nicely scented. Amazing stripes, great fragrance. Multi-colored with dark pink striped on the petals, orange center, mild scents.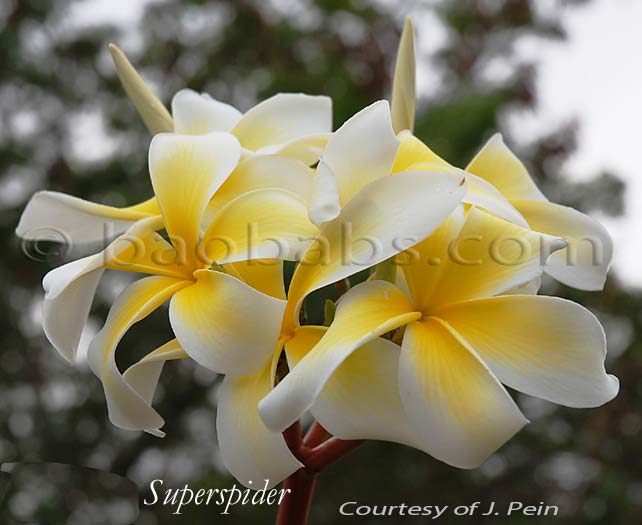 Plumeria rubra SUPERSPIDER
РАСТЕНИЕ (черенок с корнями) 20-25cm : 29.9 €


Large white and yellow flowers with narrow, long petals, strong upright grower.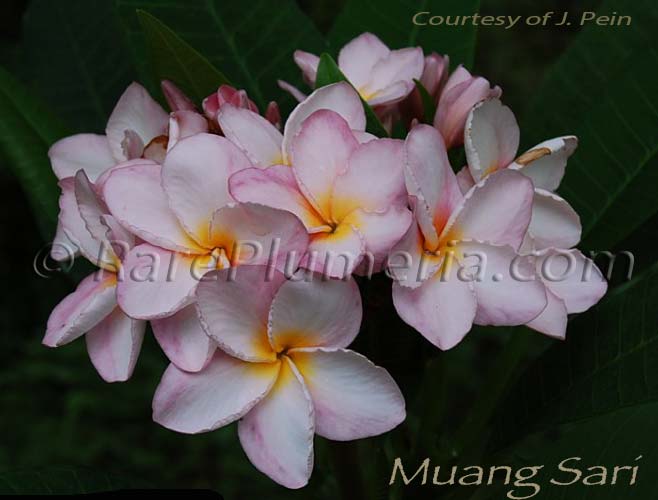 Plumeria rubra MUANG SARI
P-26, Violet Sari[X]
РАСТЕНИЕ (черенок с корнями) 20-25cm : 29.9 €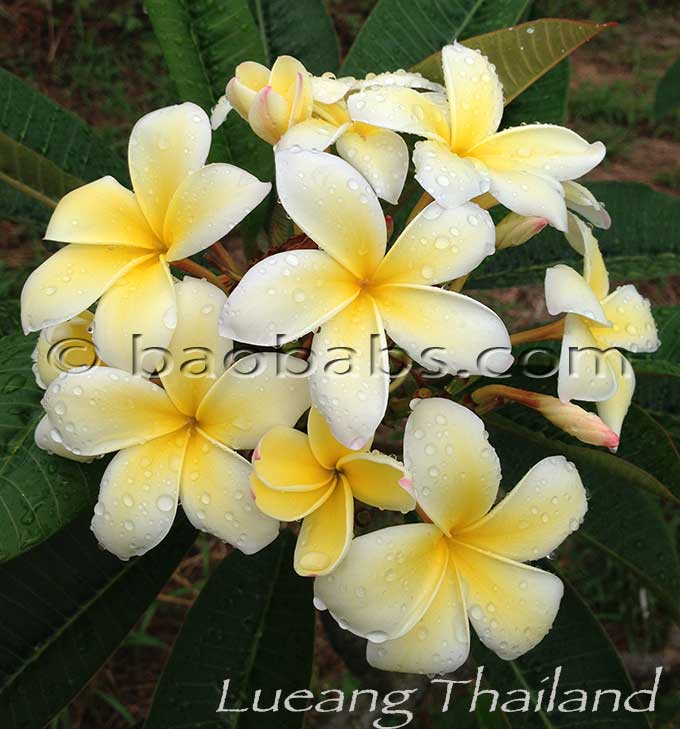 Plumeria rubra LUEANG THAILAND
Yellow Thailand[X]
СЕМЕНА (3) : 3.9 €



Plumeria rubra LUEANG MANAO
РАСТЕНИЕ (черенок с корнями) 15-25cm : 29.9 €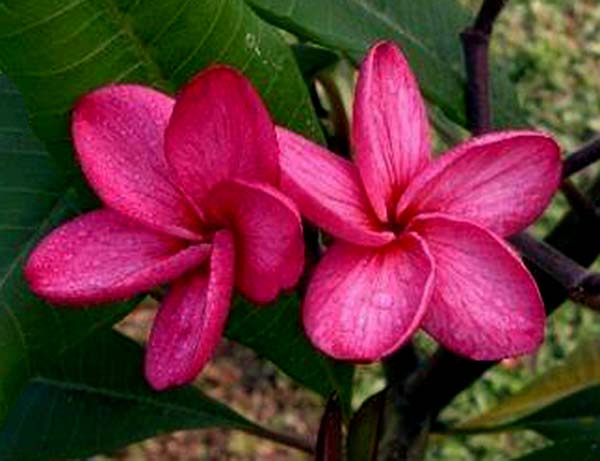 Plumeria rubra GROVE FARM
Daisy Wilcox[X]
РАСТЕНИЕ (черенок с корнями) 20-25cm : 29.9 €


Moderate pink, small bright yellow center, strong grainy red bands on front and back, wide elliptical petals, rounded tips, high overlapping, heavy texture, keeping quality good. Medium pink with a small brilliant yellow center and wide petals. Red bands on front and back. Good texture. A nice unique rose / nutmeg spicy fragrance. A good upright grower and good bloomer. Rachel's Cloud is often sold as GF.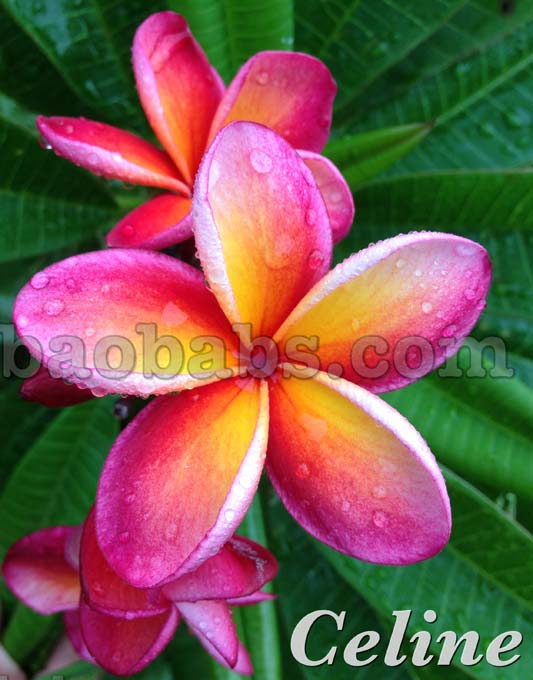 Plumeria rubra LJN CELINE
ЧЕРЕНОК 15-25cm : 15.6 €

РАСТЕНИЕ (черенок с корнями) 20-25cm : 29.9 €


Beautiful cultivar. Bright composition of colors ranging from pink to dark violet on the edges of the petals, golden orange yellow and red carmine irradiating from the center. The petals are rounded and slightly overlapped. The keeping quality and the substance are excellent. Light and soft fragrance.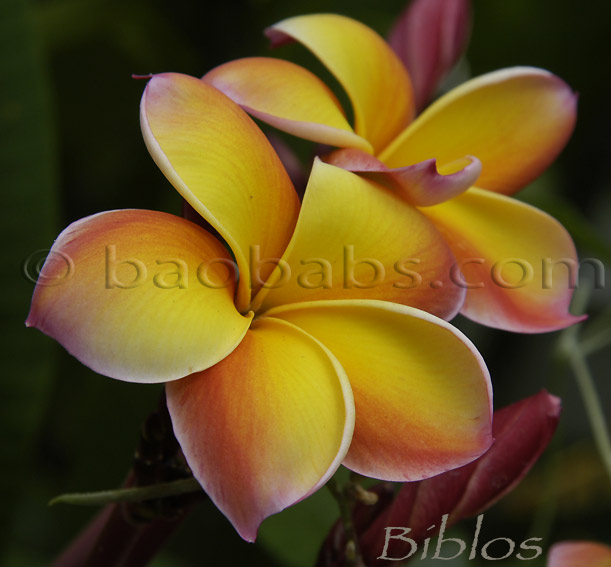 Plumeria rubra BIBLOS
РАСТЕНИЕ (черенок с корнями) 15-25cm : 29.9 €


A must among the Plumeria of orange color! Very beautiful flowers of bright color, bright orange with a dark orange band on the edge of the petals. The rounded petals are almost as wide as they are long, and overlap very slightly. The substance is good. Light and sweet spicy fragrance.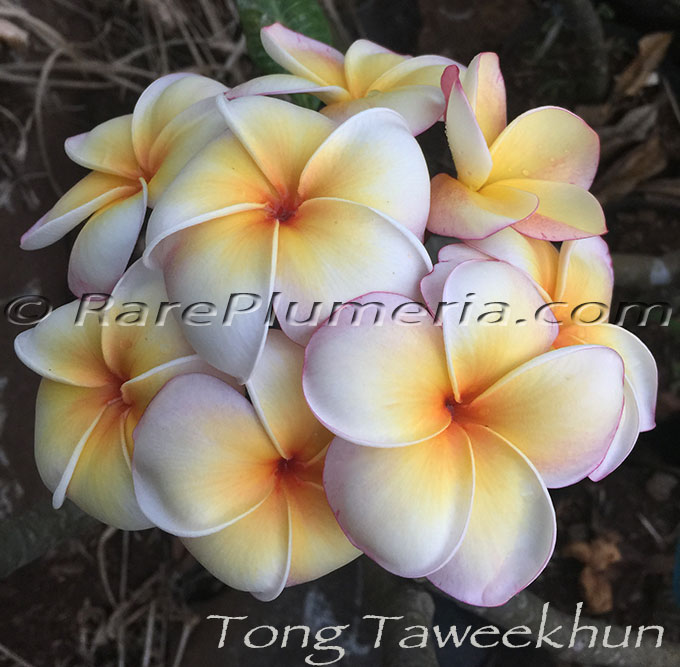 Plumeria rubra TONG TAWEEKHUN
Thong Tavee Koon, TongTawekune, J4[X]
СЕМЕНА (3) : 3.9 €

ЧЕРЕНОК 15-25cm : 14.3 €


White with pink edged petals, with a strong red to yellow center. Thick petals and big blooms. 3-3.5". Overlapping round petals. Light orange-gold with red bands on the outside of each petal. Sweet fragrance. Thick texture.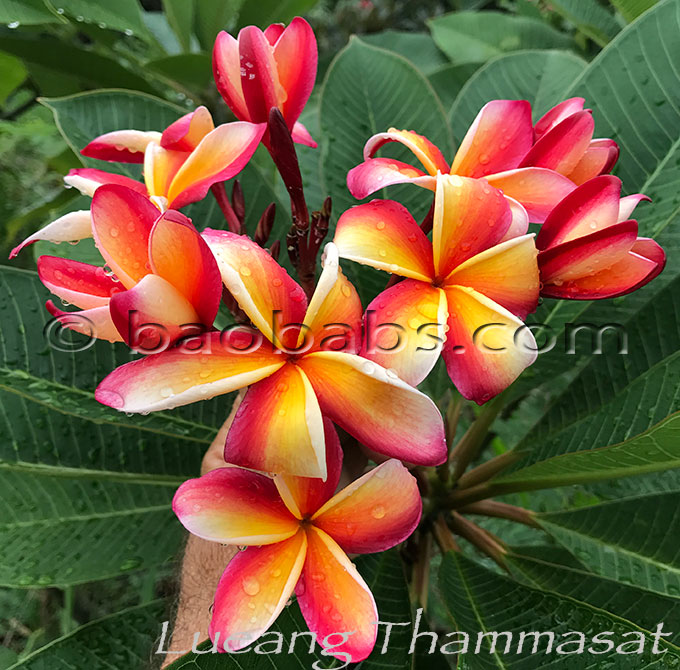 Plumeria rubra LUEANG THAMMASAT
Yellow Thammasat[X]
СЕМЕНА (3) : 3.9 €

ЧЕРЕНОК 20-25cm : 14.3 €

РАСТЕНИЕ (черенок с корнями) 25-30cm : 32.5 €


3" to 4", average 3.5". Slightly overlapping, oval petals - yellow to orange or reddish - yellow with strong red area along rim. Light yellow or cream on the backside with strong red band. Keeping quality: good, rich fragrance of Vanilla and Honey. Leaves: dark green, obovate with pointed tip. Habit: broad upright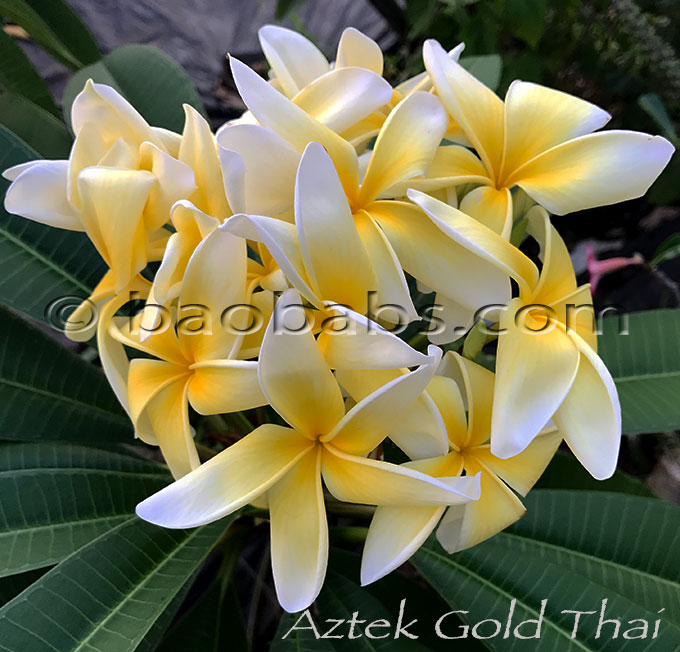 Plumeria rubra AZTEK GOLD THAI
СЕМЕНА (3) : 3.9 €


This is a selection of Aztek Gold from Thailand and not the same plant as the well known Aztek Gold in the nursery trade. Large 3" to 4.00" ( 7.50 to 10.0 cm ) yellow flowers. Petals: separated, yellow and white. Substance: light to medium. Fragrance: strong vanilla-honey. Leaves: bright- green, narrow and elongated, elliptical with pointed tip. Note: Nice yellow, which produces full flower-heads of multiple flowers and has a compact growing habit. In contrast the Aztek Gold has darker yellow flowers emerging from orange flower-buds, but flower heads are less dense and the plant has a stronger growing habit.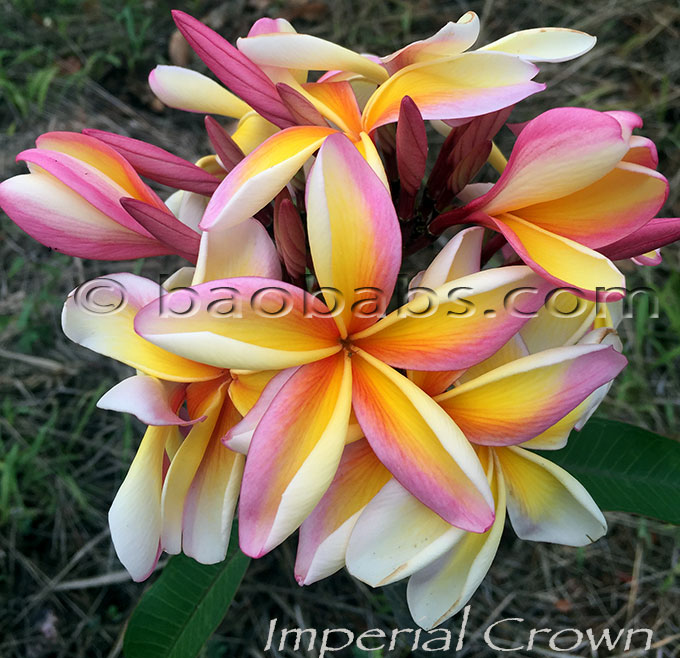 Plumeria rubra IMPERIAL CROWN
Lady Marmalade[X]
ЧЕРЕНОК 20-25cm : 15.6 €

РАСТЕНИЕ (черенок с корнями) 25-30cm : 29.9 €

РАСТЕНИЕ (черенок с корнями) 35-40cm : 39 €


One of the best gold plumerias from Thailand! The huge draped petals are heavily lined with deep veins and petals have edging and streaks throughout of orange and reddish coloration. Medium tree, semi-compact. Exceptional bloomer. Rainbow white and yellow with reddish/orange center that bleeds out from the throat, light to dark pink edges, depending on heat. Likes to blooms in clusters, sweet scent.The flowers average 3.5" and have a sweet perfume.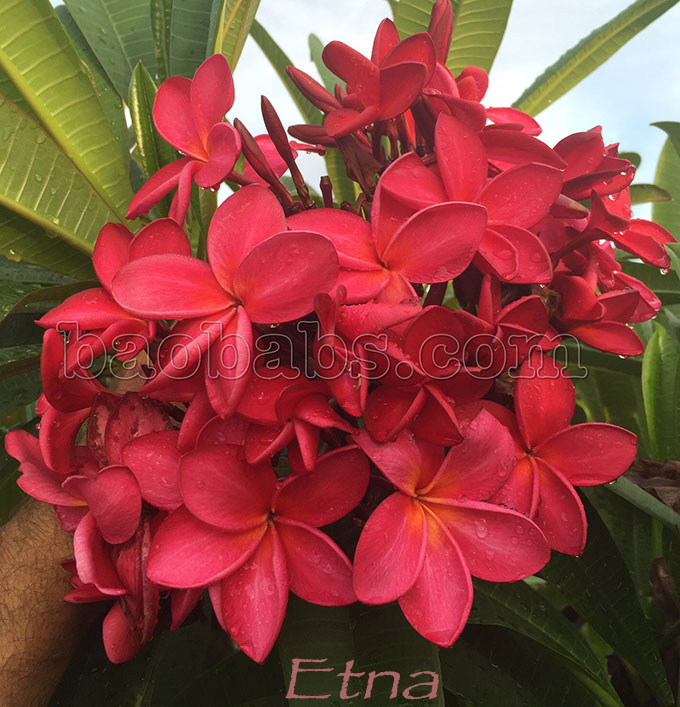 Plumeria rubra ETNA
Siam Red, Dang Siam, Dang Sayam, Daeng Sayem[X]
СЕМЕНА (3) : 3.9 €

ЧЕРЕНОК 20-25cm : 15.6 €

РАСТЕНИЕ (черенок с корнями) 15-25cm : 29.9 €


Beautiful plumeria that produces very sweetly scented, deep red flowers with a center of gold that gives the impress of being made up of small sparkles.. The flower, 6.0cm to 8.0cm in diameter, consists of oval, strongly overlapping petals of heavy substance. Color: dark red of velvety appearance, dusted with gold towards center. Keeping quality: good, Leaves: young unfolding leaves dark red, later medium to dark green with some bronze shading.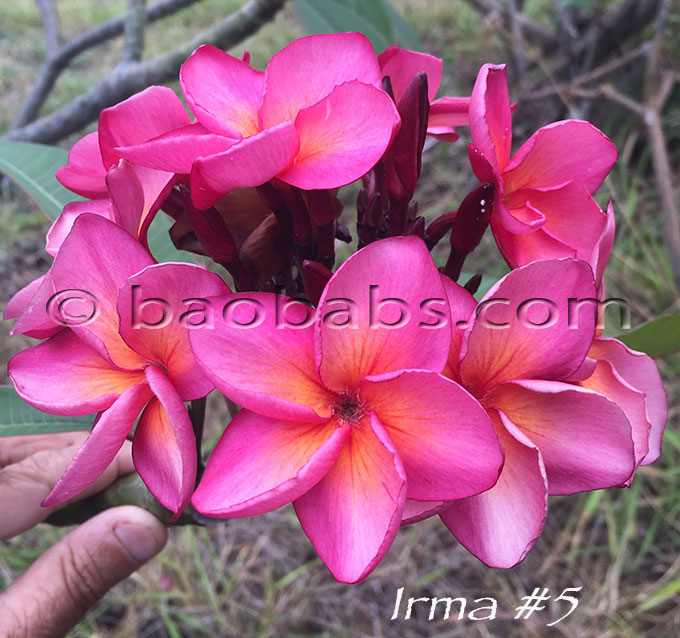 Plumeria rubra IRMA #5
Irma 5, Irma Bryant 5, 4101, Erma 5, Karhun[ ]
СЕМЕНА (3) : 2.6 €

ЧЕРЕНОК 20-25cm : 19.5 €

РАСТЕНИЕ (черенок с корнями) 25-30cm : 29.9 €


3"( 7.50 cm ) flowers , wine-red with orange-red throat and veining, changing to light red with age. The petals have wavy edges and a lovely orange center. The shape is very round. bright pink and slowly fading to light pink revealing the streaked pink and orange lines radiating from the center. Substance: heavy. Fragrance: medium, sweet. Beautiful Sweet scent and bunches of blooms. Recommended. red edges on the leaves

Copyright © Le Jardin Naturel