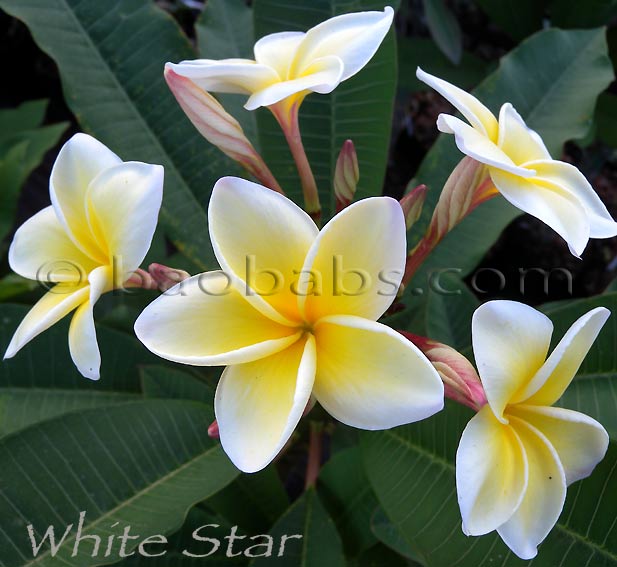 Plumeria rubra WHITE STAR
Celadine,Hawaiian Yellow, Graveyard Yellow, Common Yellow , Common Cream, Yellow, Huevos, Common White[X]
ЧЕРЕНОК 10-15cm : 9.1 €

ЧЕРЕНОК 20-25cm : 15.6 €

РАСТЕНИЕ (черенок с корнями) 15-25cm : 26 €


Most desirable plumeria for fragrance. The flowers are medium to large 3 1/2 inches and brilliant yellow, with a broad white margin around the firm textured petals. Strong lemon fragrance with very good keeping quality. Vigorous but compact grower. Thick branched and heavy blooms. The fragrance is somewhat like dish soap.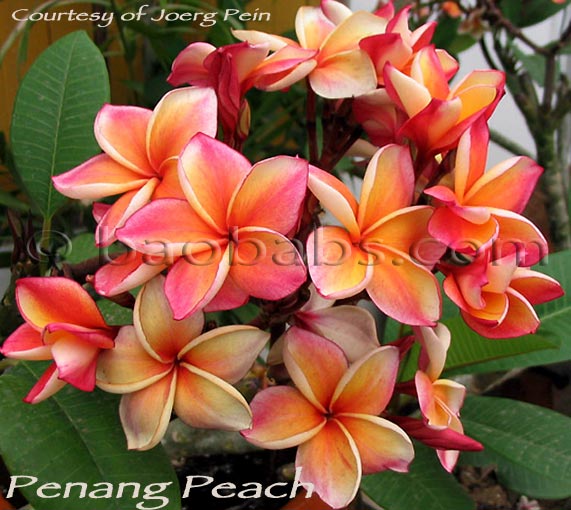 Plumeria rubra PENANG PEACH
Som Garasin, Thai Gold, Thai Yellow, Thai Salmon, California Sunset, Som Kalisin, Thai Gold[ ]
ЧЕРЕНОК 20-25cm : 19.5 €


Yellow-orange flowers with red veins and markings of 2" to 3" appear in dense clusters. Petals overlapping, of good substance and keeping quality. A remarkable characteristic is the alteration of color depending on the season. The flowers will turn towards red in hot and dry weather and display much more yellow during cooler temperatures. Fragrance: mild, fruity reminiscent of Peach. Broad elliptical leaves are of medium green color with pointed tips and distinct veining.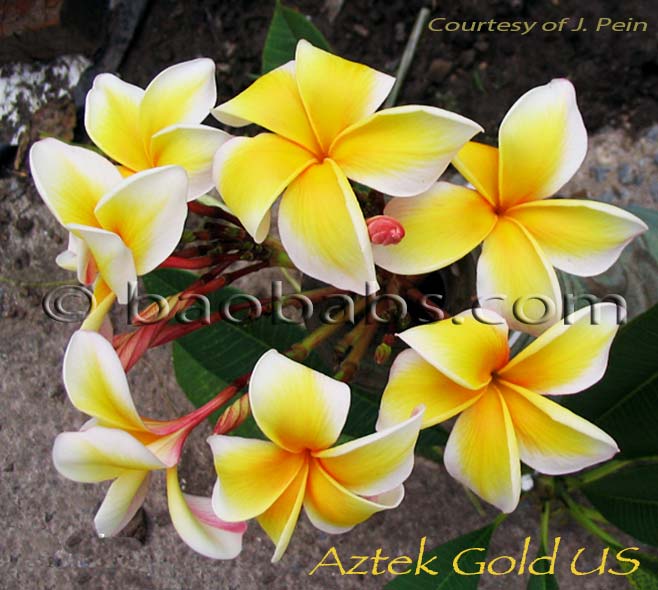 Plumeria rubra AZTEC GOLD
South Florida Gold, Key Largo Gold[X]
РАСТЕНИЕ (Seedling) : 26 €

РАСТЕНИЕ (черенок с корнями) 20-25cm : 39 €


Well known variety. Beautiful large yellow flowers. This is a fantastic, large, 10cm yellow flower, that shades to white on the edges. There is a reddish band on the back side of the petals that can show slightly through. This is a very easy to cultivate plumeria, making it a great one for beginners. This plumeria is probably best known for the strong scent of peaches.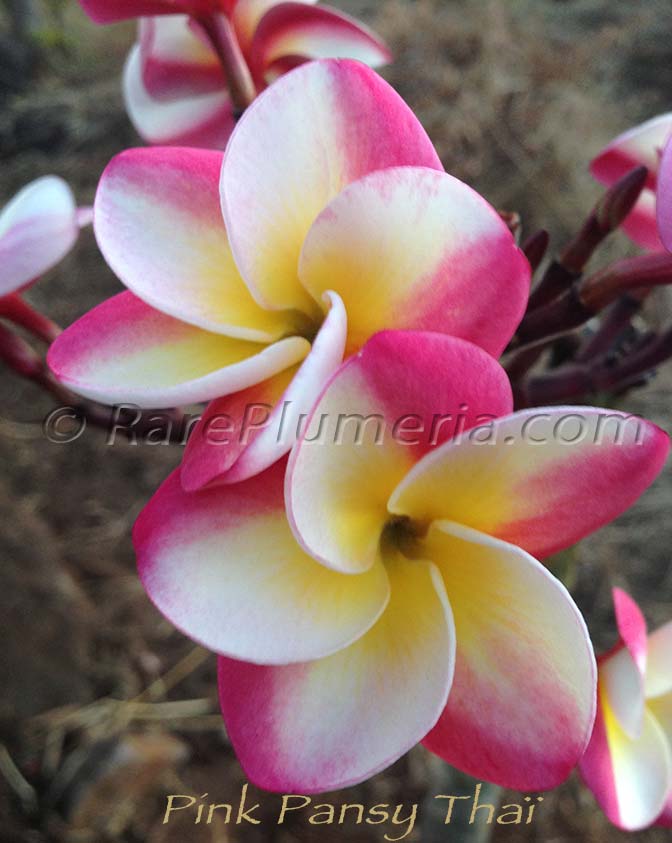 Plumeria rubra PINK PANSY THAI
Kasem's Delight, PK-110, Cranberry Cream, Danai Delight[X]
РАСТЕНИЕ (bouture racine) 20-25cm : 26 €


Not far from the J.L. Pink Pansy, but different. Probably a seedling of J.L. Pink Pansy. White with contrasting dark red margin2.5"to 3"(6.0 to 7.50 cm), branches well. One of the best smelling Plumeria. Strong perfume compares to a heavenly women perfume.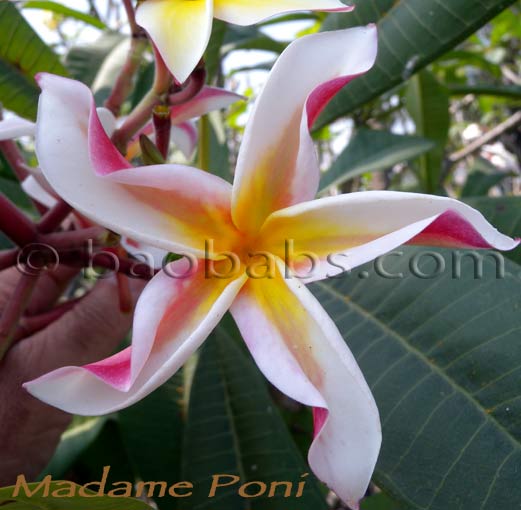 Plumeria rubra MADAME PONI
Corkscrew, Curly Holt, Waianae Beauty, Star, Ponytail , Waianea Beauty, Pony Tail[X]
РАСТЕНИЕ (черенок с корнями) 20-25cm : 29.9 €


Petal narrow, tapering tip, no overlapping. strong red band on back, twist usually running length of petal. Good texture. Keeping quality good. A rainbow colored flower that has uniquely twisted long narrow petals. Wide greenish-yellow band (with dark red striping) fading to white, yellow center, strong red band on back, tendency to fade, long narrow petals twisting incurving and upturned, tapered pointed tips, 3,5" diameter, slight sweet fragrance. Spectacular Flower. Medium compact tree.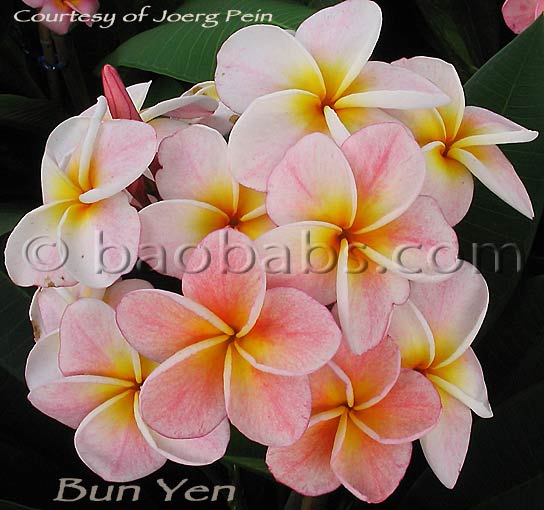 Plumeria rubra BUN YEN
Boon Yen, Banyen[X]
СЕМЕНА (3) : 3.9 €


3" to 3.5" flowers ( 7.5 to 8.5 cm ) Petals almost circular in shape, strongly overlapping, light pink with red overlay of web-like markings and striations. Yellow-orange throat, size about 30% of flower diameter Fragrance : medium, smooth - honey Leaves: dark green, elliptical with pointed and slightly elongated tip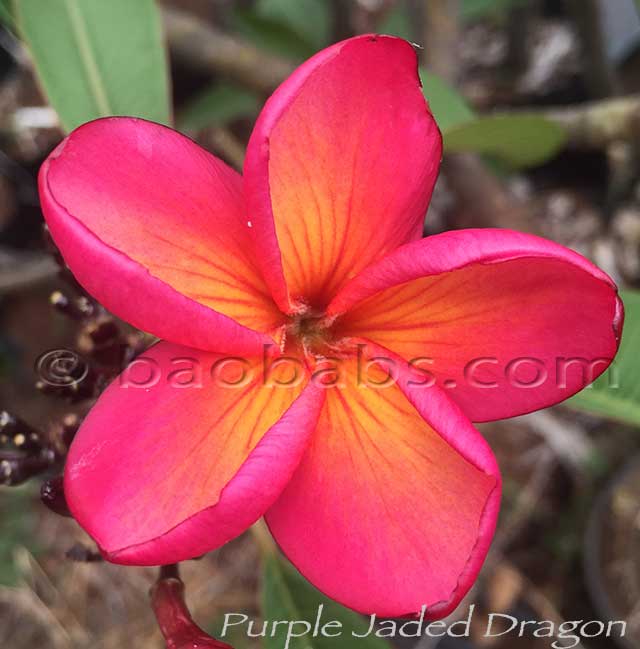 Plumeria rubra PURPLE JADE DRAGON
Saeng Manee, Mangkonyok , Muang Jade Dragon, Purple Jaded Dragon , Muang Kon Yok, Mung Korn Yuk[X]
ЧЕРЕНОК 20-25cm : 19.5 €


Large clusters, 2 to 3" red to purple-red and yellow. The petals are overlapping, round, golden-yellow with red to purple-red area along edge and red veining spreading from the base. The buds are dark red with the petioles dark red to almost black. The fragrance is a medium sweet honey with a hint of wild strawberry. Strong, wonderful scent. Many faces with different conditions. Sometimes the purple edge is prominent, other times the red dominates and little blue is evident. Size and intensity of yellow center varies. Slow grower.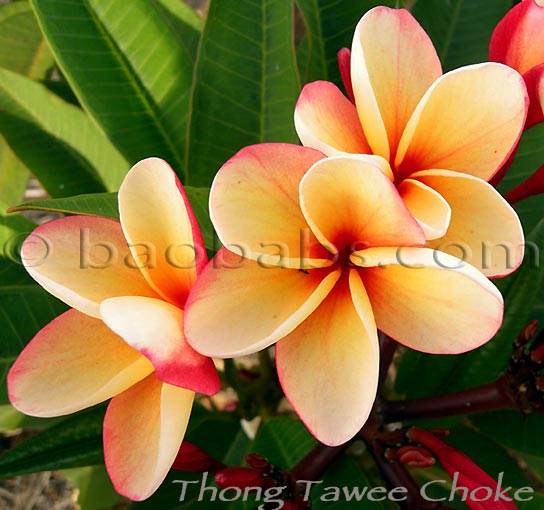 Plumeria rubra THONG TAWEE CHOKE
Tong Tavee Choc[ ]
СЕМЕНА (3) : 3.9 €

ЧЕРЕНОК 20-25cm : 14.3 €

РАСТЕНИЕ (Seedling) : 19.5 €


Means gold peaceful luck. 3.0 to 3.5 inches flowers Orange, yellow, white and maroon with golden orange throat. Petals oval, slightly overlapping, white and yellow to orange-yellow with maroon or purplish-red area and conspicuous veining. Substance: medium Large trusses with multiple flowers Fragrance: medium to strong. fresh and sweet Leaves: olive green, elliptical, pointed tip Nice flowers with conspicuous red striations and veining. Red color intensifying with heat and sunlight.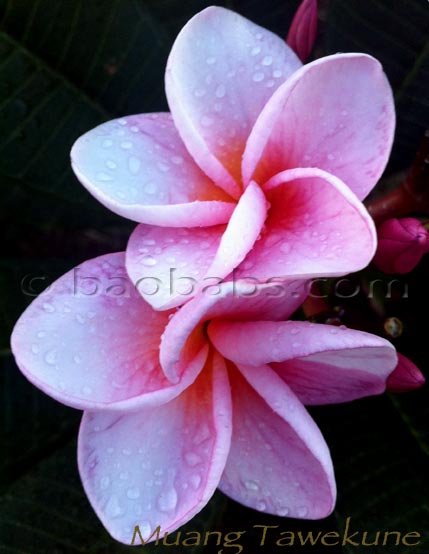 Plumeria rubra MUANG TAWEKUNE
Muang#1 [H]
ЧЕРЕНОК 20-25cm : 19.5 €

РАСТЕНИЕ (Seedling) : 22.1 €

РАСТЕНИЕ (черенок с корнями) 20-30cm : 26 €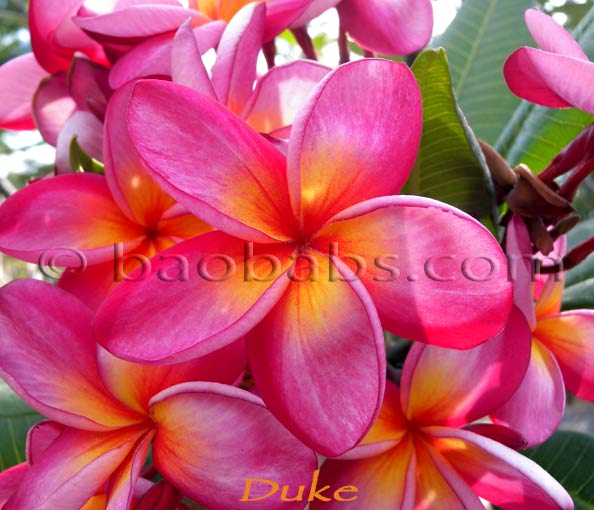 Plumeria rubra DUKE
Tuk[X]
СЕМЕНА (3) : 5.2 €

ЧЕРЕНОК 20-25cm : 19.5 €

РАСТЕНИЕ (Seedling) : 22.1 €


Cultivar named in honor of Duke Kahanamoku of Hawaii, the most famous name in surfing - an Olympic champion, a Hollywood actor and a Hawaiian hero. The petals are round and broad, with dark red lines radiating forward, and overlap moderately. Intense red and pink, with a small bright yellow center. Intense and soft fragrance of fruit punch. Blooming is very important and continues for several months. Duke is one of the most perfumed flowers, becoming even more fragrant after picking. The texture and maintaining quality are excellent. It is not tolerant to cold.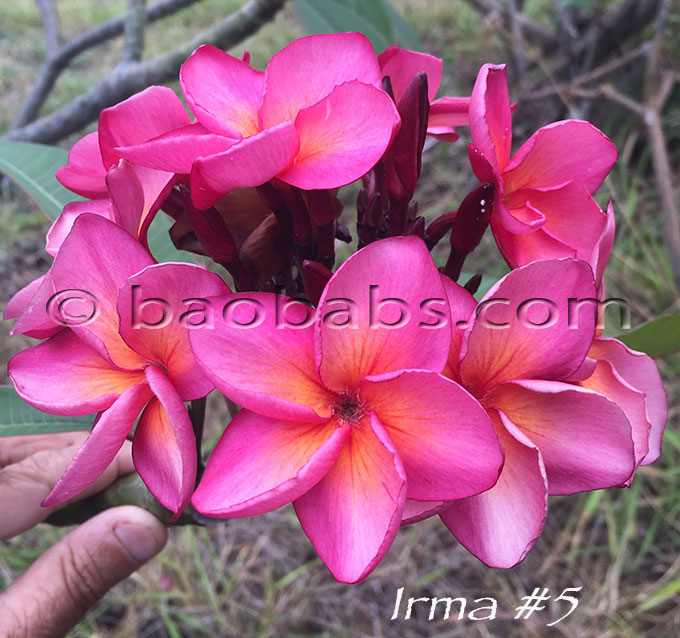 Plumeria rubra IRMA #5
Irma 5, Irma Bryant 5, 4101, Erma 5, Karhun[ ]
СЕМЕНА (3) : 2.6 €

ЧЕРЕНОК 20-25cm : 19.5 €

РАСТЕНИЕ (черенок с корнями) 25-30cm : 29.9 €


3"( 7.50 cm ) flowers , wine-red with orange-red throat and veining, changing to light red with age. The petals have wavy edges and a lovely orange center. The shape is very round. bright pink and slowly fading to light pink revealing the streaked pink and orange lines radiating from the center. Substance: heavy. Fragrance: medium, sweet. Beautiful Sweet scent and bunches of blooms. Recommended. red edges on the leaves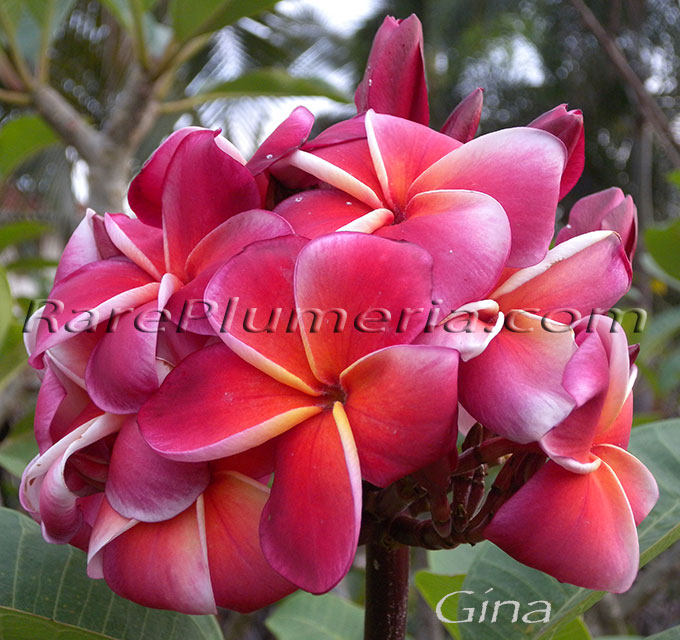 Plumeria rubra GINA
Jeena , Jena, Jeena Red[ ]
ЧЕРЕНОК 20-25cm : 22.1 €

РАСТЕНИЕ (черенок с корнями) 15-25cm : 29.9 €


Deep copper-orange-red and purple red, 3.5" ( 9.0 cm), sturdy branches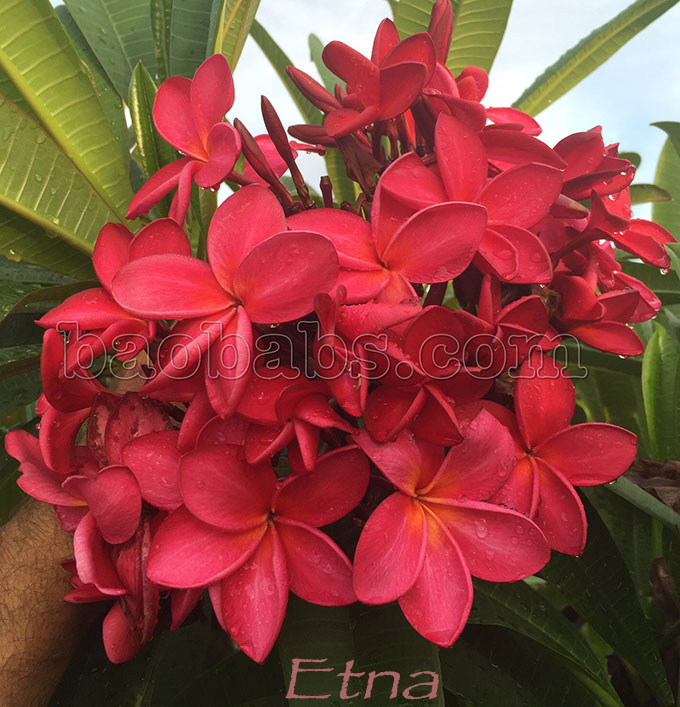 Plumeria rubra ETNA
Siam Red, Dang Siam, Dang Sayam, Daeng Sayem[X]
СЕМЕНА (3) : 3.9 €

ЧЕРЕНОК 20-25cm : 15.6 €

РАСТЕНИЕ (Seedling) : 19.5 €


Beautiful plumeria that produces very sweetly scented, deep red flowers with a center of gold that gives the impress of being made up of small sparkles.. The flower, 6.0cm to 8.0cm in diameter, consists of oval, strongly overlapping petals of heavy substance. Color: dark red of velvety appearance, dusted with gold towards center. Keeping quality: good, Leaves: young unfolding leaves dark red, later medium to dark green with some bronze shading.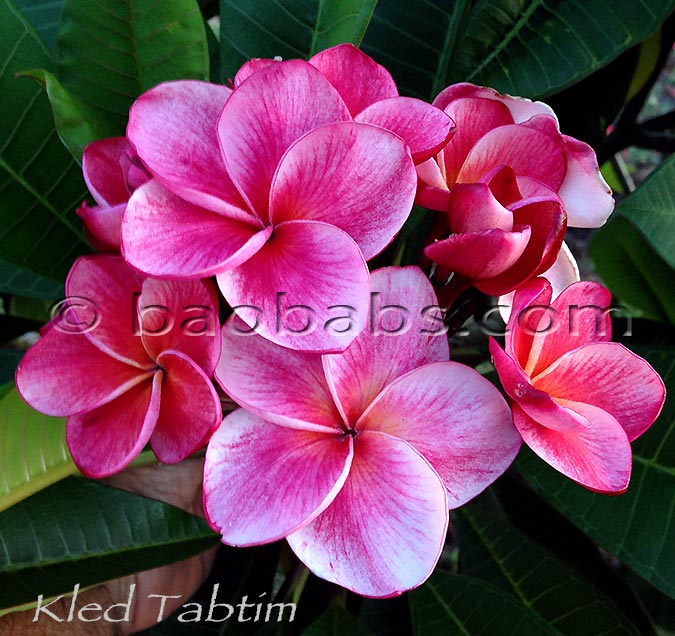 Plumeria rubra KLED TABTIM
Kred Tubtim, Ruby Flake, Iridium[X]
СЕМЕНА (3) : 3.9 €

ЧЕРЕНОК 20-25cm : 15.6 €

РАСТЕНИЕ (Seedling) : 19.5 €

РАСТЕНИЕ (черенок с корнями) 15-25cm : 26 €


Rounded 2.5 - 3.0" ( 6.0 - 7.50 cm ) flowers consisting of heavily overlapping, broad petals. Dark Red with white area along rim. Red area turning to light red and orange with age, unveiling conspicuous veining over cream-white background. Good substance and exceptional keeping quality. Fragrance: Mild, sweet. Leaves: medium green, elliptical with downward pointing tip.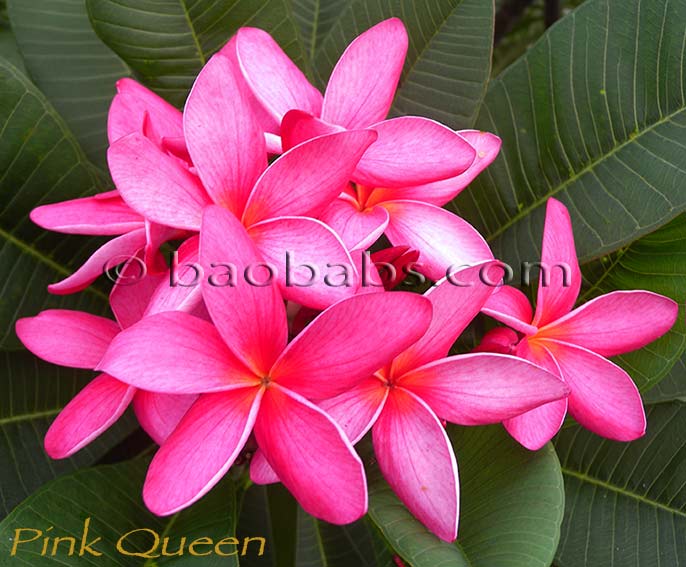 Plumeria rubra PINK QUEEN
СЕМЕНА (3) : 3.9 €

ЧЕРЕНОК 15-25cm : 11.7 €

РАСТЕНИЕ (Seedling) : 19.5 €

РАСТЕНИЕ (черенок с корнями) 20-25cm : 19.5 €

РАСТЕНИЕ (черенок с корнями) 35-40cm : 26 €


Very unusual intense color and compact, decorative growing habit. 7.50 cm flowers of intense glowing pink-magenta. Petals oval, slightly pointed, overlapping. Fragrance: fresh and sweet. Leaves: dark green and very decorative.

Copyright © Le Jardin Naturel