5 лучших продаж ''Плюмерия"

rubra WHITE STAR

rubra

alba

rubra BALI

pudica
| | |
| --- | --- |
| 1 / 235 | |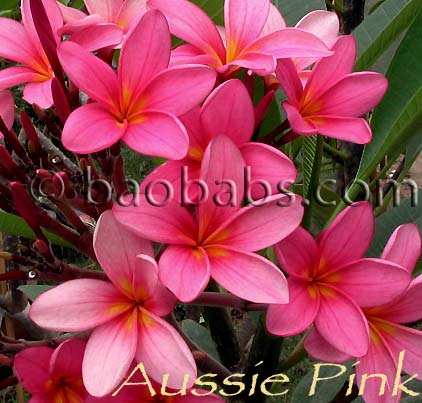 Plumeria rubra AUSSIE PINK
Pink Lizzie, Pink Australis, Fairy Wings, Common Aussie Pink, Gentle Pink, Chompoo Kluai Mai , Joshua , Cairns Red, Deep Fuchsia, Deep Aussie Pink, Abernathy Red, Emma Jade, Red Frangipani, Port South Road, Bundall Beauty, Padstow Pink, Fuchsia, Pink Glow, Aussie Deep Pink[X]

Huge basketball sized clusters of 4" flowers. Compact growth. Lanky. Peachy scent. One of the hardiest plumerias. Strong, sweet fragrance. Upright and open branching variety suitable for landscaping, moderate to light pink with small brilliant yellow centre. Light pink flowers which are streaked with darker pink lines and a yellow orange center. Long pink petals with rich red center. With additional heat, the flowers are very strongly colored but within the plant you will still find pastel colors. The inflos continue to grow throughout the blooming season.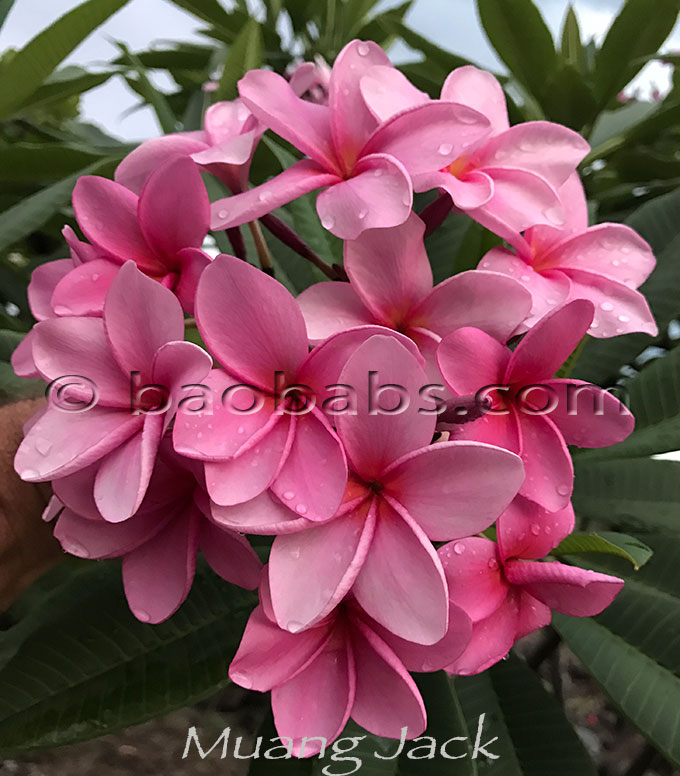 Plumeria rubra MUANG JACK
Purple #1, Purple Queen, Jack\'s Purple , Purple Jack , Violet Princess, Purple Princess , Jack\'s Purple[ ]
СЕМЕНА (3) : 3.9 €

ЧЕРЕНОК 20-25cm : 19.5 €


A remarkable violet background flower with blue veins and 3" to 4" in diameter. When this variety is fully blooming, the color will become strong purple blue. Petals are overlapping with heavy substance and perfect forming. Dusted with yellow-orange in the center. Beautiful medium purple 3" with a lovely orange center. Pleasant, sweet fragrance.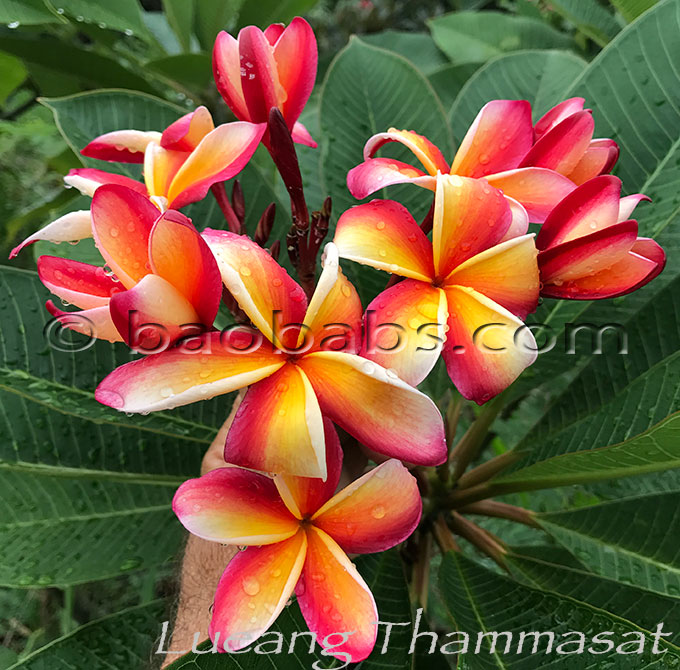 Plumeria rubra LUEANG THAMMASAT
Yellow Thammasat[X]
СЕМЕНА (3) : 3.9 €

ЧЕРЕНОК 20-25cm : 14.3 €


3" to 4", average 3.5". Slightly overlapping, oval petals - yellow to orange or reddish - yellow with strong red area along rim. Light yellow or cream on the backside with strong red band. Keeping quality: good, rich fragrance of Vanilla and Honey. Leaves: dark green, obovate with pointed tip. Habit: broad upright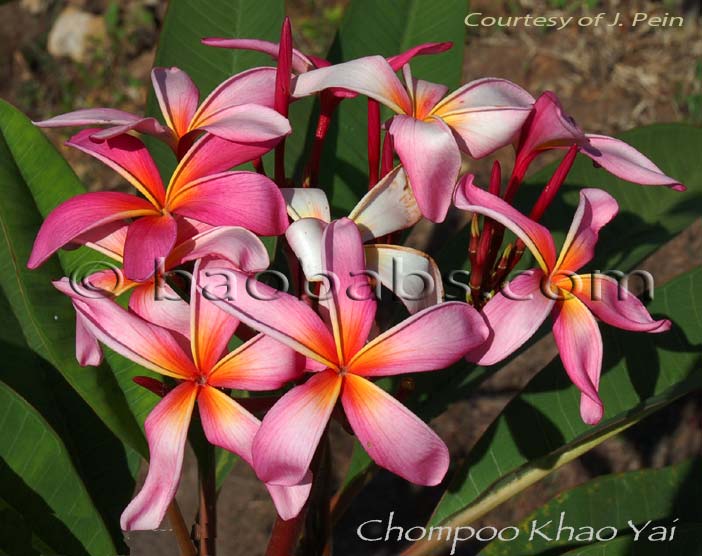 Plumeria rubra CHOMPOO KHAO YAI
Sweet Candy[X]
РАСТЕНИЕ (черенок с корнями) 25-30cm : 39 €


Large pink flowers, 3" to 4" ( 7.5 to 10 cm )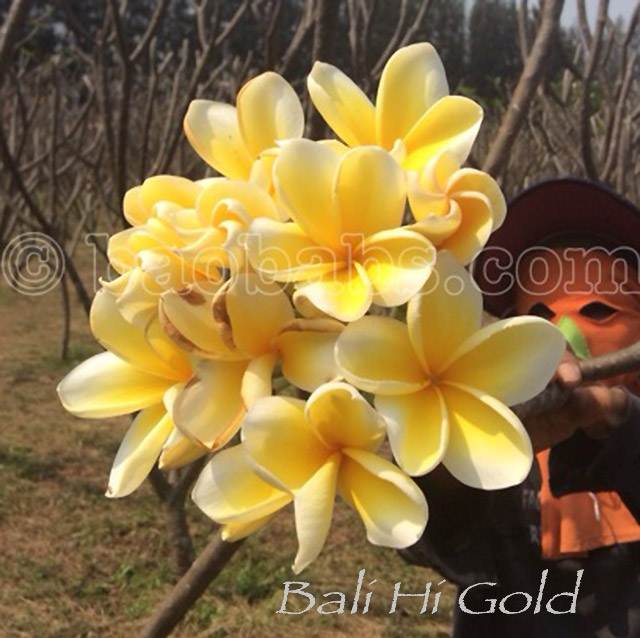 Plumeria rubra BALI HAI GOLD
Cendana[X]
РАСТЕНИЕ (черенок с корнями) 20-25cm : 29.9 €


This beautiful and floriferous plumeria produces large clusters of 3? golden blooms with very pleasant plumeria fragrance with tones of spice and sandalwood. Unique and wonderful fragrance!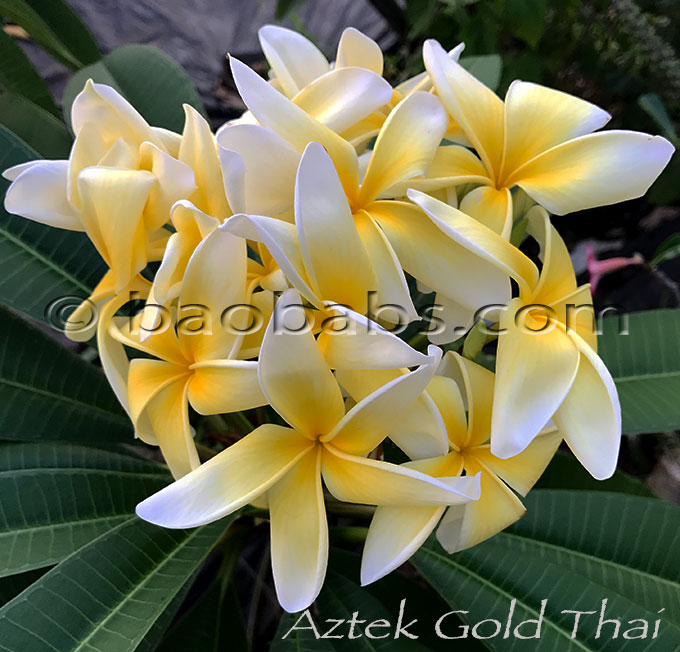 Plumeria rubra AZTEK GOLD THAI
СЕМЕНА (3) : 3.9 €

ЧЕРЕНОК 20-25cm : 26 €

РАСТЕНИЕ (черенок с корнями) 15-25cm : 39 €


This is a selection of Aztek Gold from Thailand and not the same plant as the well known Aztek Gold in the nursery trade. Large 3" to 4.00" ( 7.50 to 10.0 cm ) yellow flowers. Petals: separated, yellow and white. Substance: light to medium. Fragrance: strong vanilla-honey. Leaves: bright- green, narrow and elongated, elliptical with pointed tip. Note: Nice yellow, which produces full flower-heads of multiple flowers and has a compact growing habit. In contrast the Aztek Gold has darker yellow flowers emerging from orange flower-buds, but flower heads are less dense and the plant has a stronger growing habit.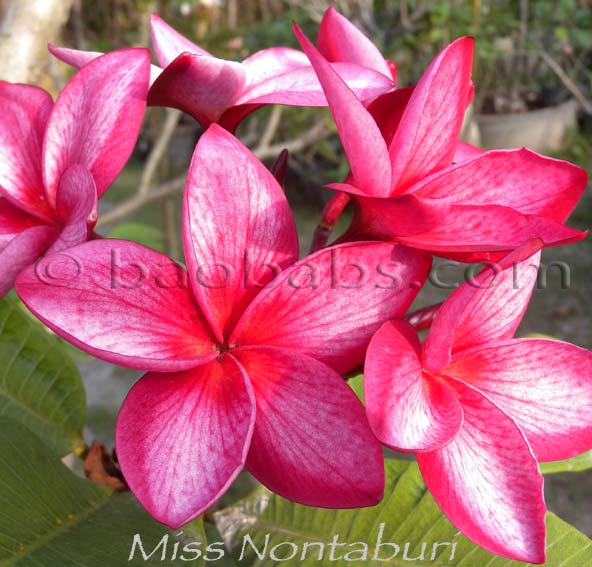 Plumeria rubra MISS NONBURI
Red Butterfly, Bewitched , Miss Nonthaburi, Saw Mongnon, Sao Mongnon, Sao Nonburi, Nonthaburi Lady, Nonburi Lady, Sao Nonthaburi[X]
РАСТЕНИЕ (черенок с корнями) 15-25cm : 29.9 €


Showy flower at 4-5 inches (10-12.5cm) average! The coloration is an extremely beautiful and grainy, deep pink-red with flecks of white. White to creamy-white with intense red to burgundy-red area along margin with red veining and dusting over rest of surface. Throat orange-red.Flowers emerging from very dark red flower-buds. Petals overlapping, oval with slightly pointed tip.The effect is quite dazzling on a flower of this size. Leaves : medium green with light green veining, elliptical with pointed tip. A lovely and very sweet fragrance.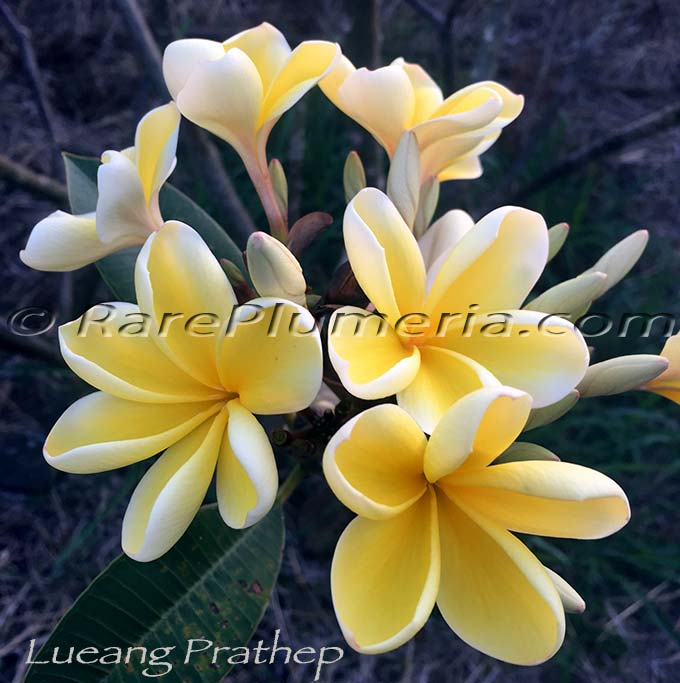 Plumeria rubra LUEANG PRATHEP
РАСТЕНИЕ (черенок с корнями) 20-25cm : 29.9 €


White and yellow with a salmon or cream-pink hue when young. Petals: broad oval, overlapping, white with yellow at base. Fragrance: sweet, fresh, medium intense. Leaves: dark green, elliptical with pointed tip. Note: produces large flower-heads with multiple flowers. Good keeping quality.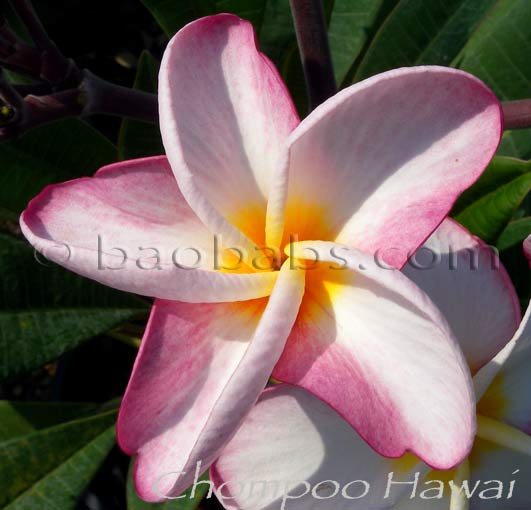 Plumeria rubra CHOMPOO HAWAI
РАСТЕНИЕ (черенок с корнями) 25-30cm : 29.9 €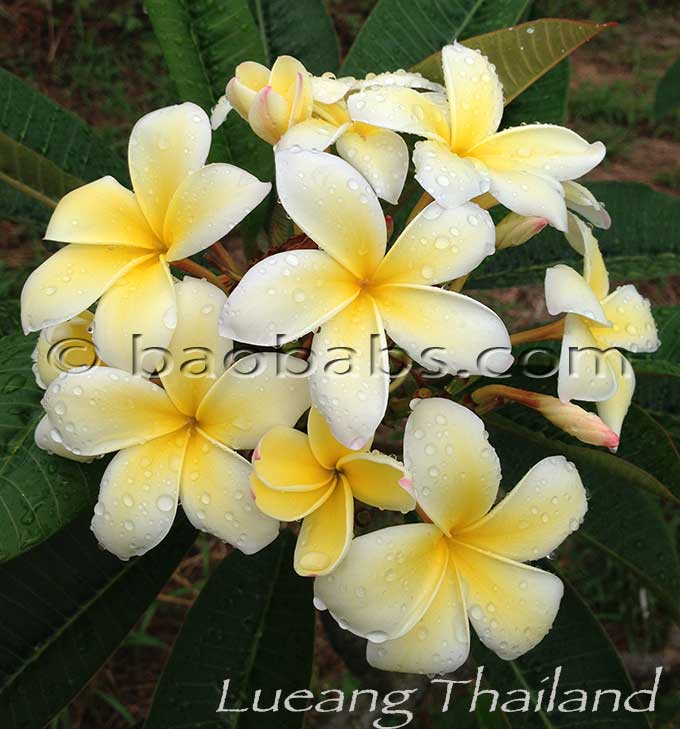 Plumeria rubra LUEANG THAILAND
Yellow Thailand[X]
СЕМЕНА (3) : 3.9 €

РАСТЕНИЕ (черенок с корнями) 25-30cm : 29.9 €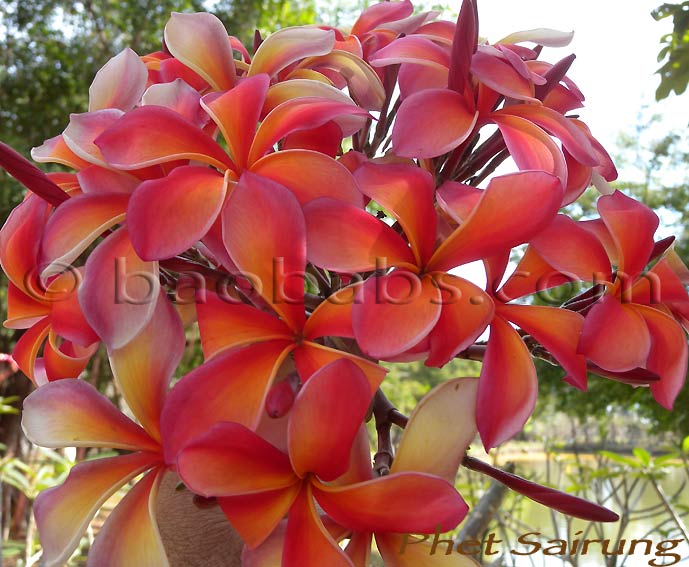 Plumeria rubra TERESA WILDER
Theresa Wilder, Teddy Wilder, Lo Kwain, Phet Sairung, Sam Kasat, Pinwheel Rainbow, Candy Stripe, Barber s Pole, Daeng Orachorn, Petch Sairung[ ]
РАСТЕНИЕ (черенок с корнями) 25-30cm : 29.9 €


Pinwheel shaped flowers display a strong red and yellow-orange color combination of 3" to 4" in diameter. Mild, sweet fragrance Leaves elliptic with pointed and sometimes with rounded tip. PROLIFIC BLOOMER WITH UNIQUE PINWHEEL SHAPE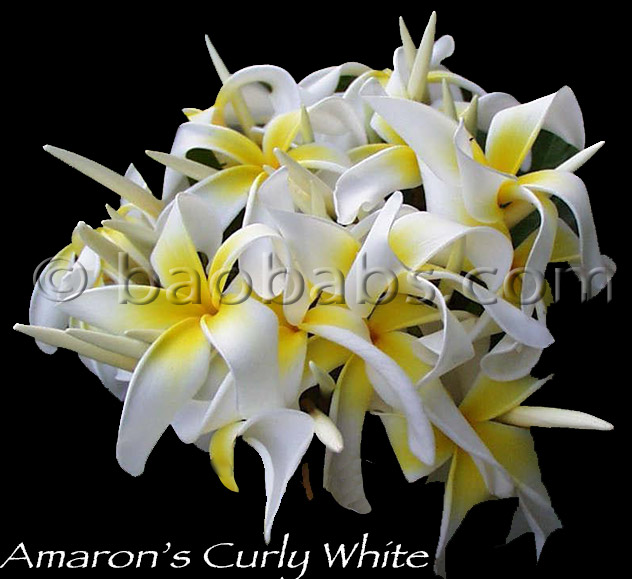 Plumeria rubra AMMARON S CURLY WHITE
ACW[X]
РАСТЕНИЕ (черенок с корнями) 20-25cm : 32.5 €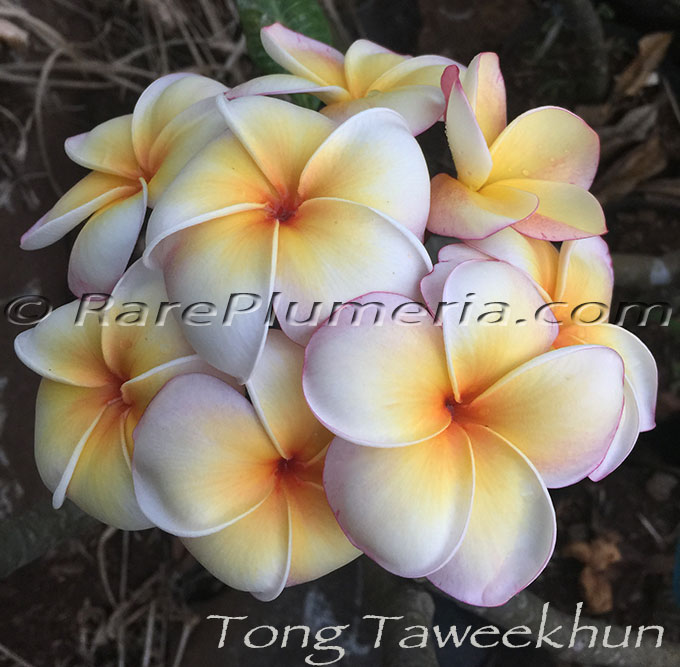 Plumeria rubra TONG TAWEEKHUN
Thong Tavee Koon, TongTawekune, J4[X]
СЕМЕНА (3) : 3.9 €

ЧЕРЕНОК 15-25cm : 14.3 €

РАСТЕНИЕ (черенок с корнями) 25-30cm : 29.9 €


White with pink edged petals, with a strong red to yellow center. Thick petals and big blooms. 3-3.5". Overlapping round petals. Light orange-gold with red bands on the outside of each petal. Sweet fragrance. Thick texture.

Copyright © Le Jardin Naturel