| | |
| --- | --- |
| 1 / 31 | |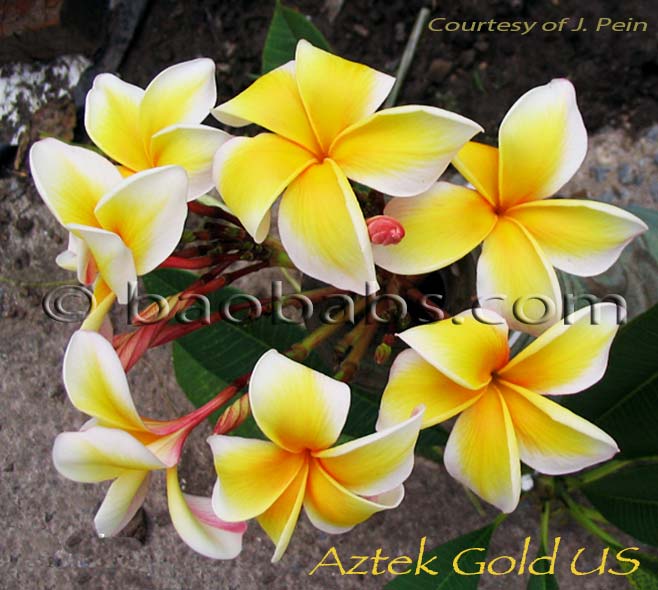 Plumeria rubra AZTEC GOLD
South Florida Gold, Key Largo Gold[X]
СЕМЕНА (3) : 5.2 €

РАСТЕНИЕ (Seedling) : 26 €

РАСТЕНИЕ (черенок с корнями) 20-25cm : 39 €


Well known variety. Beautiful large yellow flowers. This is a fantastic, large, 10cm yellow flower, that shades to white on the edges. There is a reddish band on the back side of the petals that can show slightly through. This is a very easy to cultivate plumeria, making it a great one for beginners. This plumeria is probably best known for the strong scent of peaches.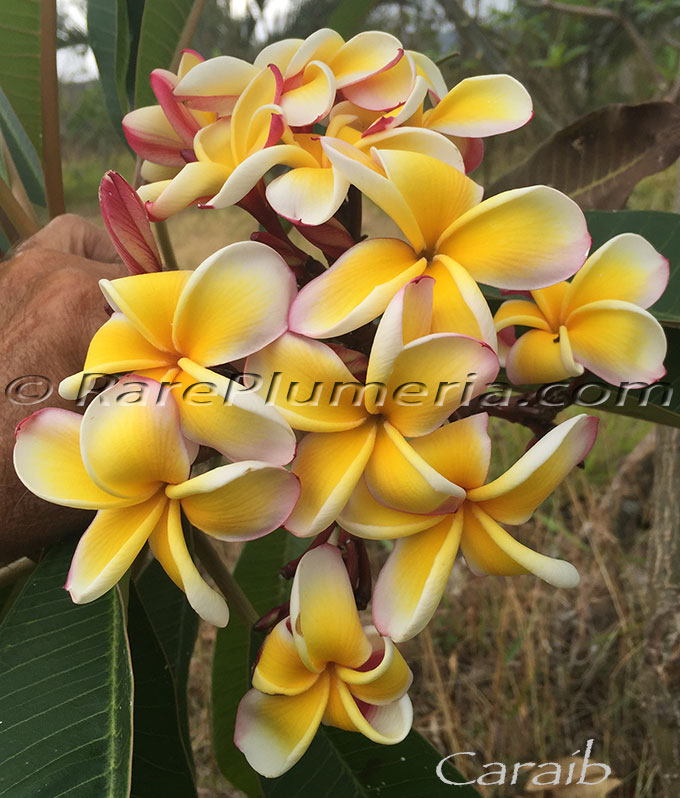 Plumeria rubra CARAIB
СЕМЕНА (3) : 2.6 €

ЧЕРЕНОК 20-25cm : 14.3 €

РАСТЕНИЕ (Seedling) : 19.5 €

РАСТЕНИЕ (черенок с корнями) 15-25cm : 26 €

РАСТЕНИЕ (черенок с корнями) 35-40cm : 39 €


Belle fleur de tendance jaune, traces rouges violacées lui donnant un charme certain. Léger parfum fruité. Pousse assez lente. Rarement à la vente.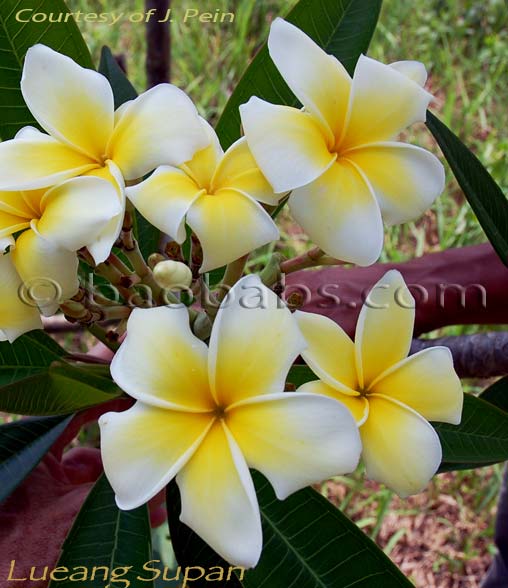 Plumeria rubra LUEANG SUPAN
Yellow Supan[X]
РАСТЕНИЕ (черенок с корнями) 20-25cm : 29.9 €


Yellow with white flowers and yellow-orange center of 2.5" to 3.5" (7.5 to 9.0 cm )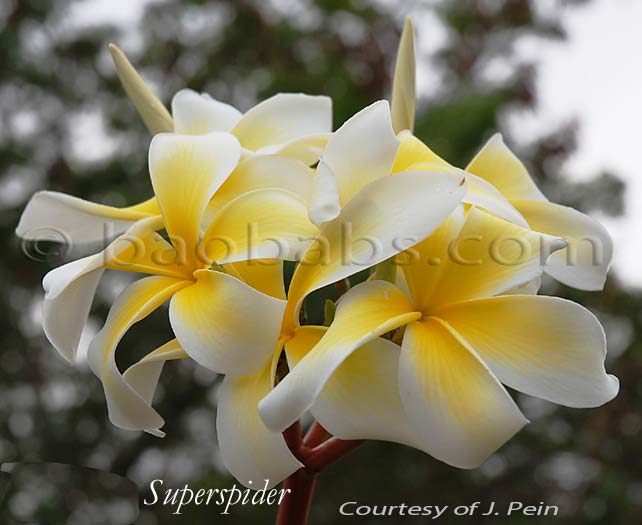 Plumeria rubra SUPERSPIDER
РАСТЕНИЕ (черенок с корнями) 20-25cm : 29.9 €


Large white and yellow flowers with narrow, long petals, strong upright grower.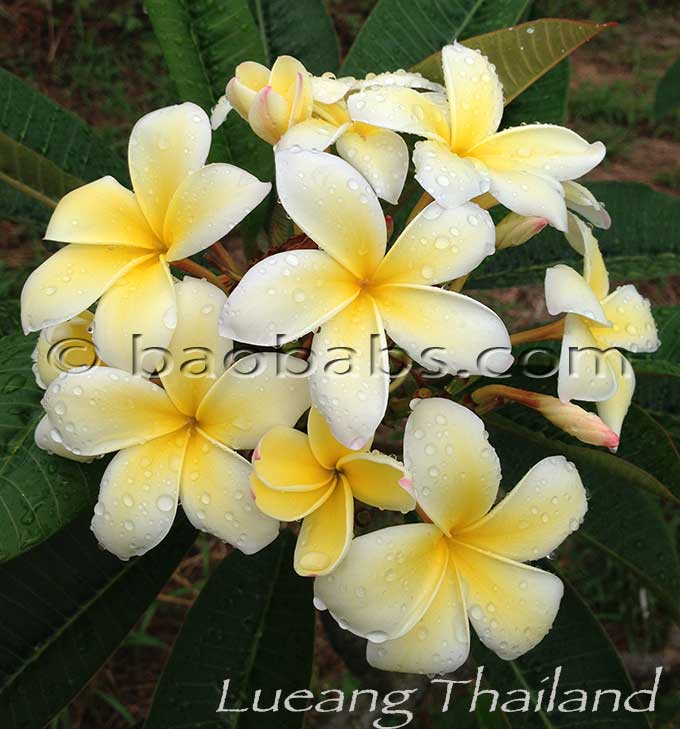 Plumeria rubra LUEANG THAILAND
Yellow Thailand[X]
СЕМЕНА (3) : 3.9 €



Plumeria rubra LUEANG MANAO
РАСТЕНИЕ (черенок с корнями) 15-25cm : 29.9 €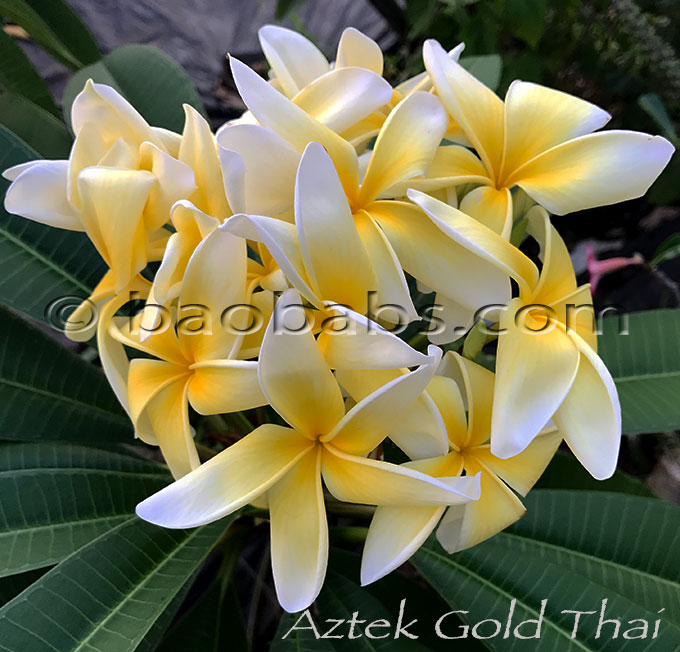 Plumeria rubra AZTEK GOLD THAI
СЕМЕНА (3) : 3.9 €


This is a selection of Aztek Gold from Thailand and not the same plant as the well known Aztek Gold in the nursery trade. Large 3" to 4.00" ( 7.50 to 10.0 cm ) yellow flowers. Petals: separated, yellow and white. Substance: light to medium. Fragrance: strong vanilla-honey. Leaves: bright- green, narrow and elongated, elliptical with pointed tip. Note: Nice yellow, which produces full flower-heads of multiple flowers and has a compact growing habit. In contrast the Aztek Gold has darker yellow flowers emerging from orange flower-buds, but flower heads are less dense and the plant has a stronger growing habit.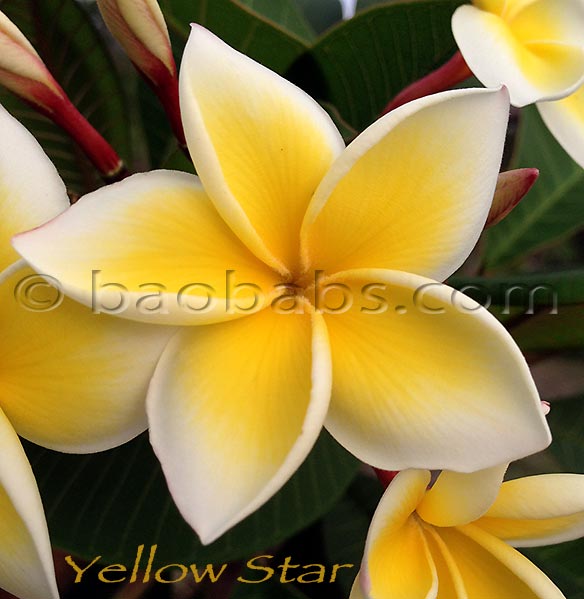 Plumeria rubra LJN YELLOW STAR
ЧЕРЕНОК 20-25cm : 15.6 €

РАСТЕНИЕ (черенок с корнями) 20-25cm : 26 €


Fleur en forme d'étoile quasiment parfaite ! Les pétales d'excellente consistance, de couleur jaune doré, ont une marge blanche du plus bel effet. Variété créée par Le Jardin Naturel.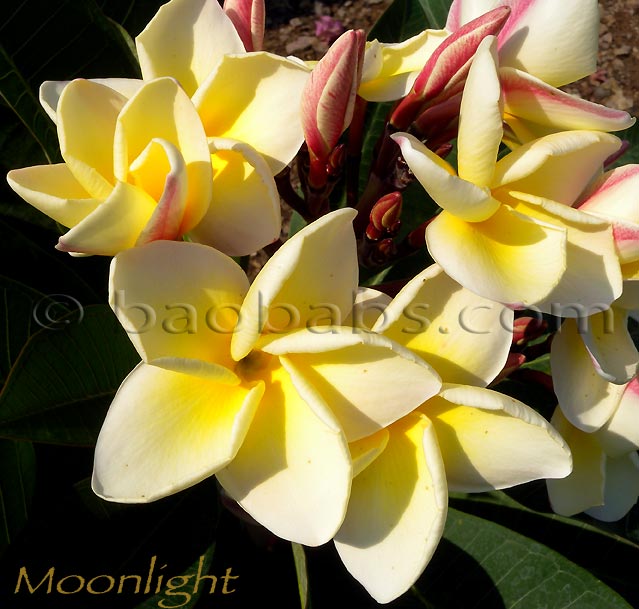 Plumeria rubra MOONLIGHT
ЧЕРЕНОК 15-20cm : 15.6 €

РАСТЕНИЕ (черенок с корнями) 25-30cm : 29.9 €


Cream-yellow flowers , 3" ( 7.50 cm). The petals overlap strongly. The outer edge of the petals bears a very apparent red strip on the buds of flowers, which contrasts nicely with the pale yellow color of the petals. Sweet lemon fragrance. Excellent consistency and rustic variety.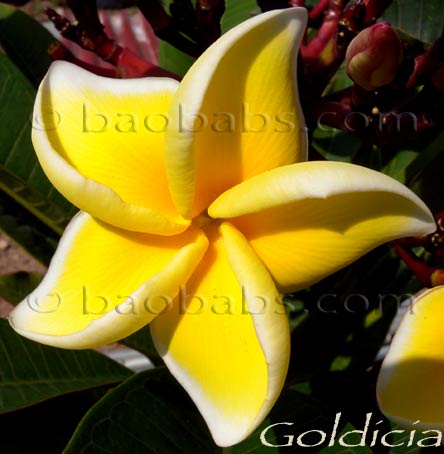 Plumeria rubra LUEANG SIRIMONGKON
Sirimongkol Yellow , Sirimongkol Gold, Goldicia, Leung Siri Mongkong[X]
РАСТЕНИЕ (черенок с корнями) 15-25cm : 26 €


Deep yellow flowers of 2" to 2.5" ( 5.0 to 7.0 cm ) with white along rim of petals and yellow orange center. Petals heavily overlapping, slightly pointed and of good substance. Fragrance: slight Vanilla fragrance. Leaves: light green, elliptical with pointed tips.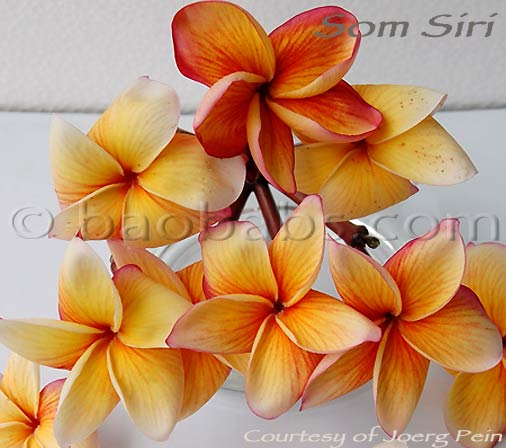 Plumeria rubra SOM SIRI
Orange Siri[X]
ЧЕРЕНОК 20-25cm : 26 €

РАСТЕНИЕ (черенок с корнями) 20-25cm : 33.8 €


Deep yellow with red striations, 2" to 3" ( 5.0 to 7.50 cm)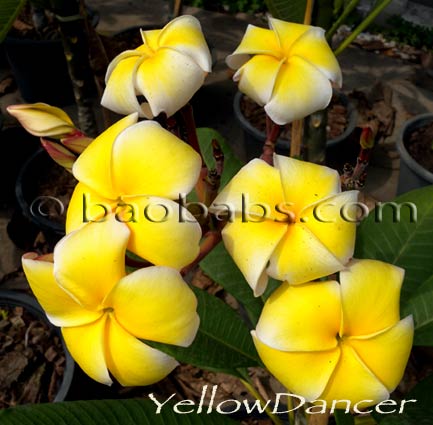 Plumeria rubra GRACE
Jacks Compact Yellow , Gold Bouquet, Jack's Dwarf Yellow, Leung Compact, Yellow Jack , Jack's Compact Yellow, Lueng Compact, New Jack Yellow, Super Gold[X]
РАСТЕНИЕ (черенок с корнями) 20-25cm : 29.9 €


Unique and original shape of the petals, recurved and similar to a pentagone. A nice yellow color turning to gold toward the center.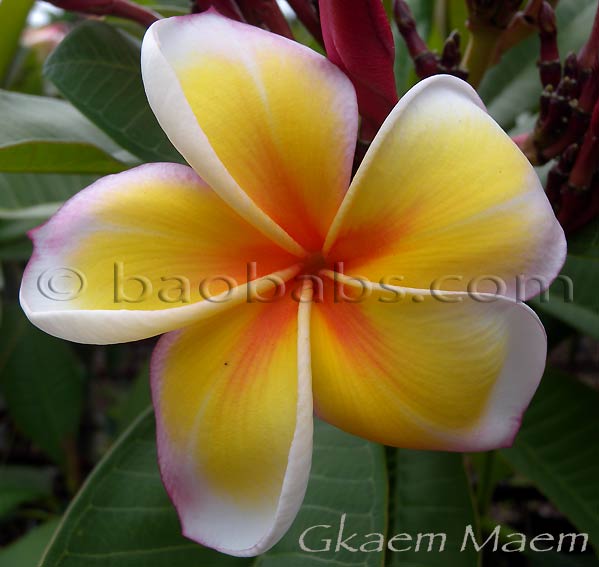 Plumeria rubra GKAEM MAEM
Gkaem Maem, Gammam[X]
СЕМЕНА (3) : 3.9 €

ЧЕРЕНОК 20-25cm : 15.6 €


2.5? to 3.0? (6.0 ? 7.50 cm) salmon, cream and yellow.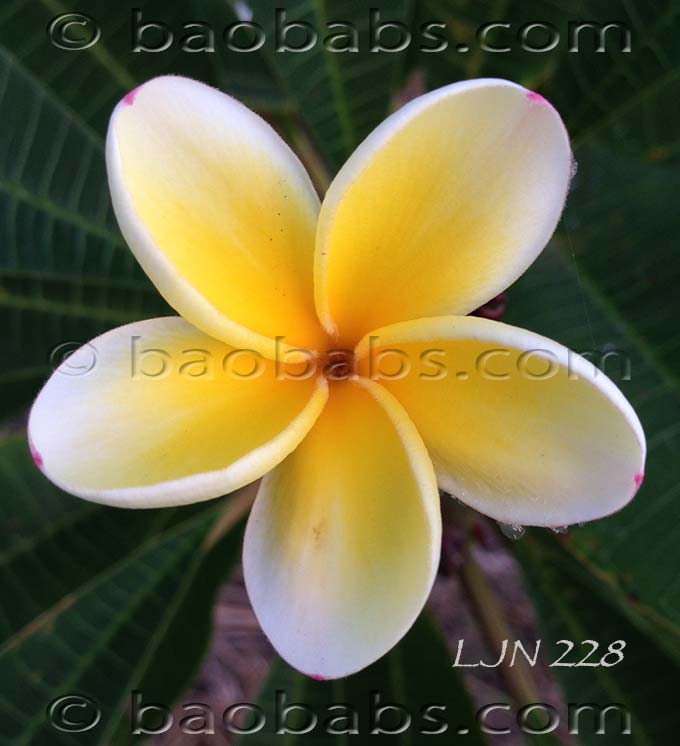 Plumeria rubra LJN228
ЧЕРЕНОК 20-25cm : 15.6 €

РАСТЕНИЕ (черенок с корнями) 20-25cm : 26 €


Copyright © Le Jardin Naturel