| | |
| --- | --- |
| 1 / 26 | |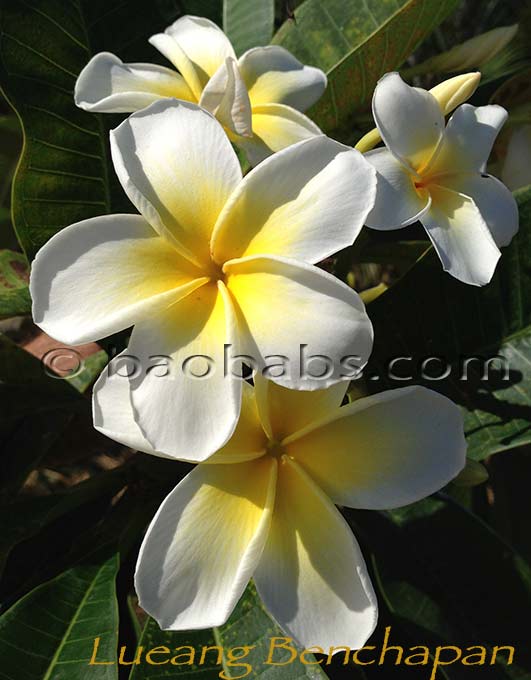 Plumeria rubra LUEANG BENCHAPAN
4038, Lueang Bendjapan[X]
СЕМЕНА (3) : 3.9 €

ЧЕРЕНОК 20-25cm : 19.5 €

РАСТЕНИЕ (Seedling) : 26 €

РАСТЕНИЕ (черенок с корнями) 20-25cm : 29.9 €


Beautiful flowers of 2" to 3" ( 5.0 to 7.5 cm ). White and yellow, twisted petals. Medium strong, sweet fragrance Leaves: medium to dark green, elliptical with pointed tip Habit: plant is a strong grower which produces thick branches


Plumeria alba
ЧЕРЕНОК 20-25cm : 14.3 €

РАСТЕНИЕ (черенок с корнями) 15-25cm : 26 €


Plumeria alba is a species of the genus Plumeria. This 2-8m evergreen shrub has narrow elongated leaves, strongly perfumed white flowers with a yellow center. Native to Central America and the Caribbean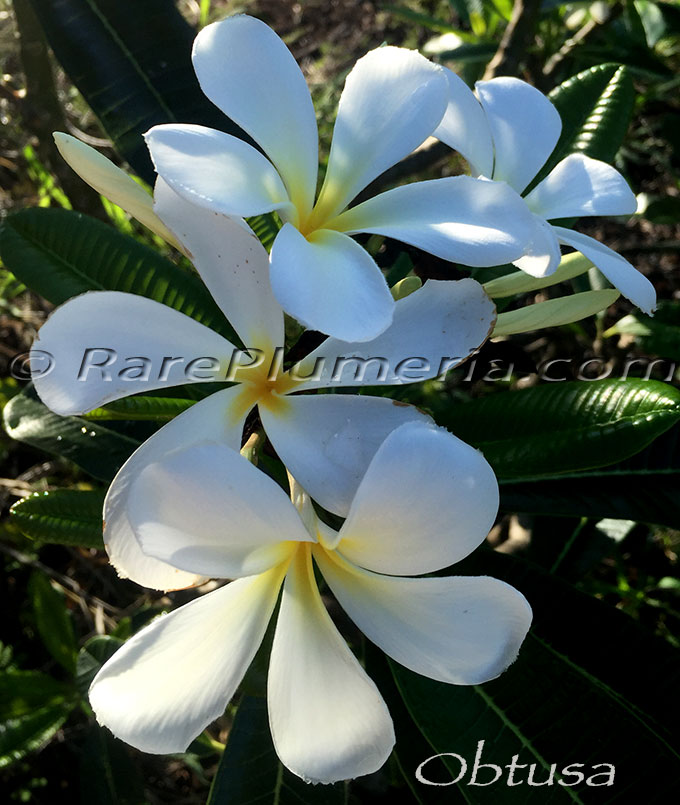 Plumeria obtusa
Singapore, Khao Puang, Evergreen Singapore White, Singapore Obtusa , Singapore White[X]
ЧЕРЕНОК 15-20cm : 14.3 €


An open pollinated plant. Seeds from this plant have produced many different named cultivars. Large white, slight yellow eye. Prolific bloomer. Very glossy, dark, rounded evergreen leaves. No pink or red bands on front or back; petal wide, round tip, no overlapping, no color bands; moderate texture; 3 1/2"; very fragrant lemon, bitter lemon white flowers. Flowers whose waxy surface along with the bright buttery-yellow center is quite a nice contrast to the dark green and glossy leaves. Among the most fragrant plumeria and is easily recognized by its glossy, very rigid and dark green leaves. Evergreen in the tropics and frequently blooming while other plumeria are dormant. Difficult to root. Likes dry conditions. As a tree it is more compact and much more densely foliated and P rubra. The name Singapore Plumeria was applied to Plumeria obtusa when it was introduced into Hawaii from Singapore in 1931 by Harold Lyon.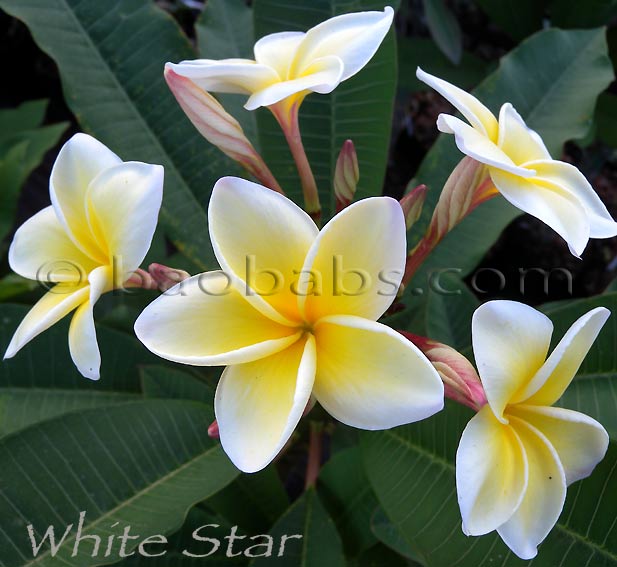 Plumeria rubra WHITE STAR
Celadine,Hawaiian Yellow, Graveyard Yellow, Common Yellow , Common Cream, Yellow, Huevos, Common White[X]
СЕМЕНА (3) : 3.9 €

ЧЕРЕНОК 10-15cm : 9.1 €

ЧЕРЕНОК 20-25cm : 15.6 €

РАСТЕНИЕ (черенок с корнями) 15-25cm : 26 €


Most desirable plumeria for fragrance. The flowers are medium to large 3 1/2 inches and brilliant yellow, with a broad white margin around the firm textured petals. Strong lemon fragrance with very good keeping quality. Vigorous but compact grower. Thick branched and heavy blooms. The fragrance is somewhat like dish soap.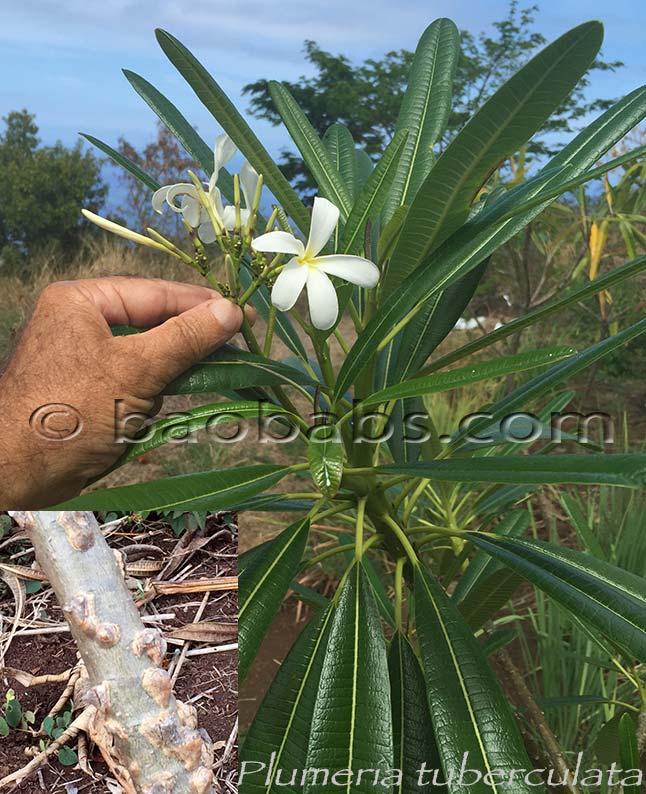 Plumeria tuberculata
Plumeria obtusa tuberculata[X]
СЕМЕНА (3) : 3.9 €

ЧЕРЕНОК 20-25cm : 19.5 €

РАСТЕНИЕ (черенок с корнями) 20-25cm : 26 €


A highly ornamental upright evergreen shrub with spearhead shaped elongated leaves. Very large 4 -5", stunning pure white spider like flowers which are highly perfumed. Rare plumeria with a beautiful trunk and white fragrant flowers. Small tree with dwarf growth habit. It looks similar to P. obtusa but the flowers have a really sweet scent. It also has more narrow leaves. Dinosaur texture, bug free evergreen leaves, resistant to rust, and dense tree form, upright growth habit. Knobby trunk. Some confusion between P. tuberculata and P. obtusa var sericifolia


Plumeria rubra PHET PACHARA
Pacharaporn Diamond[X]
РАСТЕНИЕ (черенок с корнями) 20-25cm : 29.9 €


3" textured brownish-cream with yellow shading over central area, covering about 50% of the whole surface. Petals overlapping and of heavy substance, uniquely shaped with greatest width near base. Keeping quality: very good Fragrance: intense, sweet. Extraordinary coloration and twisted Leaves: narrow and long, medium green, elliptical with pointed tip. 2" rounded and heavy brownish-cream and pink flowers. Incredibly strong and perfume sweet Fragrance. Tends to be compact like Penang Peach, and grows into a dense tree. Needs heat to bring out the Salmon orange. Many inflos but the inflos are not huge, more like Nebels Gold. Vigorous grower, unusual sweet spicy scent, dark foliage. Red veining on leaves and compact growth habit. Sets seed.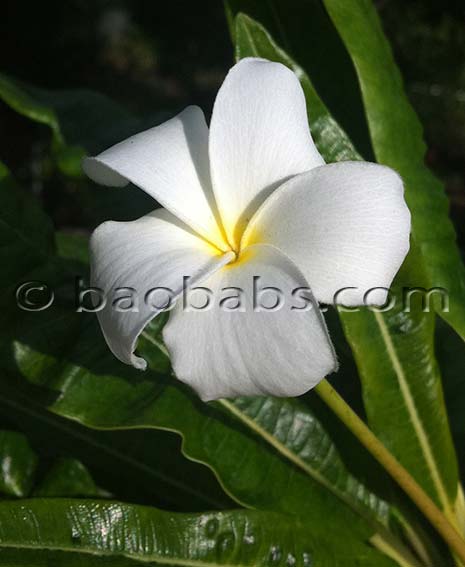 Plumeria cubensis
cubense[X]
СЕМЕНА (3) : 6.5 €

ЧЕРЕНОК 20-25cm : 19.5 €


Botanical species. Native to Cuba. 2" White with small yellow centers cover this species. Obtuse leaves on a small tree. A lovely shrub with glossy dark green strap like leaves and large jasmine like flowers. Compact. No scent but plenty of cute small blooms. Cold tolerant, keeps leaves over winter.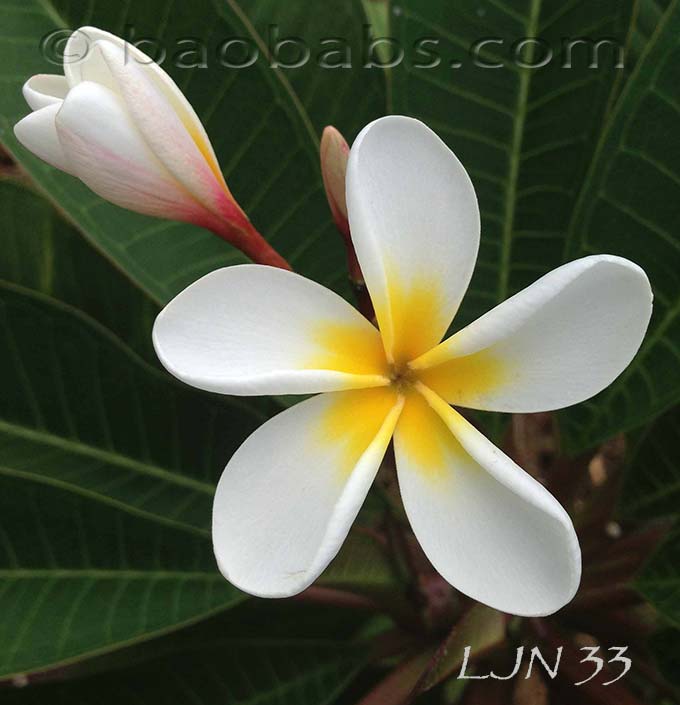 Plumeria rubra LJN33
ЧЕРЕНОК 20-25cm : 15.6 €

РАСТЕНИЕ (черенок с корнями) 20-25cm : 26 €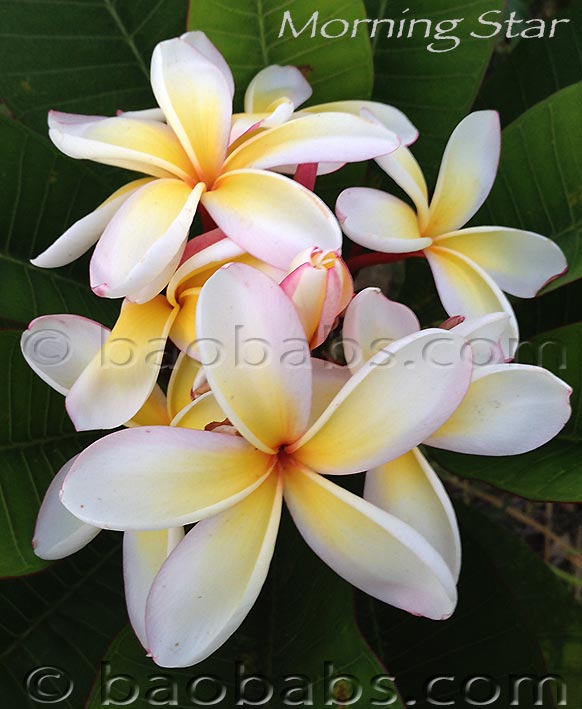 Plumeria rubra MORNING STAR
СЕМЕНА (3) : 3.9 €

РАСТЕНИЕ (черенок с корнями) 25-30cm : 29.9 €


2.5" to 3.5" (6.0-9.0cm), yellow with white, pink and orange central area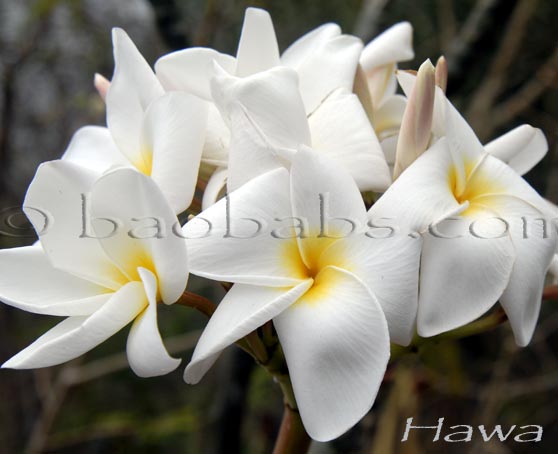 Plumeria rubra HAWA
ЧЕРЕНОК 20-25cm : 19.5 €

РАСТЕНИЕ (черенок с корнями) 15-25cm : 29.9 €


Big and beautiful flowers of pure white with a yellow center. Discreet fragrance, fruity. A highly ornamental tree.


Plumeria rubra LJN SNOW STAR
СЕМЕНА (3) : 3.9 €

ЧЕРЕНОК 20-25cm : 15.6 €

РАСТЕНИЕ (черенок с корнями) 25-30cm : 26 €


Fleurs blanches en forme d'étoiles, pétales bien distincts et coeur jaune. Forme de fleur très originale pour un frangipanier. Variété créée par Le Jardin Naturel.

Copyright © Le Jardin Naturel