| | |
| --- | --- |
| 1 / 13 | |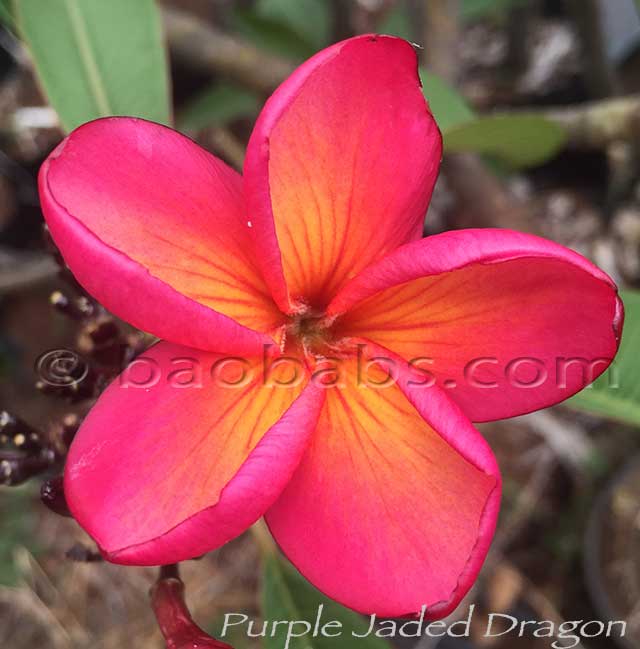 Plumeria rubra PURPLE JADE DRAGON
Saeng Manee, Mangkonyok , Muang Jade Dragon, Purple Jaded Dragon , Muang Kon Yok, Mung Korn Yuk[X]
ЧЕРЕНОК 20-25cm : 19.5 €

РАСТЕНИЕ (черенок с корнями) 15-25cm : 29.9 €

РАСТЕНИЕ (черенок с корнями) 35-40cm : 39 €


Large clusters, 2 to 3" red to purple-red and yellow. The petals are overlapping, round, golden-yellow with red to purple-red area along edge and red veining spreading from the base. The buds are dark red with the petioles dark red to almost black. The fragrance is a medium sweet honey with a hint of wild strawberry. Strong, wonderful scent. Many faces with different conditions. Sometimes the purple edge is prominent, other times the red dominates and little blue is evident. Size and intensity of yellow center varies. Slow grower.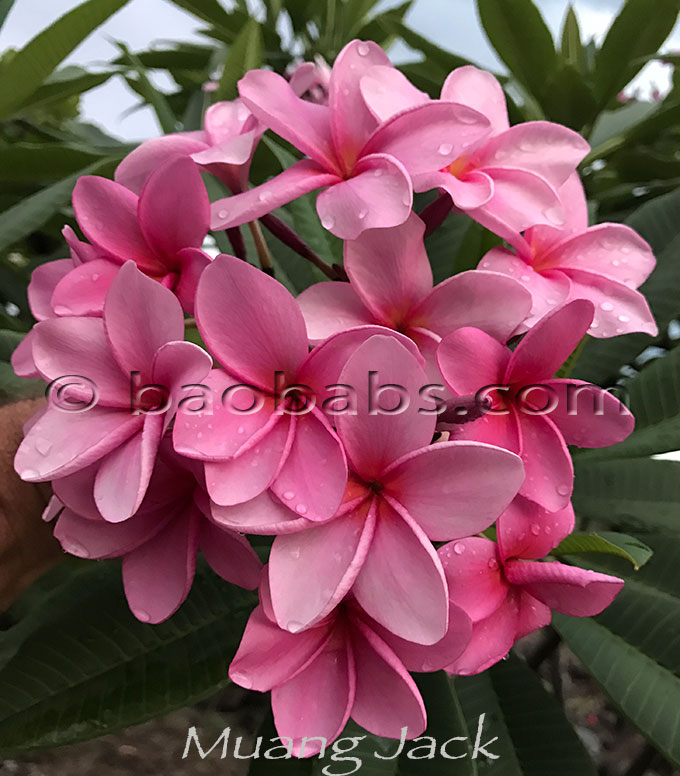 Plumeria rubra MUANG JACK
Purple #1, Purple Queen, Jack's Purple , Purple Jack , Violet Princess, Purple Princess , Jack's Purple[ ]
СЕМЕНА (3) : 3.9 €

ЧЕРЕНОК 20-25cm : 19.5 €

РАСТЕНИЕ (черенок с корнями) 25-30cm : 26 €

РАСТЕНИЕ (черенок с корнями) 35-40cm : 33.8 €


A remarkable violet background flower with blue veins and 3" to 4" in diameter. When this variety is fully blooming, the color will become strong purple blue. Petals are overlapping with heavy substance and perfect forming. Dusted with yellow-orange in the center. Beautiful medium purple 3" with a lovely orange center. Pleasant, sweet fragrance.

Plumeria rubra MUANG PUANG ROI
Violet Queen, Muang Puang, Muang Rashenee[X]
СЕМЕНА (3) : 3.9 €

ЧЕРЕНОК 20-25cm : 15.6 €

РАСТЕНИЕ (черенок с корнями) 25-30cm : 26 €


Lilac/lavender with yellow and pink centre. The medium flowers are produced in large bunches. Regularly produces double and triple flowers although not always. The perfume is very sweet and strong. 2" to 3" and dense clusters, with conspicuous light purple petals and bright golden-orange in the center. The purple color will become purple-blue color once it has been blooming for few days. Round, strongly overlapping petals, forming a cup shaped flower. One side of each petal would bend toward the petals base. Slightly sweet fragrance.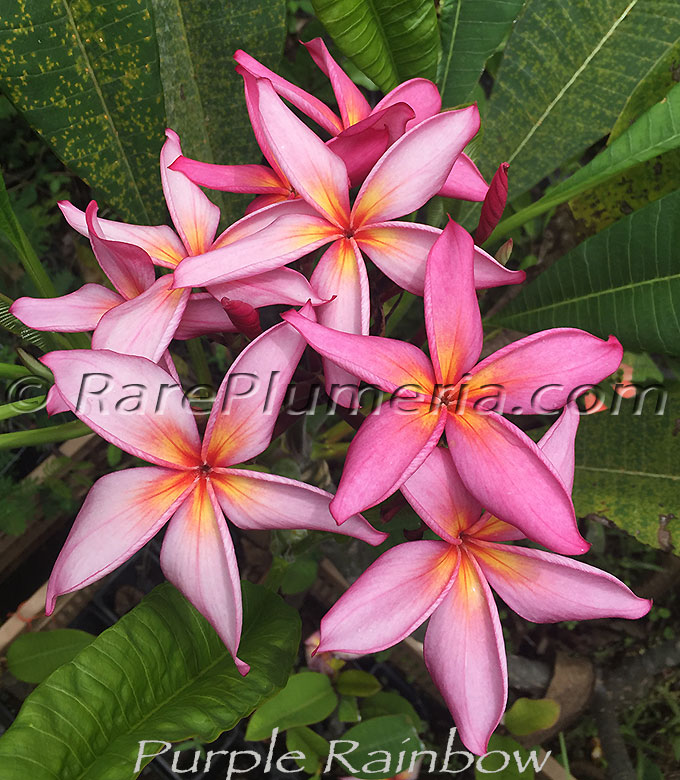 Plumeria rubra PURPLE RAINBOW
Muang Sairung , Violet Rainbow[X]
ЧЕРЕНОК 20-25cm : 19.5 €

РАСТЕНИЕ (черенок с корнями) 15-25cm : 29.9 €


A stunning purple-maroon with a golden-yellow center and red veining spreading from eye. Wonderful, sweet fragrance. Large star-shape 4" to 5". Petals widely separated, asymmetrical and pointed. Backside purple over white with maroon stripe along rim. Keeping quality: good. Fragrance: medium, smooth honey. Sweet but not strong scent. Very tall.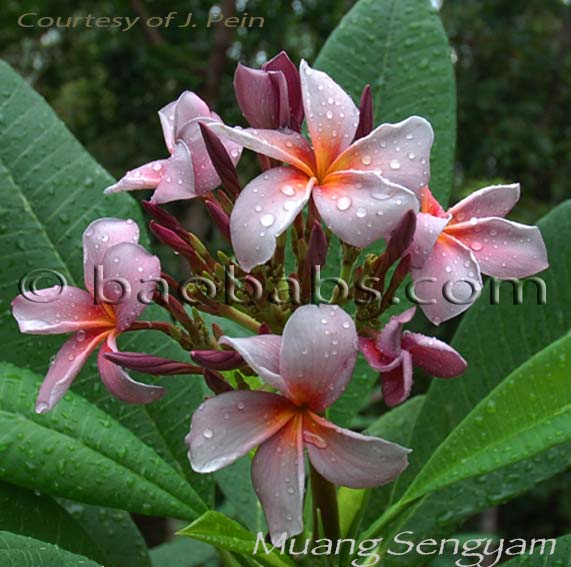 Plumeria rubra MUANG SENGYAM
Sangam Violet, Siam Lavender, Indonesian Violet, Blue Canyon, Muang Sa-Ngeam[X]
РАСТЕНИЕ (черенок с корнями) 20-25cm : 29.9 €


Lavender with burnt orange center, 2.5 - 3.5" with a lovely, sweet fragrance. Medium growth and branches beautifully, often more than the standard three.

Plumeria rubra DAENG TABTIM
Mung Korn Yuk[X]
СЕМЕНА (3) : 3.9 €

ЧЕРЕНОК 20-25cm : 19.5 €

РАСТЕНИЕ (черенок с корнями) 20-25cm : 29.9 €


5.0 to 6.0 cm purple and yellow flowers with red veining spreading from center. Petals heavily overlapping, almost circular, purple to maroon, increasingly along margin, turning to yellow towards base. Fragrance: intense, sweet. Leaves: medium green, elliptical with pointed tip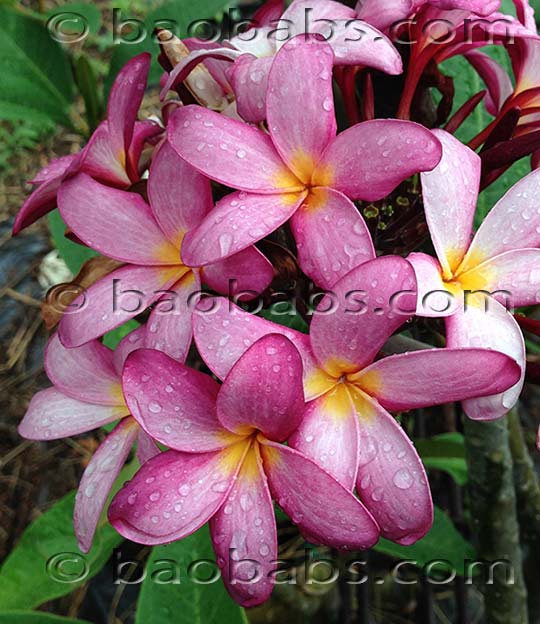 Plumeria rubra MUANG LANNA
Violet Pink[B]
СЕМЕНА (3) : 2.6 €

ЧЕРЕНОК 20-25cm : 19.5 €

РАСТЕНИЕ (черенок с корнями) 20-30cm : 26 €


A very original and unusual frangipani. Petals whose color is almost deep purple, very regular, and with marked edges. Orange-yellow center. Flowering bouquets of many flowers. Very decorative.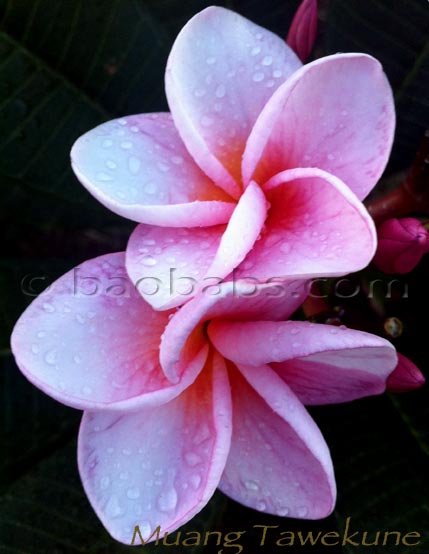 Plumeria rubra MUANG TAWEKUNE
Muang#1 [H]
ЧЕРЕНОК 20-25cm : 19.5 €

РАСТЕНИЕ (черенок с корнями) 20-30cm : 26 €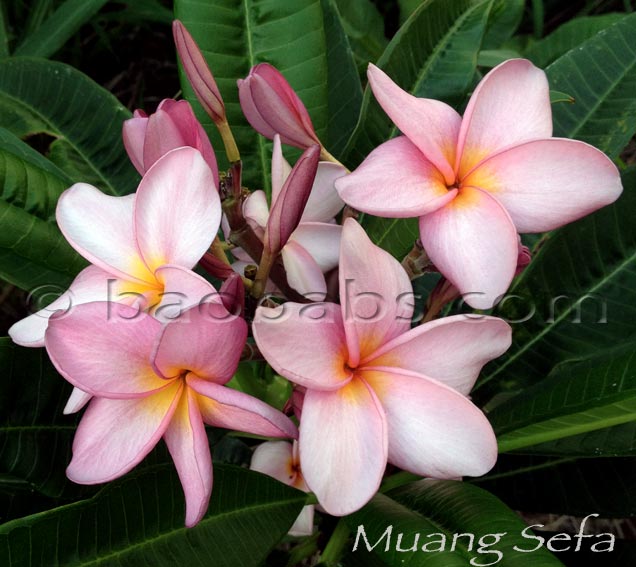 Plumeria rubra MUANG SEFA
Muang Sefa[P]
СЕМЕНА (3) : 3.9 €

ЧЕРЕНОК 20-25cm : 29.9 €

РАСТЕНИЕ (черенок с корнями) 15-25cm : 29.9 €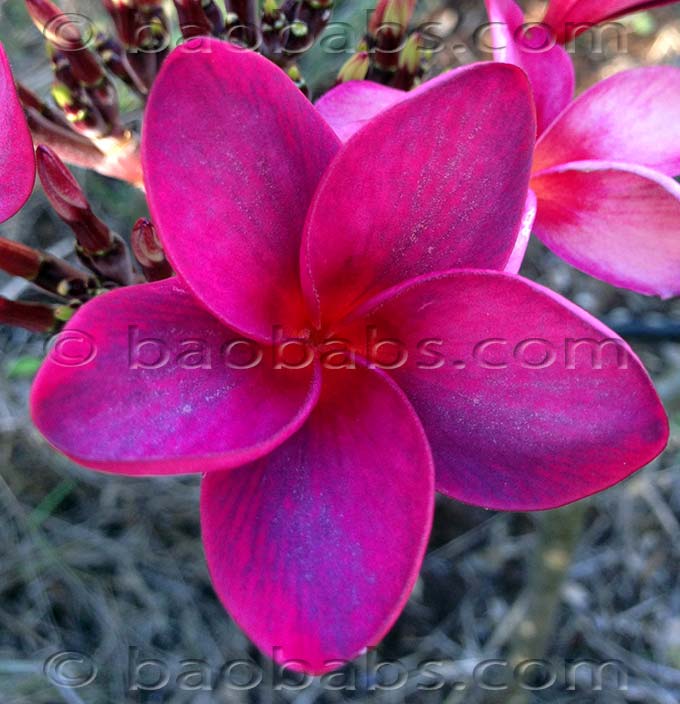 Plumeria rubra THAI SILK LUCITE
Thai Silk Violet[X]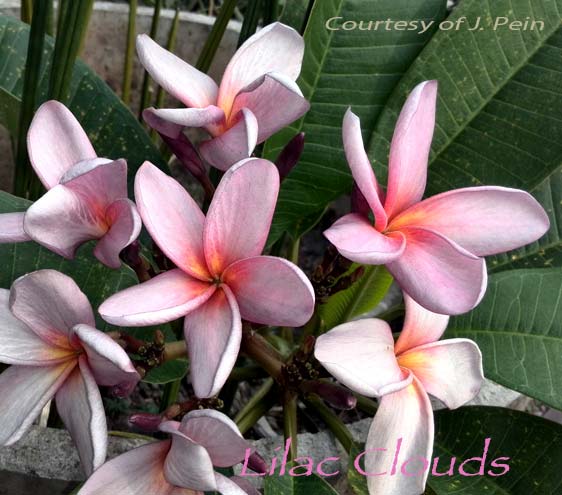 Plumeria rubra LILAC CLOUDS
Lacondon Lilac, Dunkerton's Blue Opal , Lacandan Lilac[X]

The flower is about 2.5 inches across with a peach and lilac fragrance. The growth habit is compact with many branches Medium compact tree. Long lavender petals with dark red center. Flowers are fragrant citrus

Copyright © Le Jardin Naturel