| | |
| --- | --- |
| 1 / 33 | |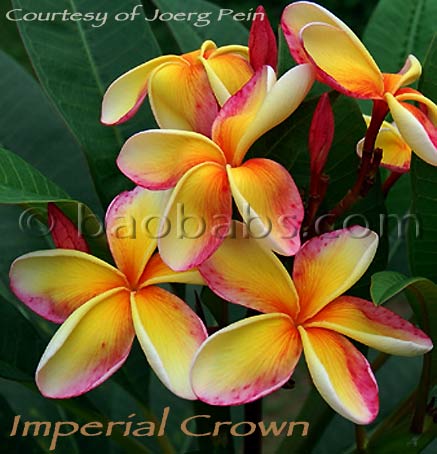 Plumeria rubra IMPERIAL CROWN
Lady Marmalade[X]
ЧЕРЕНОК 20-25cm : 15.6 €

РАСТЕНИЕ (черенок с корнями) 25-30cm : 29.9 €

РАСТЕНИЕ (черенок с корнями) 35-40cm : 39 €


One of the best gold plumerias from Thailand! The huge draped petals are heavily lined with deep veins and petals have edging and streaks throughout of orange and reddish coloration. Medium tree, semi-compact. Exceptional bloomer. Rainbow white and yellow with reddish/orange center that bleeds out from the throat, light to dark pink edges, depending on heat. Likes to blooms in clusters, sweet scent.The flowers average 3.5" and have a sweet perfume.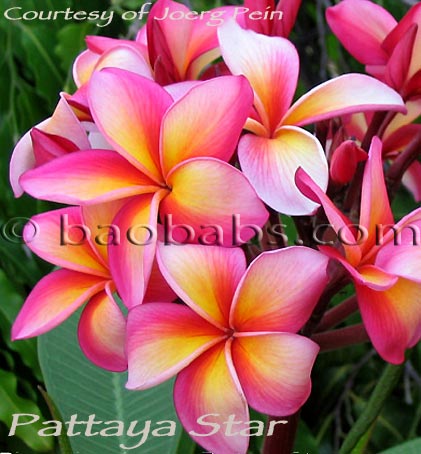 Plumeria rubra PATTAYA STAR
РАСТЕНИЕ (черенок с корнями)20-25cm : 39 €


3.5" to 4" ( 8.0 to 10 cm ) large flowers of pink, yellow and orange with some red veining. Petals slightly overlapping, oval, recurved , pink with shades of gold, yellow and orange. Increasingly yellow and orange with age. Fragrance: sweet, medium to strong Leaves: medium green, elliptical with pointed tip Impressive Rainbow variety with intense coloration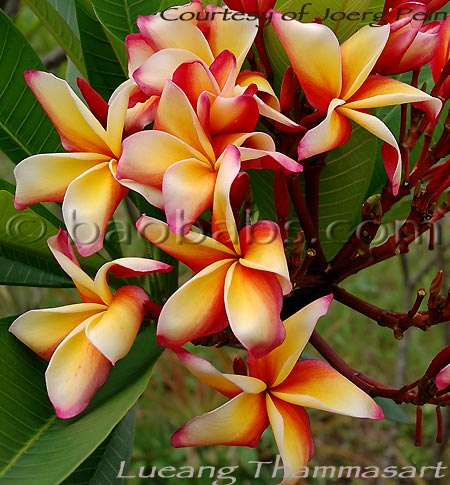 Plumeria rubra LUEANG THAMMASAT
Yellow Thammasat[X]
СЕМЕНА (3) : 3.9 €

ЧЕРЕНОК 20-25cm : 14.3 €

РАСТЕНИЕ (черенок с корнями) 25-30cm : 32.5 €


3" to 4", average 3.5". Slightly overlapping, oval petals - yellow to orange or reddish - yellow with strong red area along rim. Light yellow or cream on the backside with strong red band. Keeping quality: good, rich fragrance of Vanilla and Honey. Leaves: dark green, obovate with pointed tip. Habit: broad upright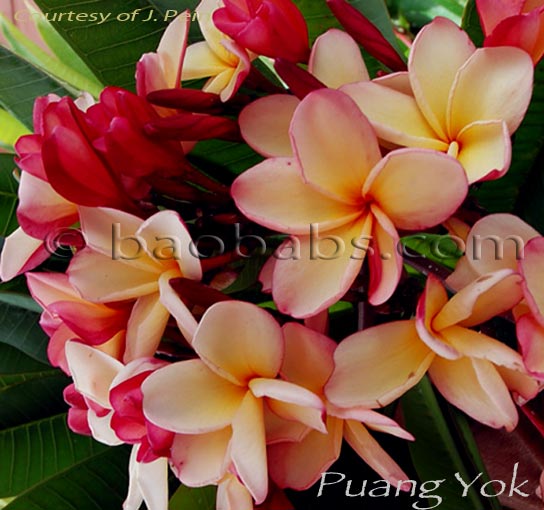 Plumeria rubra PUANG YOK
Poung Yok[X]
СЕМЕНА (3) : 3.9 €

ЧЕРЕНОК 20-25cm : 19.5 €

РАСТЕНИЕ (черенок с корнями) 25-30cm : 29.9 €


Yellow to cream-yellow with red or pink, 2.5" to 3" (6-7,5cm); Petals: rounded, overlapping, good substance. Fragrance: sweet with a hint of mushroom, medium intensity. Leaves: medium green, pointed tip. Unusual coloring.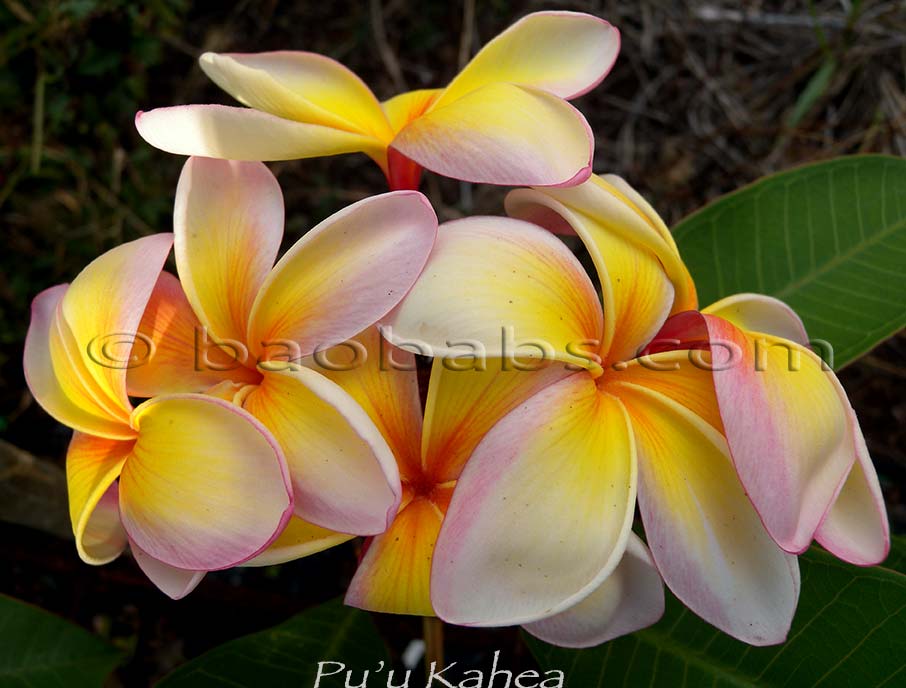 Plumeria rubra PUU KAHEA
O'Sullivan, Fiesta, Rainbow Spider,Rainbow Surprise,Mooi Rainbow[X]
ЧЕРЕНОК 20-25cm : 15.6 €

РАСТЕНИЕ (черенок с корнями) 15-25cm : 39 €


Truly superior flower, brilliant yellow with a strong red band on both front and back of petals. Individual blossoms are very large, just over 4" in diameter. Fragrance is tangy lemon. Brilliant yellow with a deep reddish edge, lemon fragrance, good keeping quality. Parentage: P. rubra X P. rubra forma acutifolia. Very large rainbow with thick branching. Beautiful bright yellow star shape with a strong red band. Tall grower. Medium tree. Very rich colors, a spicy scent and big bloom heads. It has proven to be a fast grower producing tall trees with thick branches, very sturdy and good for windy areas.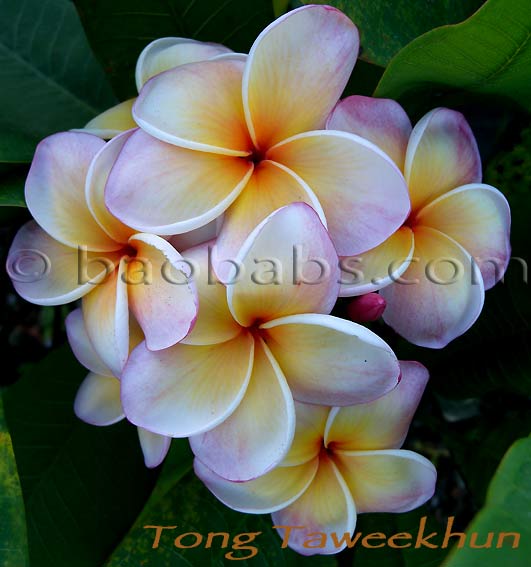 Plumeria rubra TONG TAWEEKHUN
Thong Tavee Koon, TongTawekune, J4[X]
СЕМЕНА (3) : 3.9 €

ЧЕРЕНОК 15-25cm : 14.3 €


White with pink edged petals, with a strong red to yellow center. Thick petals and big blooms. 3-3.5". Overlapping round petals. Light orange-gold with red bands on the outside of each petal. Sweet fragrance. Thick texture.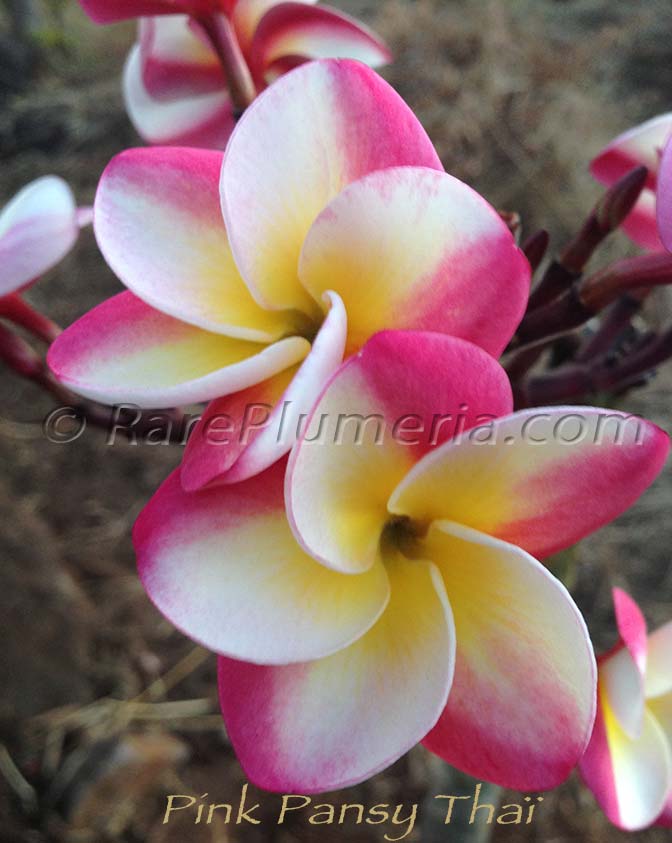 Plumeria rubra PINK PANSY THAI
Kasem's Delight, PK-110, Cranberry Cream, Danai Delight[X]
РАСТЕНИЕ (черенок с корнями) 10-15cm : 26 €


Not far from the J.L. Pink Pansy, but different. Probably a seedling of J.L. Pink Pansy. White with contrasting dark red margin2.5"to 3"(6.0 to 7.50 cm), branches well. One of the best smelling Plumeria. Strong perfume compares to a heavenly women perfume.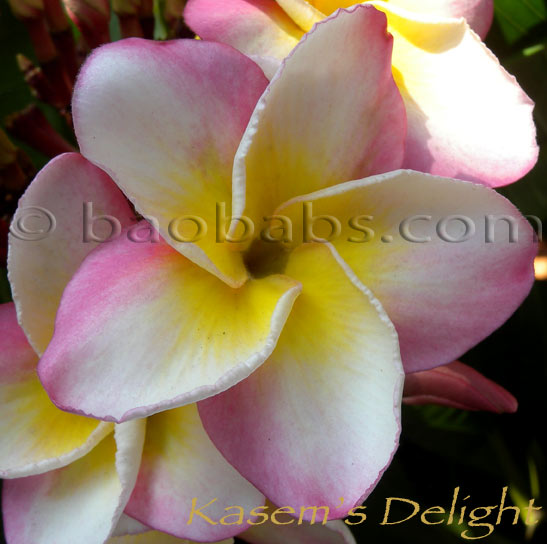 Plumeria rubra KASEM DELIGHT
4222[X]
ЧЕРЕНОК 20-25cm : 19.5 €

РАСТЕНИЕ (черенок с корнями) 25-30cm : 29.9 €


White with pink along margin and yellow center, 2" to 2.5" (5.0 to 6.0 cm), well branching, opening from dark red flower buds. Snow-white with light yellow throat and pink to red-pink shading along both margins of petals. Petals: heavily overlapping slightly pointed and twisted. Fragrance: faint; Leaves: medium green, elliptical with pointed tip. Small round solid white petals red edging and yellow center. grape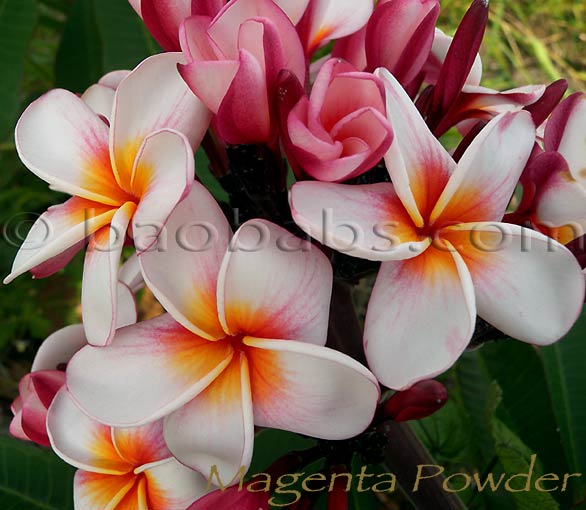 Plumeria rubra MAGENTA POWDER
Gee Phet , Gee Petch , Gee Pet, Jee Petch , Cathay Pearl , Malee, Jeepit[X]
СЕМЕНА (3) : 2.6 €

СЕМЕНА (50) : 23.4 €

ЧЕРЕНОК 20-25cm : 15.6 €

РАСТЕНИЕ (черенок с корнями) 15-25cm : 26 €


Light pink to white flowers with strongly contrasting orange center and red striations spreading from eye. Petals overlapping, elliptical and slightly pointed, light pink to white with stronger pink along margin.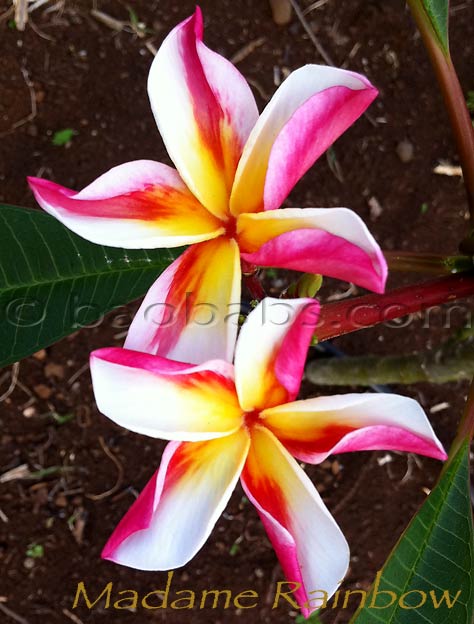 Plumeria rubra MADAME RAINBOW
СЕМЕНА (3) : 3.9 €

ЧЕРЕНОК 20-25cm : 15.6 €

РАСТЕНИЕ (черенок с корнями) 15-25cm : 26 €


Combination of white, orange, red and yellow. Seedling of Madame Poni. Distinct red banded through the centre very similar to Madam Poni but more stunning. Petals slightly overlapping, white with dark pink or red area, turning to yellow and orange towards base. Fragrance: sweet, faint to medium. Leaves: medium green, broad elliptical with pointed tip. Heavy bloomer and has a nice floral fragrance. Changeable. Great bloomer. Easy to root. Deep golden brown center rimmed with orange and yellow that develops in the center of each bloom when the weather turns hot. This contrasts nicely with the white petals rimmed in pink. Also, nicely and sweetly fragrant. Blooms on long inflos. Hybrid from Jack. Often confused with Madame Poni, Buddharaksa, or Pet Sai Rung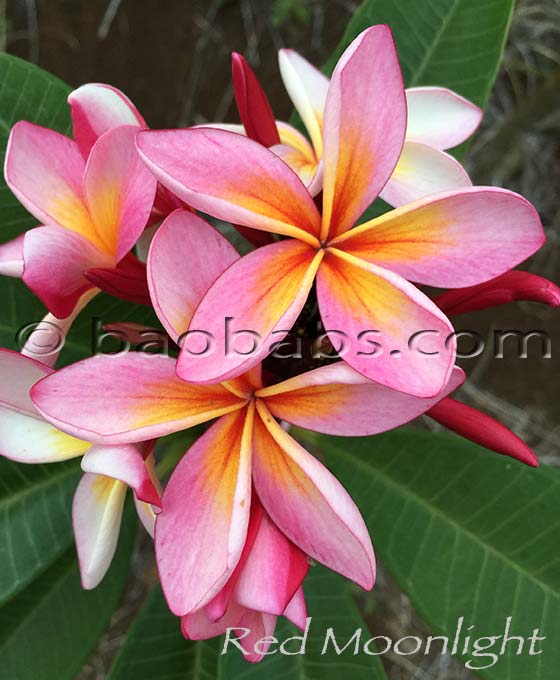 Plumeria rubra RED MOONLIGHT
P-53[X]
ЧЕРЕНОК 20-25cm : 19.5 €

РАСТЕНИЕ (черенок с корнями) 15-25cm : 29.9 €


Good substance flowers on flower-heads with multiple buds. Variable, intense coloring and nice fragrance. 2.5" ( 6.50 cm ) average diameter flowers of red, purplish pink and orange, emerging from blood-red flower-buds. With increasing heat and sunlight this variety tends to have increasingly red flowers. During the tropical raining season however, there is a tendency towards a lighter colored background, decorated with intense red striations. Petals: slightly overlapping, obovate with slightly pointed tip. Blood-red and purplish-pink, increasingly orange-red towards base. Fragrance: honey-coconut, medium to strong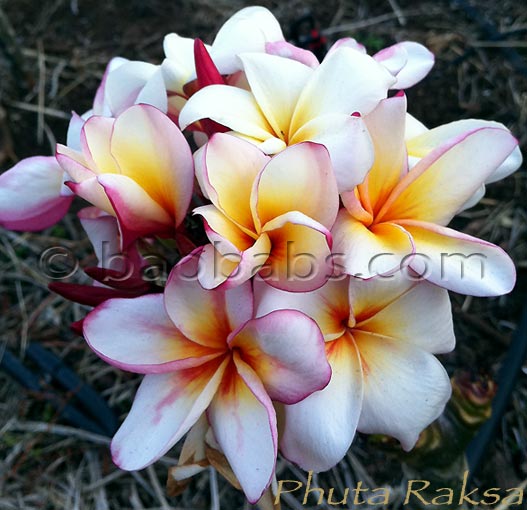 Plumeria rubra PHUTA RAKSA
Phut Raksa[X]
ЧЕРЕНОК 20-25cm : 28.6 €

РАСТЕНИЕ (черенок с корнями) 25-30cm : 29.9 €


Madame Poni Hybrid. 3" ( 7.50 cm) white and yellow, splashes and blotches of red and pink. PR gets streaks and also irregular splashes with a yellow center. It is a must-have! Great fragrance too. Tall peduncle makes for flower display above foliage. Tangy sweet fragrance, like nice soap. Sibling of Rainbow Diamond / Petch Sairung. Each bloom looks different from the other. An easy bloomer producing numerous bloom heads on a well branched plant. Branch cuttings are heavy, root easily and have from 3 to 4 tips. Heavy bloomer. Intense sun causes color splashing making every bloom different.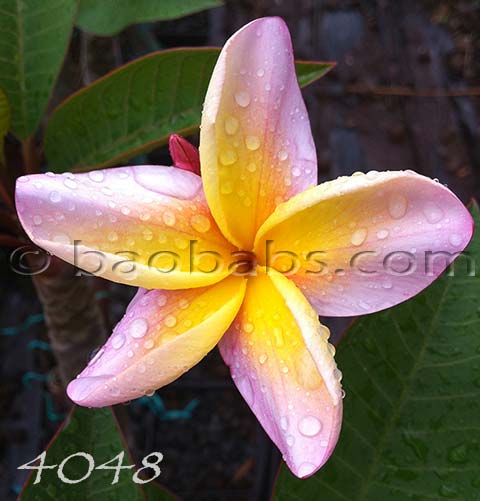 Plumeria rubra 4048

2.5" to 3.0" ( 6.0 to 7.50 cm ) rainbow colored flowers of yellow with pink and white.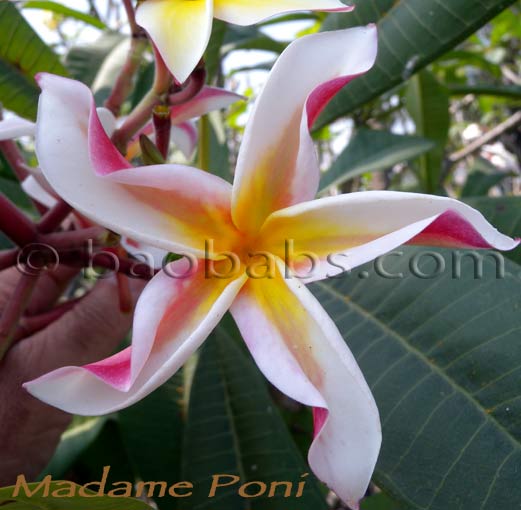 Plumeria rubra MADAME PONI
Corkscrew, Curly Holt, Waianae Beauty, Star, Ponytail , Waianea Beauty, Pony Tail[X]
РАСТЕНИЕ (черенок с корнями) 20-25cm : 39 €


Petal narrow, tapering tip, no overlapping. strong red band on back, twist usually running length of petal. Good texture. Keeping quality good. A rainbow colored flower that has uniquely twisted long narrow petals. Wide greenish-yellow band (with dark red striping) fading to white, yellow center, strong red band on back, tendency to fade, long narrow petals twisting incurving and upturned, tapered pointed tips, 3,5" diameter, slight sweet fragrance. Spectacular Flower. Medium compact tree.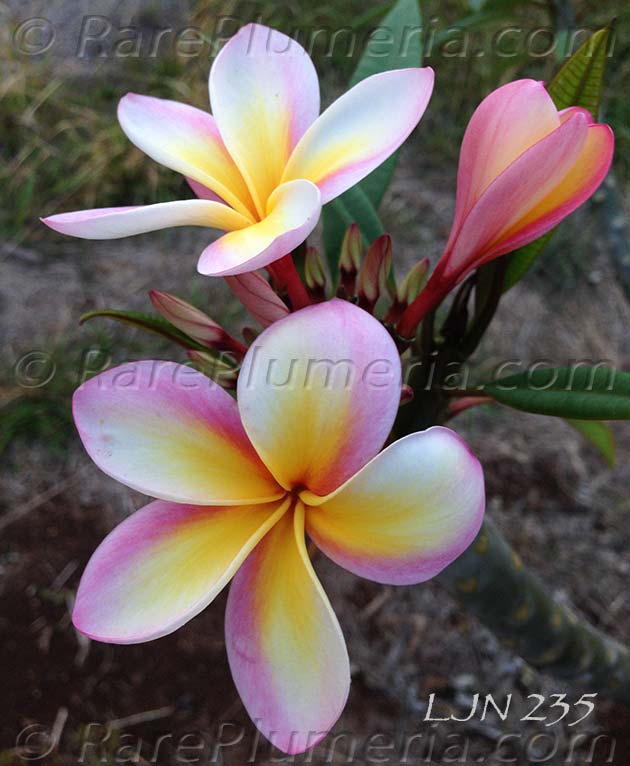 Plumeria rubra LJN235
СЕМЕНА (5) : 3.9 €

ЧЕРЕНОК 15-25cm : 19.5 €

РАСТЕНИЕ (черенок с корнями) 20-25cm : 26 €


Copyright © Le Jardin Naturel