5 лучших продаж ''Плюмерия"

rubra WHITE STAR

rubra

alba

pudica

rubra BALI
| | |
| --- | --- |
| 1 / 230 | |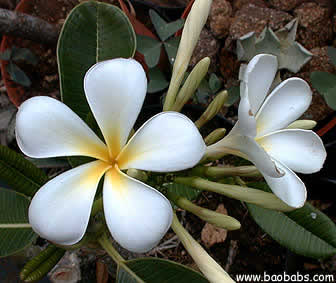 Plumeria obtusa
Singapore, Khao Puang, Evergreen Singapore White, Singapore Obtusa , Singapore White[X]
ЧЕРЕНОК 15-20cm : 14.3 €


An open pollinated plant. Seeds from this plant have produced many different named cultivars. Large white, slight yellow eye. Prolific bloomer. Very glossy, dark, rounded evergreen leaves. No pink or red bands on front or back; petal wide, round tip, no overlapping, no color bands; moderate texture; 3 1/2"; very fragrant lemon, bitter lemon white flowers. Flowers whose waxy surface along with the bright buttery-yellow center is quite a nice contrast to the dark green and glossy leaves. Among the most fragrant plumeria and is easily recognized by its glossy, very rigid and dark green leaves. Evergreen in the tropics and frequently blooming while other plumeria are dormant. Difficult to root. Likes dry conditions. As a tree it is more compact and much more densely foliated and P rubra. The name Singapore Plumeria was applied to Plumeria obtusa when it was introduced into Hawaii from Singapore in 1931 by Harold Lyon.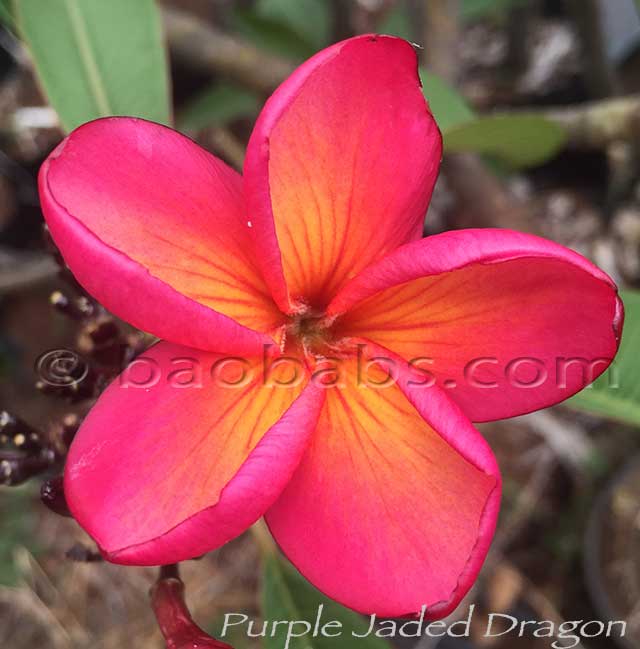 Plumeria rubra PURPLE JADE DRAGON
Saeng Manee, Mangkonyok , Muang Jade Dragon, Purple Jaded Dragon , Muang Kon Yok, Mung Korn Yuk[X]
ЧЕРЕНОК 20-25cm : 19.5 €

РАСТЕНИЕ (черенок с корнями) 15-25cm : 29.9 €

РАСТЕНИЕ (черенок с корнями) 35-40cm : 39 €


Large clusters, 2 to 3" red to purple-red and yellow. The petals are overlapping, round, golden-yellow with red to purple-red area along edge and red veining spreading from the base. The buds are dark red with the petioles dark red to almost black. The fragrance is a medium sweet honey with a hint of wild strawberry. Strong, wonderful scent. Many faces with different conditions. Sometimes the purple edge is prominent, other times the red dominates and little blue is evident. Size and intensity of yellow center varies. Slow grower.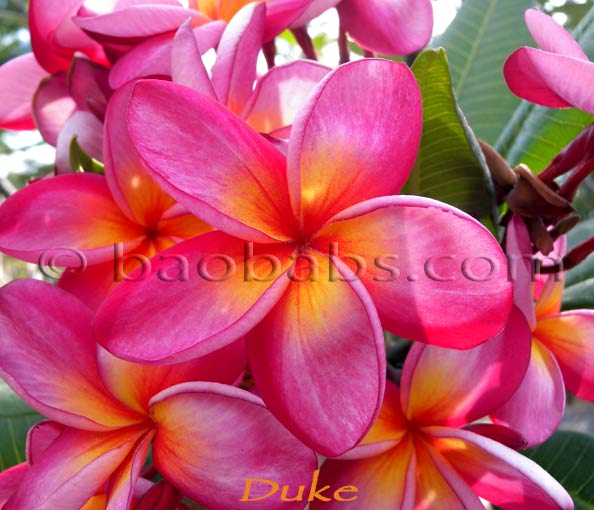 Plumeria rubra DUKE
Tuk[X]
СЕМЕНА (3) : 5.2 €

ЧЕРЕНОК 20-25cm : 19.5 €

РАСТЕНИЕ (черенок с корнями) 15-25cm : 29.9 €


Cultivar nommé en honneur au duc Kahanamoku d'Hawaï, le nom le plus célèbre dans le surf - un champion olympique, un acteur hollywoodien et un héros hawaïen. Les pétales sont ronds et larges, avec des lignes rouge foncé rayonnant vers l'avant, et se recouvrent modérément. Rouge et rose intenses, avec un petit centre jaune brillant. Parfum intense et doux de punch de fruits. La floraison est très importante et se poursuit sur plusieurs mois. Duke est une des fleurs les plus parfumées, devenant encore plus parfumée après la cueillette. La texture et le maintien de la qualité sont excellents. N'est pas tolérant au froid.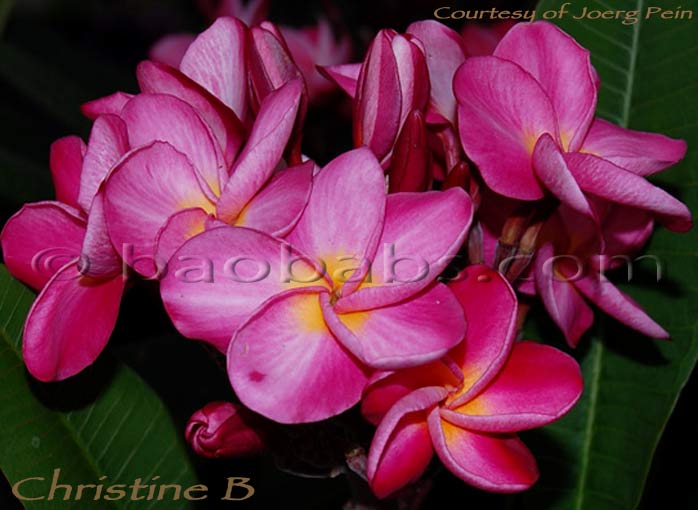 Plumeria rubra CHRISTINE B
Christina B[X]
СЕМЕНА (3) : 3.9 €

ЧЕРЕНОК 15-25cm : 19.5 €

РАСТЕНИЕ (черенок с корнями) 25-30cm : 29.9 €

РАСТЕНИЕ (черенок с корнями) 35-40cm : 39 €


2.5" to 3.0" ( 6.0 - 7.50 cm ) flowers with bright-red petals with yellow throat. Petals: overlapping and rounded, pink with darker pink along margin, yellow towards base. Fragrance: sweet, medium intensity Leaves: medium green with light green veining and faint red line along margin. Note: Nice pink variety, producing full flower-heads with multiple buds.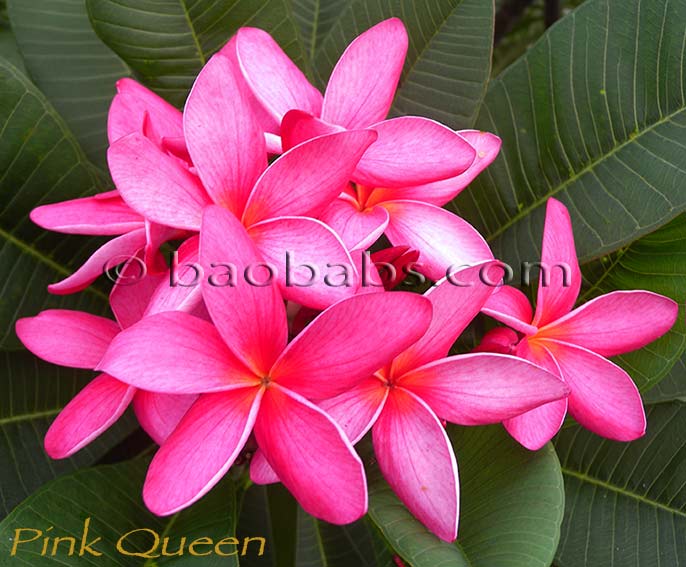 Plumeria rubra PINK QUEEN
СЕМЕНА (3) : 3.9 €

ЧЕРЕНОК 15-25cm : 11.7 €

РАСТЕНИЕ (черенок с корнями) 20-25cm : 19.5 €

РАСТЕНИЕ (черенок с корнями) 35-40cm : 26 €


Very unusual intense color and compact, decorative growing habit. 7.50 cm flowers of intense glowing pink-magenta. Petals oval, slightly pointed, overlapping. Fragrance: fresh and sweet. Leaves: dark green and very decorative.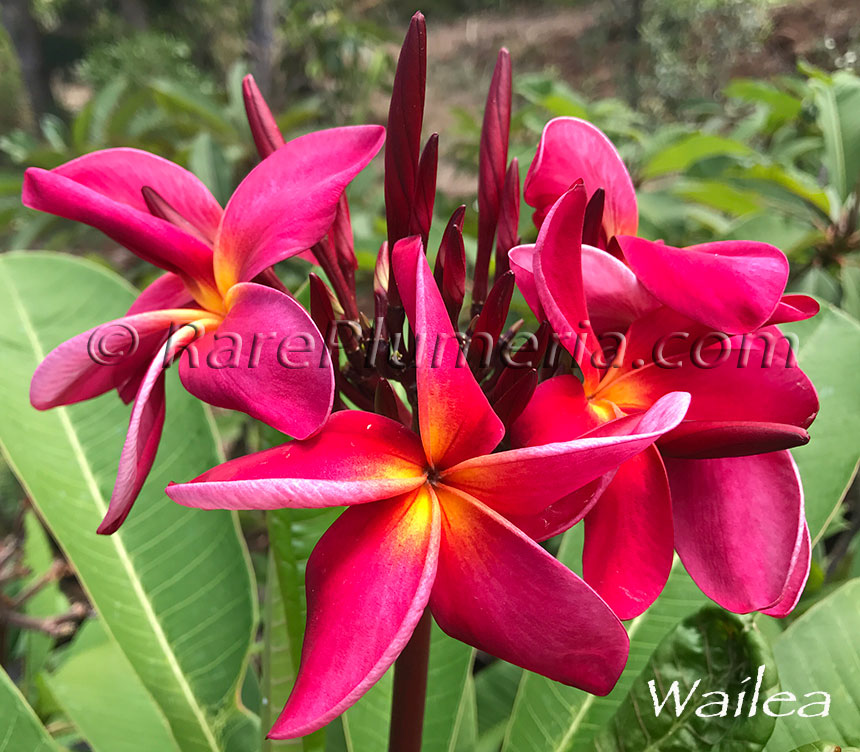 Plumeria rubra WAILEA
СЕМЕНА (3) : 3.9 €

ЧЕРЕНОК 20-25cm : 19.5 €

РАСТЕНИЕ (черенок с корнями) 35-40cm : 39 €


Large 3.5 to 4 ( 9-10cm ) magenta colored flowers with yellow throat. Petals : separated and slightly twisted, red-pink or magenta, increasingly bluish with age. Fragrance: medium, sweet. Leaves: light green with lighter veining, elliptical, pointed tip.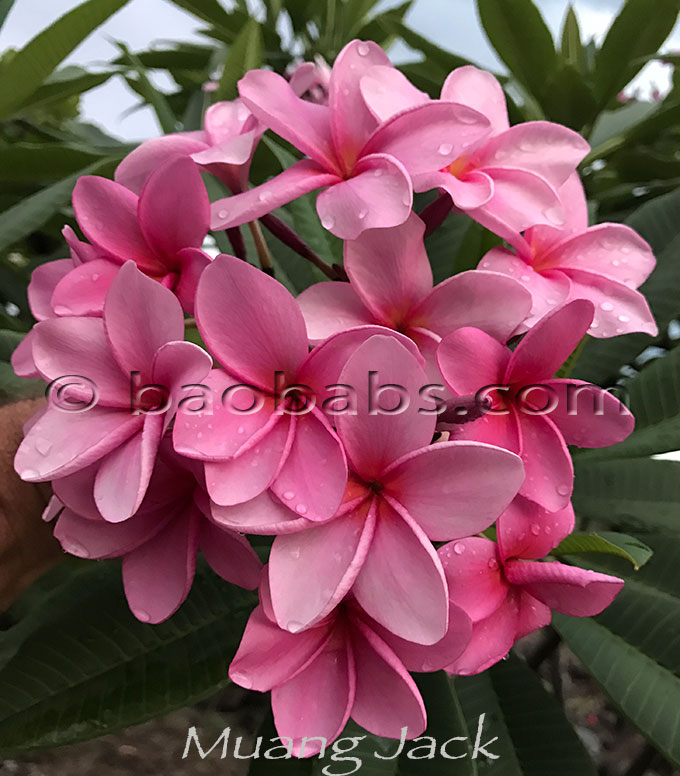 Plumeria rubra MUANG JACK
Purple #1, Purple Queen, Jack's Purple , Purple Jack , Violet Princess, Purple Princess , Jack's Purple[ ]
СЕМЕНА (3) : 3.9 €

ЧЕРЕНОК 20-25cm : 19.5 €

РАСТЕНИЕ (черенок с корнями) 25-30cm : 26 €

РАСТЕНИЕ (черенок с корнями) 35-40cm : 33.8 €


A remarkable violet background flower with blue veins and 3" to 4" in diameter. When this variety is fully blooming, the color will become strong purple blue. Petals are overlapping with heavy substance and perfect forming. Dusted with yellow-orange in the center. Beautiful medium purple 3" with a lovely orange center. Pleasant, sweet fragrance.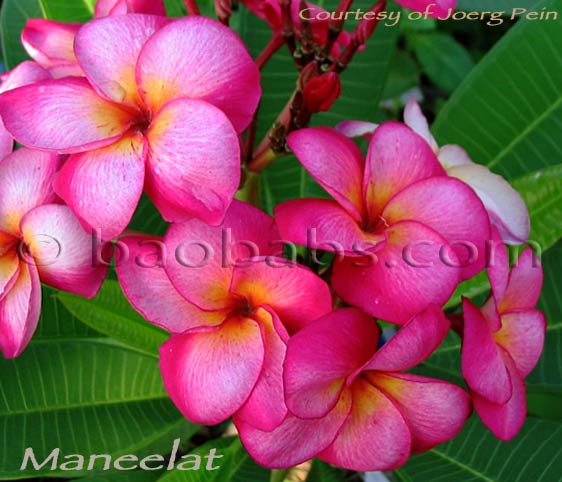 Plumeria rubra MANEELAT
Maneelat[H] Maree Rat[P] Manerath[A]
ЧЕРЕНОК 20-25cm : 15.6 €

РАСТЕНИЕ (черенок с корнями) 20-25cm : 26 €

РАСТЕНИЕ (черенок с корнями) 35-40cm : 33.8 €


A very special color. 2.5"- 3.5" ( 6.0 - 9.0 cm ) diameter flat flowers of purplish-red to dark purplish-pink with small yellow-orange central area. Petals: moderately overlapping, broad oval, dark purple-pink over white background, yellow with orange towards base. Substance: good Fragrance: fresh, wild straw-berry, medium intensity Leaves: dark green with light green veining, elliptical with downward pointing tip.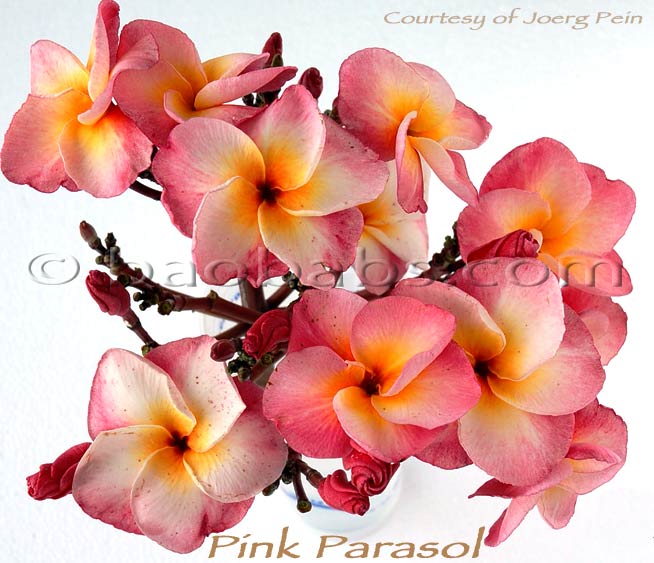 Plumeria rubra PINK PARASOL
4810[X]
ЧЕРЕНОК 20-25cm : 19.5 €

РАСТЕНИЕ (черенок с корнями) 25-30cm : 26 €

РАСТЕНИЕ (черенок с корнями) 35-40cm : 33.8 €


Large flowers, pink and white with yellow thoat, 3" to 3.5"(7.50 to 9.0 cm)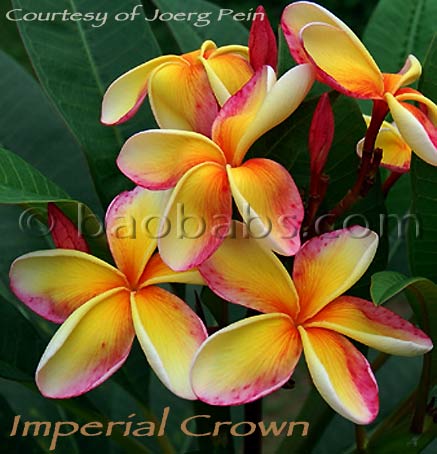 Plumeria rubra IMPERIAL CROWN
Lady Marmalade[X]
ЧЕРЕНОК 20-25cm : 15.6 €

РАСТЕНИЕ (черенок с корнями) 25-30cm : 29.9 €

РАСТЕНИЕ (черенок с корнями) 35-40cm : 39 €


One of the best gold plumerias from Thailand! The huge draped petals are heavily lined with deep veins and petals have edging and streaks throughout of orange and reddish coloration. Medium tree, semi-compact. Exceptional bloomer. Rainbow white and yellow with reddish/orange center that bleeds out from the throat, light to dark pink edges, depending on heat. Likes to blooms in clusters, sweet scent.The flowers average 3.5" and have a sweet perfume.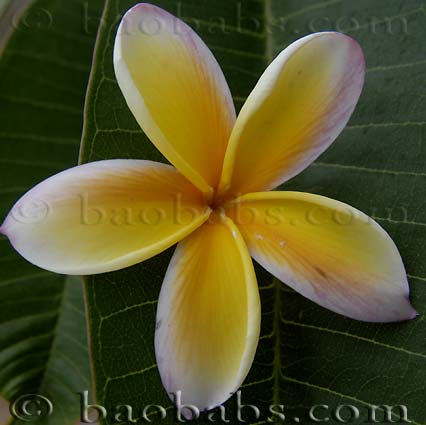 Plumeria rubra CARAIB
СЕМЕНА (3) : 2.6 €

ЧЕРЕНОК 20-25cm : 14.3 €

РАСТЕНИЕ (черенок с корнями) 15-25cm : 26 €

РАСТЕНИЕ (черенок с корнями) 35-40cm : 39 €


Belle fleur de tendance jaune, traces rouges violacées lui donnant un charme certain. Léger parfum fruité. Pousse assez lente. Rarement à la vente.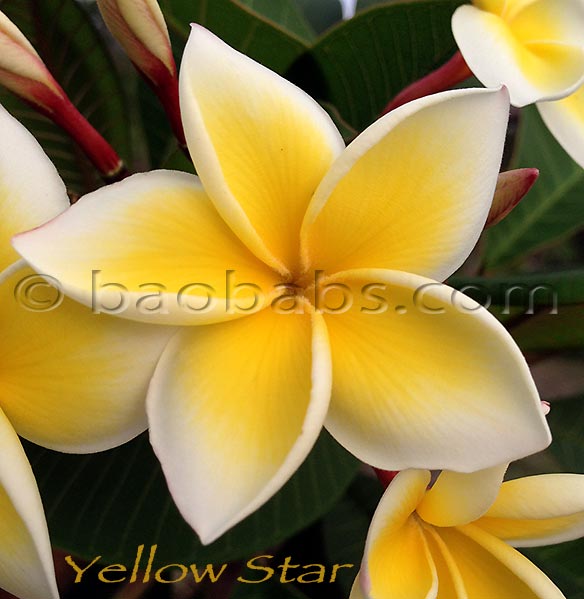 Plumeria rubra LJN YELLOW STAR
ЧЕРЕНОК 20-25cm : 15.6 €

РАСТЕНИЕ (черенок с корнями) 20-25cm : 26 €


Fleur en forme d'étoile quasiment parfaite ! Les pétales d'excellente consistance, de couleur jaune doré, ont une marge blanche du plus bel effet. Variété créée par Le Jardin Naturel.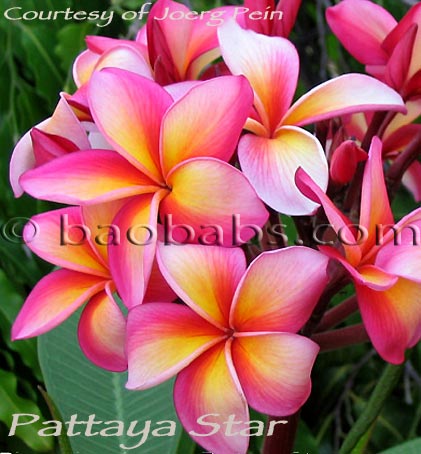 Plumeria rubra PATTAYA STAR
РАСТЕНИЕ (черенок с корнями)20-25cm : 39 €


3.5" to 4" ( 8.0 to 10 cm ) large flowers of pink, yellow and orange with some red veining. Petals slightly overlapping, oval, recurved , pink with shades of gold, yellow and orange. Increasingly yellow and orange with age. Fragrance: sweet, medium to strong Leaves: medium green, elliptical with pointed tip Impressive Rainbow variety with intense coloration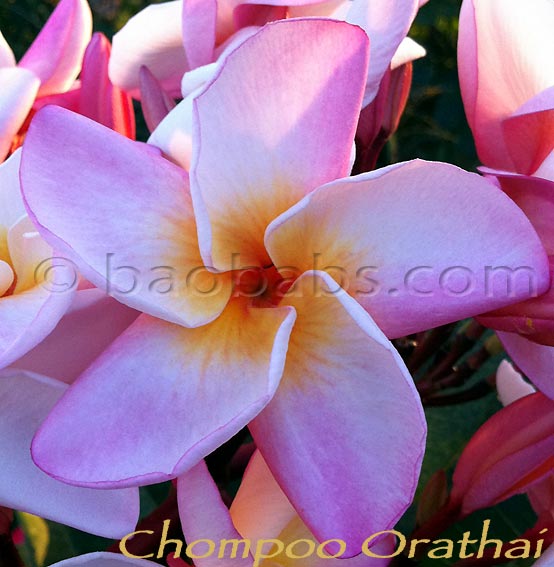 Plumeria rubra CHOMPOO ORATHAI
Orathai Pink, Orathai[X]
ЧЕРЕНОК 20-25cm : 14.3 €

РАСТЕНИЕ (черенок с корнями) 25-30cm : 29.9 €


2.5" - 3" ( 6.0 to 7.50 cm ) diameter flowers of light pink with deeper pink and orange throat. Petals: heavily overlapping, light pink with deep pink area and orange towards base. Substance: good Petioles covered with white hairs Fragrance: medium intensity, sweet. Leaves: young leaves emerald green, later dark olive green with light green veining.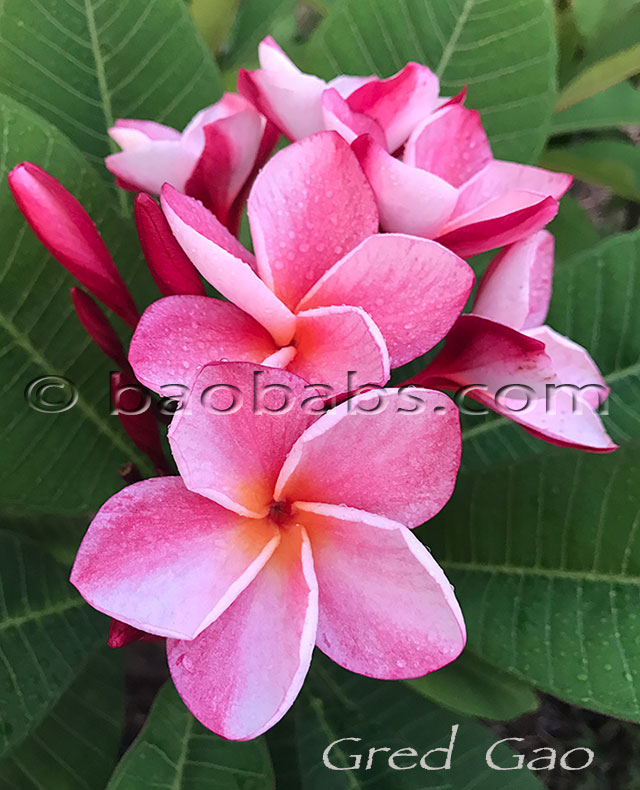 Plumeria rubra GRED GAO
Gred Gao[X]
СЕМЕНА (3) : 2.6 €

ЧЕРЕНОК 20-25cm : 14.3 €

РАСТЕНИЕ (черенок с корнями) 15-25cm : 26 €


Copyright © Le Jardin Naturel