Las 5 mejores ventas ''Frangipani - Plumeria"

rubra WHITE STAR

rubra

alba

rubra BALI

pudica
| | |
| --- | --- |
| 1 / 235 | |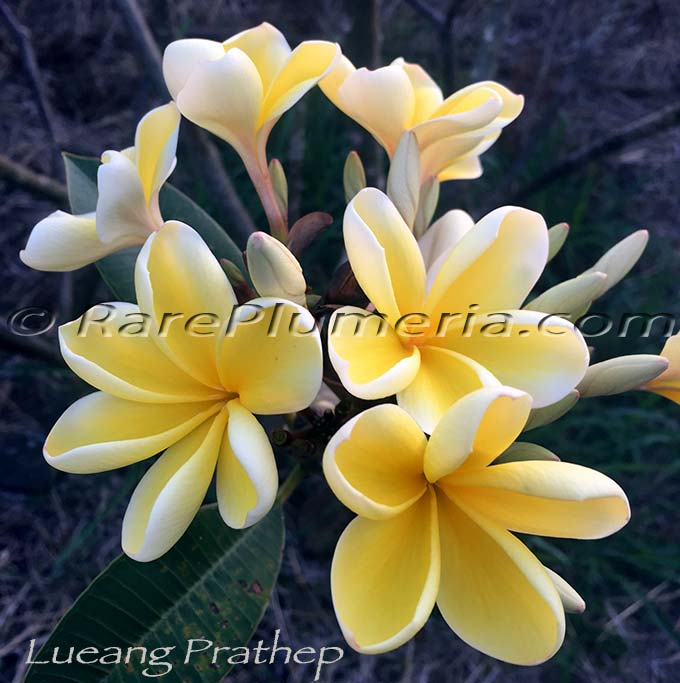 Plumeria rubra LUEANG PRATHEP
Planta (Esqueje enraizado) 20-25cm : 29.9 €

Pétalos de color amarillo con un borde del panel forma o salmón claro cuando son jóvenes. Sabor: dulce, fresco. Hojas: verde oscuro, elíptica agudo. Produce grandes inflorescencias. Un buen mantenimiento de flores de calidad.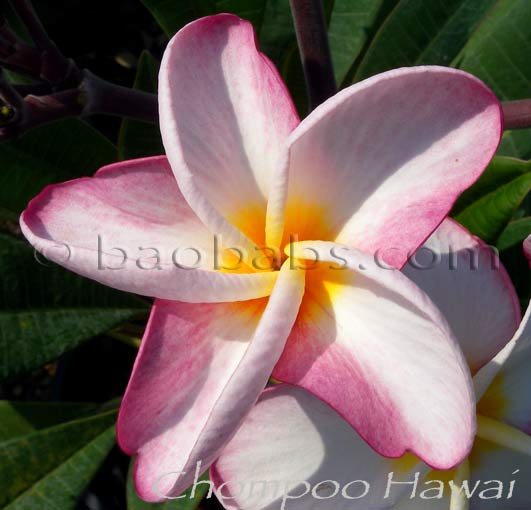 Plumeria rubra CHOMPOO HAWAI
Planta (Esqueje enraizado) 25-30cm : 29.9 €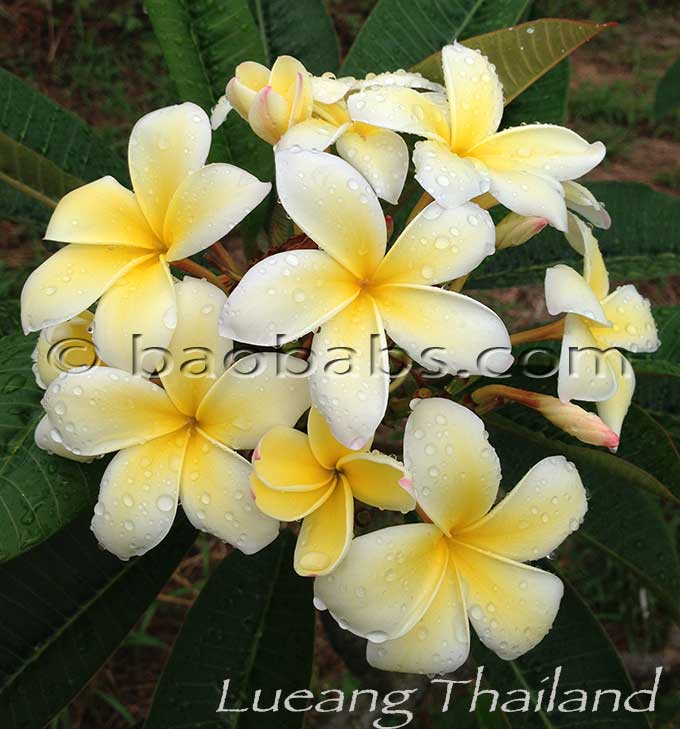 Plumeria rubra LUEANG THAILAND
Yellow Thailand[X]
Semillas (3) : 3.9 €

Planta (Esqueje enraizado) 25-30cm : 29.9 €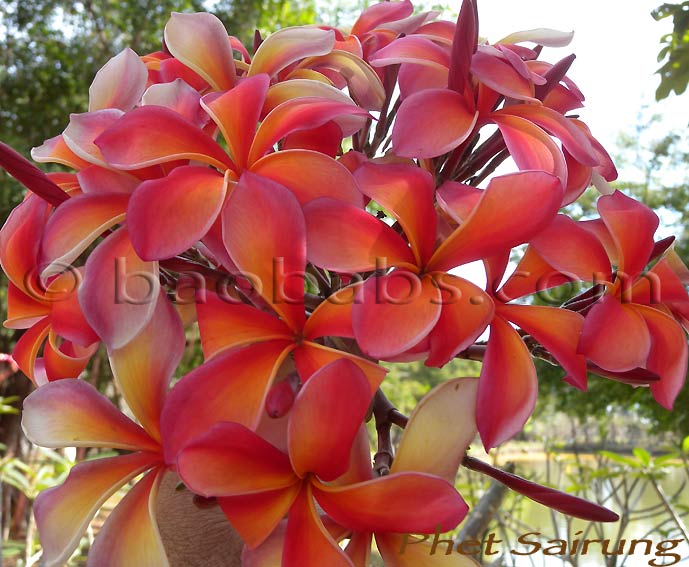 Plumeria rubra TERESA WILDER
Theresa Wilder, Teddy Wilder, Lo Kwain, Phet Sairung, Sam Kasat, Pinwheel Rainbow, Candy Stripe, Barber s Pole, Daeng Orachorn, Petch Sairung[ ]
Planta (Esqueje enraizado) 25-30cm : 29.9 €


Pinwheel shaped flowers display a strong red and yellow-orange color combination of 3" to 4" in diameter. Mild, sweet fragrance Leaves elliptic with pointed and sometimes with rounded tip. PROLIFIC BLOOMER WITH UNIQUE PINWHEEL SHAPE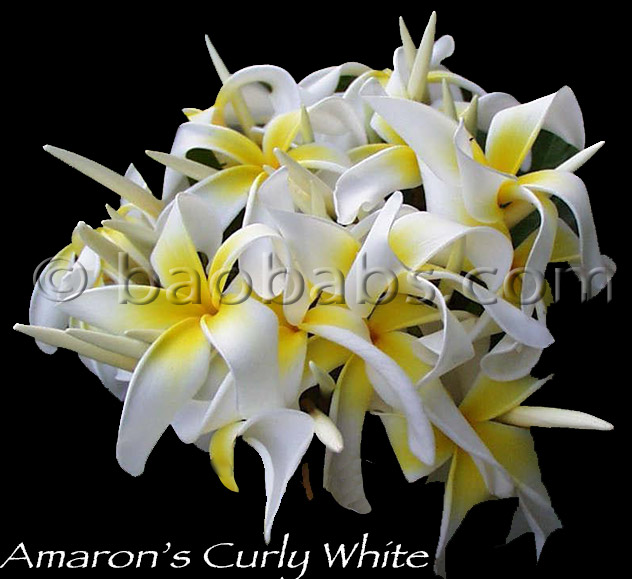 Plumeria rubra AMMARON S CURLY WHITE
ACW[X]
Planta (Esqueje enraizado) 20-25cm : 32.5 €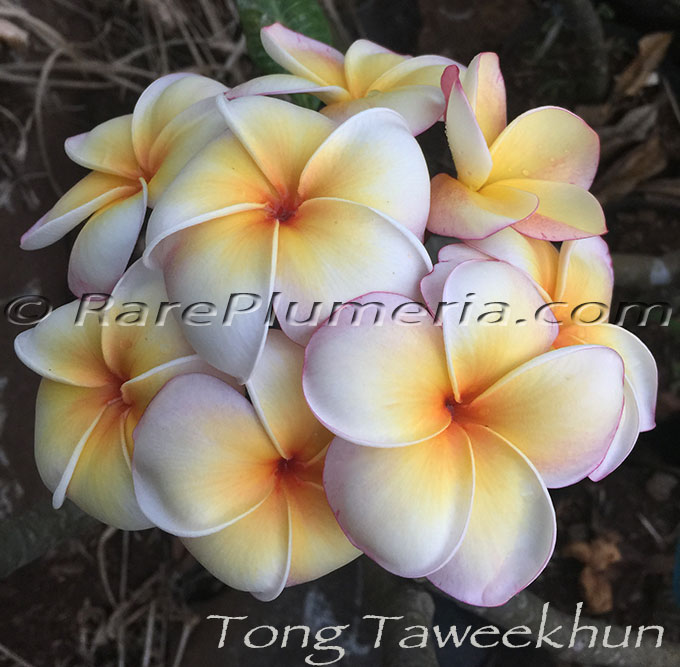 Plumeria rubra TONG TAWEEKHUN
Thong Tavee Koon, TongTawekune, J4[X]
Semillas (3) : 3.9 €

Esqueje 15-25cm : 14.3 €

Planta (Esqueje enraizado) 25-30cm : 29.9 €

Blanco con pétalos de bordes con color de rosa, amarillo con un centro de color rojo oscuro. Las grandes flores. 7-10 cm, con pétalos de espesor. Pétalos superpuestos círculos. naranja dorado claro con rayas rojas en la parte exterior de cada pétalo. fragancia muy dulce. textura gruesa.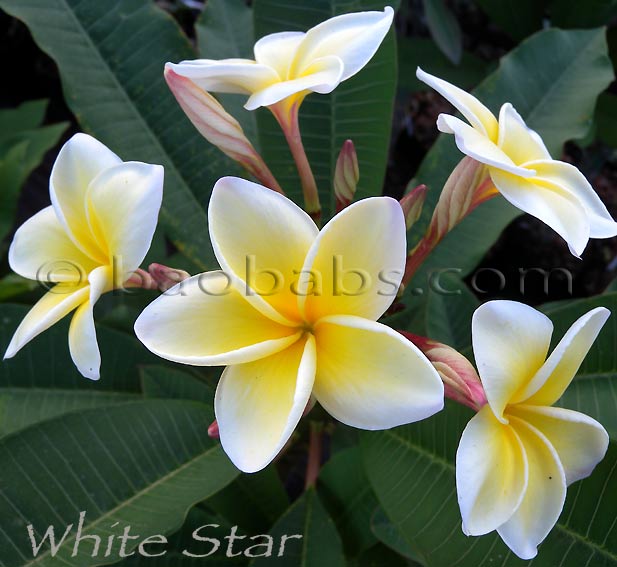 Plumeria rubra WHITE STAR
Celadine,Hawaiian Yellow, Graveyard Yellow, Common Yellow , Common Cream, Yellow, Huevos, Common White[X]
Esqueje 10-15cm : 9.1 €

Esqueje 20-25cm : 15.6 €

Planta (Esqueje enraizado) 15-25cm : 26 €

Uno de los más buscados del frangipani para su fragancia, su belleza y textura de flores. Robusto y fácil de cultivar. Las flores son un gran ajuste, centro amarillo brillante y márgenes blancos. Flores de 5 a 7,5 cm de diámetro, manojos compactos. Perfume apoyado limón.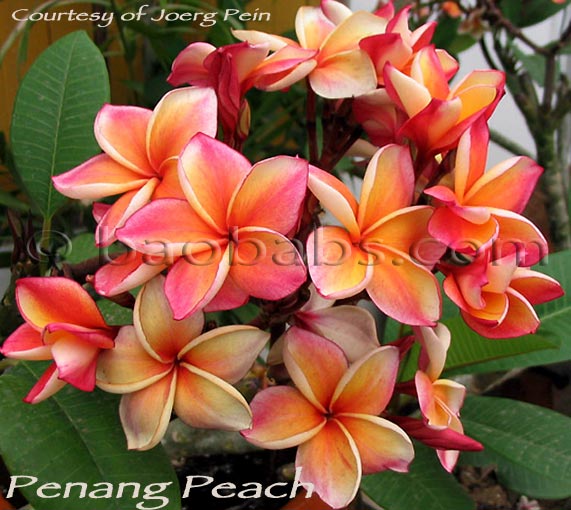 Plumeria rubra PENANG PEACH
Som Garasin, Thai Gold, Thai Yellow, Thai Salmon, California Sunset, Som Kalisin, Thai Gold[ ]
Esqueje 20-25cm : 19.5 €

Frangipani notable que color de la flor varía de una temporada a otra! densos racimos de flores amarillas y naranjas con venas rojas. Los pétalos se superponen, su esencia y su explotación es muy bueno. Color de la flor puede ponerse roja bajo un cálido y seco, y más amarilla cuando la temperatura baja. fragancia dulce y afrutado con un toque de melocotón. verde elípticas, puntiagudas hojas veteadas medio.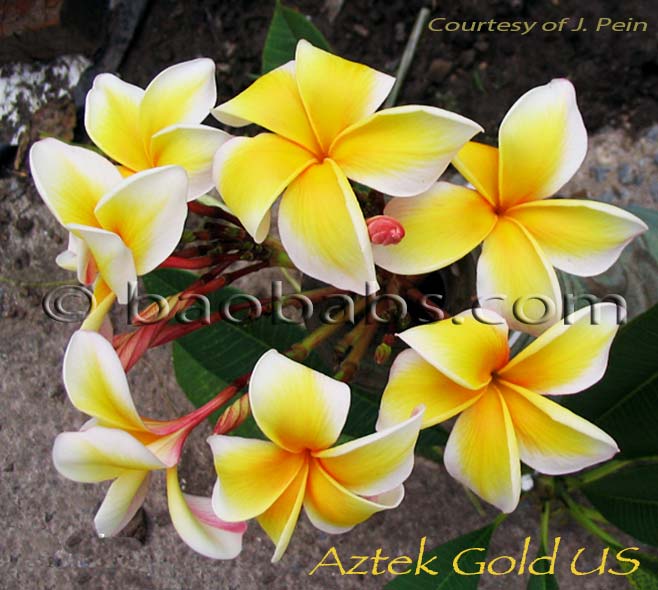 Plumeria rubra AZTEC GOLD
South Florida Gold, Key Largo Gold[X]
Planta (Seedling) : 26 €

Planta (Esqueje enraizado) 20-25cm : 39 €


Well known variety. Beautiful large yellow flowers. This is a fantastic, large, 10cm yellow flower, that shades to white on the edges. There is a reddish band on the back side of the petals that can show slightly through. This is a very easy to cultivate plumeria, making it a great one for beginners. This plumeria is probably best known for the strong scent of peaches.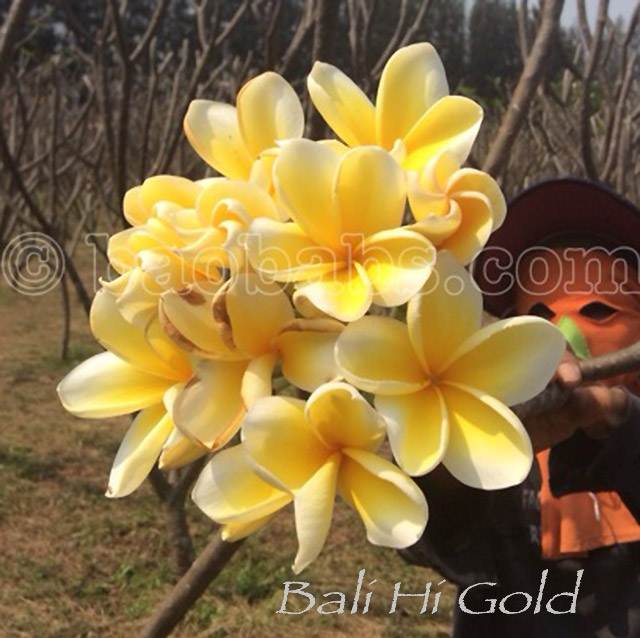 Plumeria rubra BALI HAI GOLD
Cendana[X]
Planta (Esqueje enraizado) 20-25cm : 29.9 €


This beautiful and floriferous plumeria produces large clusters of 3? golden blooms with very pleasant plumeria fragrance with tones of spice and sandalwood. Unique and wonderful fragrance!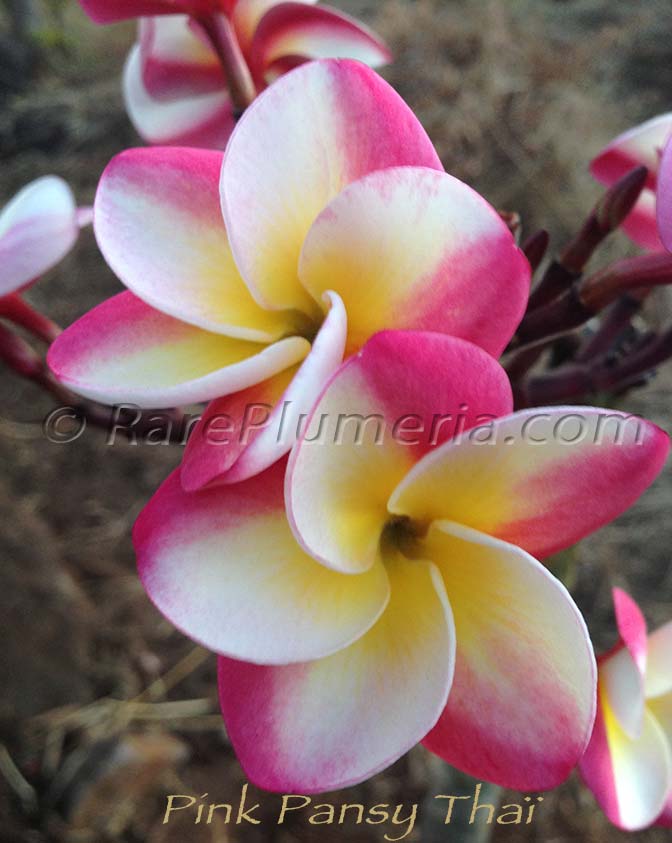 Plumeria rubra PINK PANSY THAI
Kasem's Delight, PK-110, Cranberry Cream, Danai Delight[X]
Planta (bouture racine) 20-25cm : 26 €

Flores regulares muy bonitas, blancas con bordes rojos. pétalos redondos. Probablemente a partir de una planta de semillero de J. L. Rosa del pensamiento como muy cerca.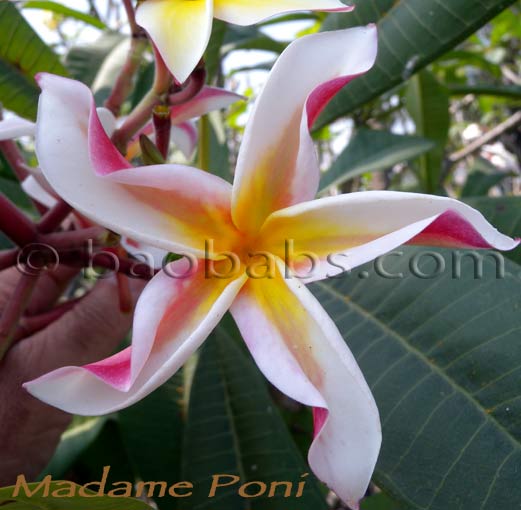 Plumeria rubra MADAME PONI
Corkscrew, Curly Holt, Waianae Beauty, Star, Ponytail , Waianea Beauty, Pony Tail[X]
Planta (Esqueje enraizado) 20-25cm : 29.9 €


Petal narrow, tapering tip, no overlapping. strong red band on back, twist usually running length of petal. Good texture. Keeping quality good. A rainbow colored flower that has uniquely twisted long narrow petals. Wide greenish-yellow band (with dark red striping) fading to white, yellow center, strong red band on back, tendency to fade, long narrow petals twisting incurving and upturned, tapered pointed tips, 3,5" diameter, slight sweet fragrance. Spectacular Flower. Medium compact tree.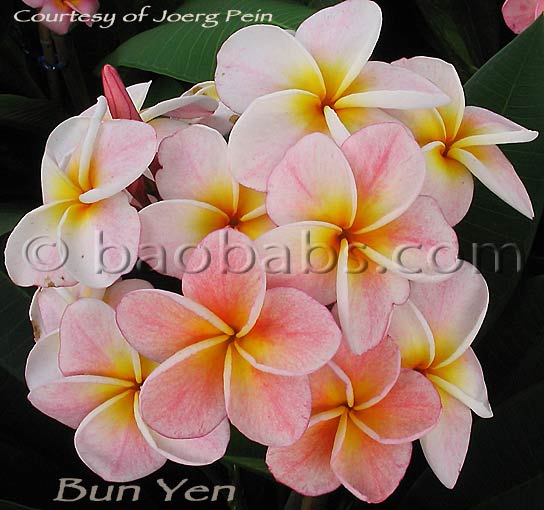 Plumeria rubra BUN YEN
Boon Yen, Banyen[X]
Semillas (3) : 3.9 €


3" to 3.5" flowers ( 7.5 to 8.5 cm ) Petals almost circular in shape, strongly overlapping, light pink with red overlay of web-like markings and striations. Yellow-orange throat, size about 30% of flower diameter Fragrance : medium, smooth - honey Leaves: dark green, elliptical with pointed and slightly elongated tip

Copyright © Le Jardin Naturel